April Fools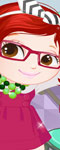 We girls, will never be too old to play some safe pranks to our friends and family as well, am I right? It's April Fools day, the day when whatever we do, we won't get in trouble... so are you girls ready to bust into laughter while playing our 'April Fools' dress up game? I'm sure it will be impossible to hold your serious face once you see what our main character is up to, but you must keep calm and find her the perfect April Fools Day outfit, too! That funny face must be highlighted by the right outfit, some over-sized chains and the funkiest eyeglasses for a complete April Fools look, so let's see girls how we can help her! Each of you get the chance to pick out from her wardrobe the dress and tights you fancy the most to dress her up for this special day! Don't worry if they don't match... that's the point! In order to make her April Fools outfit look really hilarious, you should also accessorize it with a funky hairdo, some pink but over-sized eyeglasses and with a colorful chain as well! Have fun!
Painting Eggs For...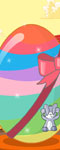 With only two days left before Easter, we invite you all, boys and girls, to play our exclusive Easter Holiday decoration game and discover some of the most original ideas about how to paint and decorate the traditional eggs for this beautiful celebration! Our 'Painting Eggs For Easter' decoration game brings up at your disposal a wide variety of colors, patterns, holiday themed stickers and bows to decorate the prettiest Easter eggs to surprise your friends and family with! Get it stated, show off your designer skills and decorate the loveliest Easter egg using lots of bright colors, lovely patterns, cute, tiny animal prints and candy-colored ribbons. Rummage through each category of items available at your disposal in this Easter egg decoration game and make sure you pick out the cutest items of all to create some lovely festive looks for the eggs that you will give away this year! Happy Easter everyone!
Leather Up Makeover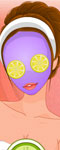 A colorful leather top, dress, miniskirt or a black pair of leather leggings are a must have in any girl's closet this season as they are a must have clothing piece! A lovely leather top paired with the right overcoat, pair of pants and can be worn at work, a lovely leather dress can be worn at a fancy restaurant dinner or at a party and a head to toe leather outfit can be worn just to impress. As you can see girls, this season's leather pieces are so practical and that's why we believe girls that you should start wearing your favorite item whenever you want to looks simply gorgeous, stylish, elegant or chic. Mix leather and statement jewelries for a bold and edgy look for the front row, mix leather and floral prints for a trendy look, accessorize your leather outfit with a chic updo, a flawless make up look and sparkling jewelries and you'll be the most stylish pretty little diva getting all heads turns on the streets. Well girls, creating such a stunning look is not hard at all and playing our new 'Leather Up Makeover' game you get the chance to practice your skills until you manage to put it together! First of all, use a cleanser, a scrub, a face mask, a steamer, an eye mask and pop out the zits in order to make sure that your girl's face skin looks flawless and glows of health. Then use tweezers for the eyebrows and your favorite colors to design a flawless make up look! Style up her hair as well and then feel free to pick out your favorite leather top to dress her up with! Accessorize her outfit with precious looking jewelries for a complete leather up makeover look and have an incredible time playing this awesome game!
Barbie Spring Fas...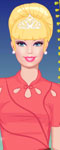 It's spring, warm, sunny and beautiful outside... it's time for us girls to get ready for the beginning of the long, warm and sunny season! Spring is one of Barbie's favorite seasons of the year as this is the season when she can dress all of those brightly colored mini and maxi skirts, cute tops, fancy shoes and boots, sunglasses, lovely hair accessories and sparkling jewelries... some of the most important clothing and accessory items we, girls, also need for the spring season! Barbie has already updated her wardrobe to the latest spring fashion trends, so let's play the 'Barbie Spring Fashion' dress up game and learn a few tricks about this new spring collection she has prepared. Barbie's spring wardrobe is filled with a wide variety of loose and long skirts, lovely layered mini-skirts and straight pants that you can pair with tight-fitting tops, jackets, leather shoes and candy-colored accessories, so you will surely find something to fit your own style as well. Play our fun Barbie dress up game girls, put your fashion skills to a major test and get this beautiful doll all styled up into a totally chic and colorful spring outfit! For a complete new look, accessorize Barbie's fashionable outfit with a new hairdo, sparkling bracelets, earrings, beautiful necklaces and with a precious looking princess tiara! Have fun, girls!
Leather Jackets D...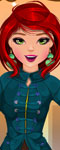 With spring's warm weather and sunshine right around the corner, it's time for you little fashionistas to start thinking about setting the spring/summer clothes out of the dark and begin making plans for where you'll wear them! As the key style piece of this season, the leather jackets of all designs and colors are a must and the ones we've gathered for you in DressUpWho's brand-new fashion themed dress up game would definitely convince you to grab your red, blue, yellow, black or green leather jacket and sport it with confidence. Paired with the right outfit and accessories, a chic lather jacket would add so much chicness to your casual outfit or to your classy urban chic outfit, so what about getting inspired while playing our 'Leather Jackets Dress Up' game? Take a sneak peek at the spring wardrobe we've prepared for you, find the outfit that best suits your style by pairing your favorite tops with some of the chicest mini-skirts or pants you can find in, step into a comfy pair of shoes, glam the chosen outfit with sparkling jewelries and a designer handbag, choose your favorite leather jacket to complete your city chic outfit with and get ready to enjoy this beautiful day with a stroll downtown. If you're getting ready for a girls' night out... look for the vibrating shade if your dare to be different and you will surely stand out from the crowd. The leather jackets are suitable for any event and there are leather jackets that you can wear with layered miniskirts and shorts, leather jackets that go well with skinny jeans and boots, leather jackets that you can wear even to a black tie event, but you just need to make sure you pick the right one. Enjoy playing the 'Leather Jackets Dress Up' game!
Clawdeen Wolf How...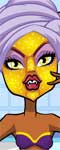 Monster High Clawdeen Wolf has neglected her beauty routine lately because she was too busy practicing with the ghouls the Fear Squad's fearleading routine for the upcoming dance competition! Now that each ghoul knows the dance, Clawdeen has plenty of time for some beauty treatments and getting drop-dead gorgeous is her main preoccupation right now. But in order to turn herself into a scarily fabulous diva, Clawdeen Wolf needs to find the right creams, scrubs and face masks to match her complexion, she has to deal with her make up and she has to come up with a crazy cool new outfit in order to really impress... and this is not an easy task for a fierce fashionista, so maybe you can help her out a little bit. Start Clwdeen's beautifying session with a facial treatment that will make her skin look flawless and glow of health. Use a cleanser, a scrub, a face mask, a steamer, an eye mask, pop out the zits and use tweezers for the eyebrows. Then continue with her favorite part of the beauty process which is the make up part. Choose the eyeshadow color, lip gloss, blusher and your favorite mascara to create her a flawless make up look and once you're done, feel free to check out Clawdeen's wardrobe as well. Dress her up in an amazing outfit, pair it up with a chic hairdo and with the right accessories for a complete makeover session! Have an incredible time playing the 'Clawdeen Wolf Howling Makeover' game!
The Sweet Leprech...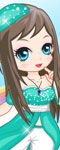 As we already know the St. Patrick's Day leprechaun isn't the best-looking guy around: he's old, short, a little green and on top of all that, he's cursed... but he is the richest holiday figure around and this makes him one lucky guy as he has so much gold that he can travel around the world as many times as he wants. From the old stories grandma told me about this holiday, the St. Patrick's Day leprechaun is an Irish fairy and as the fairies are all pretty and delicate, this year, on St. Patrick's Day, we will try to catch the girly-girl holiday leprechaun and not the legendary ugly guy. Among the most popular beliefs about this leprechaun girl is that she is extremely beautiful, sweet and fashionable and that she plans to look pretty stylish in front of the eyes of those who have the chance to see her this year, so we will have to help her out a bit! For this year's St. Patrick's Day, this beautiful Irish fairy has prepared a super special, colorful wardrobe ruled by a wide variety of bright and sweet colors, so feel free to take a sneak peek girls and see which of those candy-colored clothing items will make the best outfit for this holiday. Pair the chosen ones with the matching pair of shoes, a stylish hairdo, a lovely hat and some sweet-looking jewels, too for a complete holiday look. Being a so special holiday leprechaun, our girl won't impress her guests with her big pot filled with golden coins... she will impress them with her homemade donuts, cakes and cupcakes, so make sure you don't forget to bring in those sweet treats as well. Have fun playing our special St. Patrick's Day dress up game!
Yoga In The Park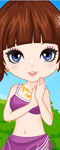 I hope you girls remember that starting this week our yoga classes will be held at a very early hour in the central park. At 8 AM the sun is up and the fresh air will surely put you in the right mood to get your body in a killer shape and your mind in a perfect state with some super easy yoga exercises. Our young and beautiful yoga trainer surely knows which are the must have items for some fun yoga sessions in the park, therefore you should step in and get yourself inspired for your next yoga class in the park. From colorful tops and flouncy dresses to lovely printed mini-skirt and shorts, candy-colored jewelries and fluffy yoga mats, in the 'Yoga In The Park' dress up game, you will find everything needed to put together some fashionable and comfortable sporty outfits for your yoga sessions! Enjoy it!
My Favorite Leopa...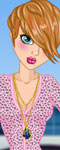 Animal prints seem to never go out of style and during this spring season, my favorite leopard prints are back on track and they seem to be the must have prints of the season. As this season's must have trend, the leopard print can already be seen on every thing: on shirts, blouses, t-shirts, on skirts, shorts and jeans, on tights and even on purses or shoes. And that's not all girls... this year's leopard prints come into a great variety of shapes and colors, so as a real fashionista you have to make sure you enrich your wardrobe with some stylish, trendy chic leopard printed outfits that will surely help you stand out of the crowd at school, at work or on the streets! Luckily, DressUpWho.com got the latest fashion trend in time this year, so you girls are going to have tons of fun today while mixing and matching these fashionable items. You can choose a simple style, using just one one leopard print clothing piece or accessory, or you can go for a head-to-toe look. If you choose the first variant, you can pick a leopard printed top and pair it up with a hot looking pair of pink tights, sneakers or heeled sandals, a braided hairstyle and with a studded purse for a complete look. If you decide to go for a head-to-toe leopard printed look, try to stay away from accessories and wear it with confidence and elegance! Play with your creativity while enjoying 'My Favorite Leopard Prints' dress up game and for sure the result will be nothing else but highly original and spectacular at the same time. Enjoy it girls!
Diamond Princess ...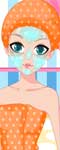 The diamond princess is a girl who knows what precious means! She is surrounded by diamonds everyday, she wears them all the time, so when she decided to have a great celebration for her birthday, she knew she had to look a little more special than usual. And this is not an easy task for a princess, so maybe you can help her out a little bit. First you should give her a beauty facial spa treatment that will make her skin look flawless and glow of health. Use a cleanser, a scrub, a face mask, a steamer, an eye mask pop out the zits and use tweezers for the eyebrows. Then help her look pretty with a spectacular make up and give her a wonderful hairstyle that will make every girl at that party jealous. Dress her up in an amazing gown which you can accessorize with precious jewelry... diamonds are a must! Have an incredible time playing this awesome game!
Ancient Greek Pri...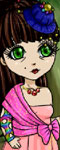 The ancient Greek history is so amazing and very well known for so many things, starting from the beautiful art and rich literature to the great ancient fashion and its characteristic lines. Our new dress up game 'Ancient Greek Princess' is going to take you to a short travel back in time right to the great period of time in which the Greek fashion was easily defined in three words: simple, comfortable and chic. The 'Ancient Greek Princess' dress up game is filled with many items in terms of clothing and accessory for you to play with and discover one of the loveliest period of the time in which this beautiful princess lived many years ago! Her royal wardrobe was filled with loose and flowing two-pieces outfits in light colors for the super hot summer days; a wide variety of chitons and peplos, off-shoulders and one shoulder dresses, were considered by our princess elegant and comfy enough to be worn at the at the events related to her royal life; leather sandals and boots to match her clothes and an impressive collection of jewelries as well, so it would be such a pity to miss the journey of your life. Now get to work girls, put your fashion skills to a major test and get this beautiful ancient Greek princess all styled up into a totally classy-chic Greek goddess! Don't forget about those sparkling bracelets, earrings, beautiful necklaces and precious looking tiaras they were used by this royal cutie to adorn her attires with! Enjoy it!
Ghoulia Freaky Ma...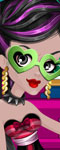 Your beautician, make-up artist and fashion adviser skills are needed once again here on DressUpWho.com, hope you're ready girls for our new challenge. Our darling zombie from Monster High school, Ghoulia Yelps, has a super special event booked for tonight and only you can help her out this time. She's going to date Slow-Moe, a super smart and handsome zombie boy, but because of her zombie heritage she has trouble with facial expressions and her dream is to look as nicely as possible for him... so I'm sure you girls have what it takes to give her a total new look while playing the 'Ghoulia Freaky Makeover' game. Start Ghoulia's beautifying session with a rich and nourishing facial treatment by applying on her face all the face masks and creams needed for a healthy and glowing complexion. Then continue with her favorite part of the beauty process which is the make up part. Choose the eyeshadow color, lip gloss, blusher and your favorite mascara to create her a colorful make up look and once you're done, feel free to check out Ghoulia's wardrobe as well. Run your fingers though all those elegant, off shoulder dresses, over-sized jewelries and horn-rimmed nerd glasses available in a wide variety of colors, pick out your favorites and create a stunning look for her to impress her date with! Have a blast!
Gloves Madness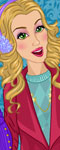 Even if the cold days are almost gone now, the mornings and evenings are still a bit cool during this time of the year and a pair of chic gloves in your bag would be welcome when needed, that's for sure. The gloves madness will continue at least one more month from now and as a real fashionista, you should make sure you're armed with these stylish accessories available in a wide variety of chic designs in endless shades and fabrics. Our brand new 'Gloves Madness' dress up game brings back in trends these chic fashion items, so feel free to jump in and experiment with the lovely collection of colorful girly-girl gloves we've prepared for you! First of all you will need a nice outfit for your new chic accessories, so how about starting the 'Gloves Madness' dress up game with a fun fashion show? Your model girl and her wardrobe are already waiting for you to practice your fashion skills and choose the perfect outfit for her. Dress our girl up in a chic two pieces outfit, pairing a soft, knitted blouse with some ripped jeans and a colorful cardigan and then pick her a lovely hat and a matching pair of gloves for a complete look! For a more funky look you can also choose a knee length purple dress and pair it with a lovely pink pair of earmuffs and gloves, a fur trimmed jacked and an over-sized handbag! That's not all girls... just continue playing the game and see how many outfits you can create with these fashionable accessories and don't stop until you manage to create the combination that fits your own style. When you're done save your creation and share it with your friends!
Clever And Cute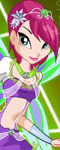 The Winx Club series continues here on DressUpWho with our second exclusive game called 'Clever And Cute' dress up! Our new game brings up a super beautiful and an extremely smart Winx character, on her name, Tecna, the fairy of Technology, Tecna's number one source of power! As a perfectionist in Technology, the scientist expert of the group is always looking for something new to help her create devices to get herself and her Winx Club friends out of trouble. Even if she looks so powerful and self-confident, Tecna is not one of those perfect fairy living in the Magical Dimension. Tecna has trouble expressing her emotions and mostly she needs two or three girls around to approve or disapprove her looks... but I believe you girls can land her a helping hand and teach her some of your fashion secrets by playing the 'Clever And Cute ' dress up game, can you? Just enter her magical world, step into Tecna's world of lines and numbers, put your fashion adviser skills to a major test and see what new, colorful look you can put together for her in order to get Tecna in more friendly mood to meet her friends! Based on the wardrobe you will find in this fantasy dress up game, you can dress fairy Tecna for school, or for that fancy party she's going to attend with Bloom tonight, for a skateboarding session or you can also create Tecna's original Winx Club member outfit! You will find everything you need in our 'Clever And Cute' dress up game, just get it started girls, feel free to rung your fingers through Tecna's colorful wardrobe and feel free to pick out your favorite items to dress Tecna up for the day! Enjoy it girls!
My Fairy Tale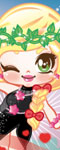 When I was a little girl, my father used to read me a new fairy tale every night... I hope you girls also had that great, father and daughter time as I had. From Alice in Wonderland, Cinderella, The Frog-Prince to The Ugly Duckling, The Little Mermaid, Snow White and the Seven Dwarfs or Sleeping Beauty I knew every story and not even today I can pick one and name it my favorite of all as I liked them all! A few years ago I started writing books, fairy tales actually, and the first one features a beautiful flower winged, modern fairy. She's not quite a fairy, but her bright colored, flower shaped dresses, her candy-colored accessories, her gorgeous hair and those glittering, see-through wings made me call her the flower fairy. So, would you girls like to be my main character in my first fairy tale book? Join this cutie in her fantasy world, meet all her fantasy friends, then step into her little, doll-like shoes and begin your role with a fun fashion show in which you get to choose the outfit and the accessories you'd like to wear at your next adventure. Have fun playing the 'My Fairy Tale' fantasy dress up game!
Fiery Beauty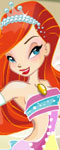 Girls, please welcome our very first exclusive game of the Winx Club series featuring the fiery beauty, princess Bloom! Bloom is the second daughter of King Oritel and Queen Marion of Domino, Daphne's younger sister as well as the guardian of the Dragon Flame, the source of Bloom's magical strength and powers which turned her into the most powerful fairy in the Winx Club universe! Until a few days ago Bloom was just an ordinary girl from the Planet Earth who lived a perfectly normal life in the city of Gardenia with her mother and father and her beloved rabbit pet, Kiko, but after she met Stella, she left her family and her quite town and she joined Alfea, a college for fairies in the Magical Dimention and the place where Bloom formed the 'Winx Club'. Now as the Winx Club's leader and one of the most fashionable fairies attending the school at Aflea, Bloom must pay a great attention when choosing her daily outfits and with a little bit of help from you, this dazzling Winx cutie can look twice prettier, don't you agree? Just enter her magical world getting the 'Fiery Beauty' dress up game started, step into her candy-pink college room, put your fashion adviser skills to a major test and see what new, colorful look you can put together for her! For a school day you can dress Bloom up in a colorful midriff top, a layered miniskirt, knee tall socks, some matching wedges, pairing her outfits with a lovely, bow adorned headband; for that royal ball she's going to attend tonight you can go for a stunning, floor-sweeping princess dress and pair the chosen one with a shiny pair of heels, a pair of silk made gloves, an elegant hairdo finishing off her princess look with a glittering tiara. While playing our Winx Club dress up game you can also create Bloom's original Winx Club member outfit, you can simply wrap her in a hot looking mini-dress for her dance night out or you can pick her a chic two piece outfit for a super fun shopping spree! You will find an endless variety of clothing and accessory items in our 'Fiery Beauty' dress up game, just get it started girls, have a look at Bloom's amazingly colorful wardrobe we've prepared for you, pick out your favorites and put together a dazzling new outfit for the loveliest fashionista from the entire cartoon world. Once the main decision was taken, pick up a pair of shoes to match her outfit and some preciously looking wings to complete her stylish look with. Have a blast!
Valentine's Day M...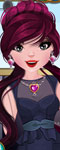 We don't know if or how you girls are going to celebrate the Valentine's Day this year, but what we do know for sure is that our girl and her crush are going to have a wonderful dinner in a chic restaurant that just opened in town! Cut before he arrives to pick her up for their perfect date, cute Amy needs to deal with her look and come out with a glamorous one as she wants to look amazing for a Valentine's Day evening out with her Prince Charming - can you help her out while playing our exclusive 'Valentine's Day Makeover' game here on DressUpWho? In order to put together that flawless look she's looking for, you should start Amy's V-Day preparation with a fun facial session: apply a sufficient amount of cleansing gel to clean her face, a scrub mask as well, a face mask, a corrector and a moisturizing cream for a complete facial session! After that, help her out with her make up part, too and make sure you pick the best colors to apply some makeup and emphasize her beautiful features. Continue with a hair styling session and pick her the one that best fits her beautiful features. Now for such a special occasion she will need to the most feminine outfit you can find in her wardrobe, so feel free to take a pick and choose the most glamorous of all to dress her up with! For an incredible Valentine's date look, don't forget about accessories... they are very important for this romantic look. Have a blast!
Cut-Out Shoulders...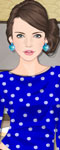 Yeey the cold days of winter are almost gone now and that can only mean one thing: it's time to enjoy the sunny pre-spring weather, so we should all consider to start wearing some of the most fashionable clothing items of the new season - the cut-out shoulders dresses, tops, shirts and blouses. DressUpWho's brand new dress up game brings up the hottest trends first in line in order to help you choose the upcoming season's statement items much easier, while trying on all the cut-out clothing we've gathered especially for you. With the help of our famous designer, we've managed to put together an exquisite collection of chic cut-out shoulder dresses that will definitely help you stand out of the crowd at that fancy party you are going to attend this weekend. For a girls' evening out we suggest a two piece outfit, featuring and lovely polka-dotted cut-out shoulders shirt and a pair of hot looking, black leather leggings; if you and your BFF usually take the coffee together, then a lovely cut-out shoulder t-shirt and a pair of shorts or a lovely layered mini-skirt is all you need to feel chic and comfy and the same time. Well girls, keep in mind that the 'Cut-Out Shoulders Fashion' game is not just about the latest trends in terms of fashion. It also brings up a wide collection of colorful accessories we all need to complement our outfits with, so if I were you girls, I wouldn't miss the chance to try on some colorful sunglasses, sparkling earrings, chains, bracelets, not to mention about the designer handbags and shoes collection you get to choose from! Get it started now, dress your model girl as nicely as possible and remember to come back for more fantastic dress up games just like the 'Cut-Out Shoulders Fashion' game is, right here, on DressupWho.com!
Walking The Pig I...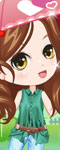 Hahaha even if it might sound super crazy this is what I do for living: I'm walking the baby pigs all day long, but do you girls have any idea what makes my job really pleasant and super fun at the same time? The little ones wardrobe and the long rainy days when I have to take them out for a walk in the rain. You can't even imagine how much fun we have! These are the days when the little baby pig I'm taking care of right now joins my world by getting all dressed up in candy-colored raincoats beautifully matched with rain boots and the days in which I always get as dirty as a pig at the end of our adventure through the cold rain. But girls, if you want to discover the secrets hidden behind a happy and also the most wanted pig walker in town... DressUpWho's newest dress up game is your chance, don't miss it. We've made this game especially for you, it features a cold, rainy day, we created the right type of clothing and accessory items a pig walker needs, as well as some too cute to resist clothing for the loveliest baby pig you've ever seen, so you just need to let your imagination run free while playing the 'Walking The Pig In The Rain' dress up game in order to create two fashionable outfits just perfect for a lovely rainy day. Umbrellas, raincoats and rain boots are the basic items you will find in the special wardrobe we bring up at your disposal and luckily you can pick your favorites for the young lady here and something to match for the little companion as well. Once the main decision was taken, you can match the girls' rainy day outfit with a stylish dress or maybe with a loose top, pairing the chosen one with the right pair of pants and a new hairdo for a fashionable pig walker look. Have a great time, girls!
Metallic Smokey E...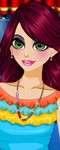 Makeup is one of the most important things when it comes to a classy look, ladies because makeup actually completes a girl's look. We might dress up very nicely and wear spectacular outfits, but if we put on the wrong type of makeup, our outfit can go to waste. Metallic smokey eyes are really popular and for good reason. A well done metallic smokey eyes makeup can surely make you look glamorous and stylish and it can also contribute quite significantly to a well put together look. The girl in our cute makeup game has always had the most amazing big eyes. Everyone used to compliment her on her pretty eyes ever since she was a little girl. She's all grown up right now and one of her friends told her than a metallic smokey eyes makeup would look great on her. The issue here is that our girl had never worn this kind of makeup before and she needs help putting it on for the first time. You are an expert in dress up, fashion and makeup as well, so I suggested she asked for you help. Give her a hand, ladies and make sure she chooses the perfect colors for this metallic smokey eyes makeup. She must look amazing since she will be wearing this makeup to a date with a boy she likes. Enjoy this dressupwho.com makeup game, ladies!
Dresses and Blazers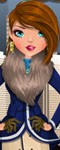 We have all been suffering from all this cold all winter long, but that does not mean we forgot everything about fashion and about style, right girls? Fashion is extremely important and thankfully, we have lots of choices when it comes to winter outfits than can keep us warm. This cute dress up game is all about winter blazers and dresses than can do just that: keep us warm and in style. There are so many famous designers who create classy and glamorous dresses and blazers that it's actually hard to choose just a few that you like. There are blazers with spectacular fur collars that you can wear with pencil skirts or really colorful dresses, blazers that go well with skinny jeans and boots, blazers that you can wear anywhere, including a black tie event. the girl in our dress up game has prepared a whole collection of fantastic dresses and blazers for you to choose from. Dress her up in the outfit of your choice and remember to come back for more fantastic dress up games just like this Dresses and Blazers Dress Up game, right here, on DressupWho.com!
Hipster Girl Bike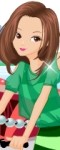 Hipster girls are really popular nowadays and they really are very interesting, if you ask me. They wear the funkiest clothes and they are passionate about the most peculiar things. Every hipster girl must own a huge pair of headsets, many vintage clothes and lately, every hipster girl must have a hipster bike. I totally understand why a hipster girl would choose to ride a bike instead of buying a car. No hipster will ever support living in a toxic and polluted environment. This cute hipster girl in our game love riding her bike and she travels everywhere by bike. She even traveled from coast to coast on her bike, ladies! Her favorite activity is beautifying her bike and making it look as hipster as possible. DressupWho agreed to allow her to show her hipster bike to all of you in order to get new decorating ideas for her hipster bike. She also needs a little help with her hipster outfit. She has many vintage clothes but she would truly love to find new ways to combine them. As a true hipster girl, she would hate to buy more clothes than she needs as long as she can reuse her old ones. Have fun playing this fun Hipster Girl Bike game and remember that DressupWho is the best place to find the coolest dress up and decoration games, ladies!
Grandparents Sush...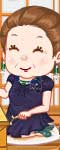 It is your grandparents' 50th anniversary today and you decided to treat them to a all you can eat sushi buffet! You find the most romantic restaurant and surprise them with vouchers in the morning. They are now having a great time at the restaurant thanks to you!
Astronaut Girl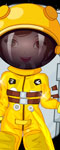 Watch out girls, this beautiful and brave girl is getting ready for her very first major experience of her life! She's going to be the third member of the rocket that will be sent into space in only a couple of hours from now. She's not afraid at all as she has been dreaming of this event of years and that her dreams are about to turn reality she can't wait for the countdown begin! After long years of hard core training at NASA, she received the news for which she has been waiting a long time and now when it is about to turn reality she can't manage to put together the things needed for this journey! Now she needs to find her special costumes and everything an astronaut needs for his for the adventure of her life. Play the 'Astronaut Girl' dress up game girls, help this brave girl dust off her special astronaut costumes, check out each of them and pick out your favorite to suit up this chic astronaut girl for her journey around the Earth and back! Have fun girls!