Furr'n Love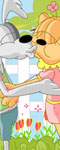 It seems Cupid has everything in his aim this year and this lovely cat and dog are no exception! Now this is funny indeed and Cupid is enjoying every moment of it so why wouldn't we? What you have to do is pretty simple: make the cat and dog kiss until the yellow bar of the kissing meter is full but be careful for the granny that's walking from here to there every once in a while...if you get caught you'll receive a penalty and you will have to start over. Just don't over do it and everything will be ok :)! Start playing the "Furr'n Love" kissing game now and have lots of fun!!
Photographer In T...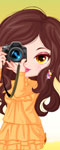 One of my favorite activities during...all seasons, is to take photographs and to walk all day long to hunt for the perfect scenery or setting and grab it forever with my camera. It seems this lovely girl has the same passion for photography as I do and she also likes one other important thing: dressing up. This is how she was accepted to appear on DressUpWho.com :D!! What I did first in this game was to change the clothes several times until I got the right stuff for her. She was a bit picky at first but totally left herself in my hands to do what I please with the style. The outcome was great and she was thrilled to be able to go out for a photo session in the sun with a very cool outfit. Now girls you have to do the same. Have fun :)
Mystical Werewolf...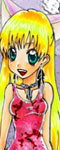 After the Twilight Saga with the everlasting battle between werewolves and Vampires, here comes a game with the same theme! It's been several hundred years since she first walked our plains and since then she's always been in trends with the latest fashion items of that specific time. Now we get to see how she likes to dress up as she brought her entire wardrobe and she's ready to try them out for us here on DressUpWho.com. She also agreed to share with us her secret: turning into a lovely werewolf. First dress her up to see how she looks like in different outfits and then just click on the "turn into a wolf" button to see her transform. Have fun girls :D!
Racing Queen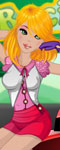 I'm not a very big fan of racing sports but this game just changed my mind. Cindy just won a beauty contest and she got the unique opportunity to be the front cover of a racing magazine and not just any racing event, FORMULA 1. How cool is that? The set is nicely done and she'll be sitting on the front part of a cool red F1 racing car...maybe a Ferrari? We don't know but we can guess =] Now the set is done and she asked the photo crew to allow her to be helped by her favorite fans and friends: the DressUpWho.com crowd as in her opinion you guys are the best in terms of fashion judges. Her wish is simple: she wants you to help her dress up for the photo shoot and also to save the favorite picture after you have finished. Hmm maybe you can even add it to your Facebook, I just know she'll go "yeey" if she sees them there. Have fun girls with Cindy and the "Racing Queen" dress up game.
Magical Underwate...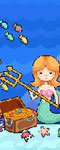 In the mystical and magical land of the Sea, in the Underwater Kingdom of the 7 Mermaids there is a game played by all girls when they grow up: the underwater decoration game. Now I do know this is going to be fun..you'll be able to take a peak into their world...and that is AMAZING :D!! You can choose plants, animals and even mermaids. Fish are also there, too and everything is waiting for you. You have to take one from the set of items available at your disposal and place them wherever you like...and I do mean everywhere. There is no right or wrong, just lots and lots of fun decorating and imagining the perfect underwater landscape. Go on girls...it's time to put your decorating skills to the ultimate test and make sure you have fun while you're at it!!
Cute Baby Couple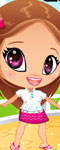 Awww...these 2 cute babies are SOOOO adorable there posing for a baby magazine. The theme of this magazine is baby couples and they are ready to come up with the cutest baby couple picture. They are so cute together, both of them smiling and having fun around the camera...good memories for when they grow up. What you have to do now is to dress them up as cool as you can and I promise they'll not move a finger without you telling to do so. The music is perfect and the set the same. Try out a couple of outfits and don't worry about not getting them right from the first time. That is why you have all the time in the world to click on the different items and have them try all of them. After all.. what's better than playing with your favorite dolls on DressUpWho.com? Go girls and have fun dressing up the cutest baby couple you've ever seen before!
Emo Jedi Princess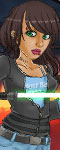 Hello Star Wars fans!! Today on the DressUpWho.com fashion stage we have an awesome princess, a Jedi Knight and a true Emo representative: Emo Jedi Princess. She's been raised in the secret and sacred art of the Jedi Knights order and her favorite heroes are Master Yoda and Luke Skywalker. But no fighting today...she said! She brought her entire wardrobe of mystical and yet very cool clothes and is at our disposal as long as we want to dress her up, make a picture, dress her up again, share it with friends and so on. First you have to click on the body part you want to dress up (hair, clothes, the cool lightsaber) and then you'll be able to pick from the menu what she'll ware. The combos are as many as you can think of and the twice the fun. It's DressUpWho.com time girls!!!
I've Got A Fever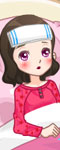 Dunno about you girls but this game brings up some funny memories! As every girl I do love winter and when I was younger playing outside with friends was everything. My mom always told me when I was rushing out the door to keep in mind that the snow is not only fun but it's also cold :))! There were occasions when I literally forgot and simply started battling with snow balls and all snowy stuff. Of course after the fight, the next day my mom would be laughing near my bed where I had to stay put until the sneaky cold that settled in disappeared. But girls...I had a mom like no other: in order to really cheer me up and to make me feel better, after bringing me the traditional hot cup of tea and some lemons, she wanted to play dress up with me and ohh boy, that was fun. We kept changing the clothes for hours and the main purpose was: there is no purpose. JUST FOR THE FUN OF IT. Girls...this game is made exactly how I was doing it with my mom and this is so fun. Start dressing up the 2 girls but do start with the ill one... she does need the cheering up and you can do it with 2-3 pairs of well chosen outfits. Cool, ha?
Punk Hood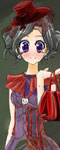 Hehe...now this is funny! We all know the story with Little Red Ridding Hood, right? Well, this is somewhat about that...but girls, this Little Red rocks...or punks! She still has the original red clothes on but she's in style and some. First you have to click on the Menu button in the bottom left corner and the menu with all the items will popup. Now.. chose first from the hair section the hair you like the most and advance to the other categories to dress her up really nicely. I wouldn't have thought Little Red could reinvent herself but this game is awesome and brings up the fantasy character in a totally new light with more style and surely a new attitude. Well then... don't see any big bad wolf around so lets get to playin` and having fun, the DressUpWho.com way!
Chinese Modern Fa...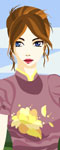 This amazing dress up game will take you on a dreamlike trip into the modern China, where you'll have the chance to discover its modern fashion style and exquisite accessories. During your trip you will be guided by this young girl, who definitely is one of the most stylish fashionistas living there. Just check out her wardrobe and you'll understand what I mean! When you say "Chinese Fashion" you cannot but instantly think of the gorgeous, traditional Chinese kimonos. Maybe it's not those type of kimonos that our Asian stylista wears when she hits the streets, still the outfits you'll discover playing the "Chinese Modern Fashion" dress up game are their modern replicas. The new Chinese modern fashion is all about a very successful mixture between ancient motifs, embroidery patterns and weaving styles with modern fabrics and vivid colors, so you might face a quite serious dilemma choosing the perfect outfit for her but I'm confident that your fashion skills will help when you need to take the final decision! Chinese modern fashion is not only about clothing items but also about stylish accessories such as chic flat shoes, beautifully printed handbags and hand-made jewelry, so after you dress up this Chinese girl, you should definitely consider choosing her some of those gorgeous accessories! Enjoy!
Winter Fashion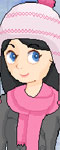 When it comes to fashion and latest clothing trends this chic girl easily stands out of the crowd, for she surely knows how to draw all the attention on her chic outfits and gorgeous accessories. If you're curious to dig up her winning style secrets, have fun playing the "Winter Fashion" dress up game! By clicking on those right and left arrows, you'll get to dress her up and combine chic pants or tights, stylish winter mini-skirts, lovely printed blouses with elegant winter coats, knee-high leather boots and lovely, hats or long winter scarves. You have the hottest fashion information that you need for your inspiration in this game, so start playing now and get inspired! Have fun!
Let it Snow!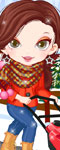 Blair has planned the New Year's Eve party really carefully! She invited all her friends at her family's cottage promising the best party ever, including lots of fun for everyone outside in that 3 feet, sparkling white snow surrounding the cottage! But when they got there they almost could not believe their eyes: huge mountains of snow...they couldn't even find their way into the cottage! Imagine that! Excited about this fairytale-like winter landscape Blair's friends have already started having fun into the snow while she brought her father's snowblower from the garage and started to shovel snow outside the cottage. Oh poor Blair, she lacks the fun!! But I have an idea! A crazy fashion show right there in the middle on those mountains of snow will surely bring a huge smile on her face, so how about choosing some chic winter clothing and lovely accessories to keep her warm while she's cleaning up all the show?
Winter Lodge Deco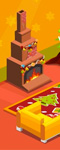 Hey boys and girls!! We have some good news to share...DressUpWho invites you all to spend a super fun week at our super chic winter lodge, up there right on the top of the mountains! The fun is guaranteed and also the food...you'll only need to bring in your room decorations skills in order to turn this place into the coziest place where you'll feel like home!! So, are you ready to fulfill this challenging task? Now start rummaging through these deco items available in the "Winter Lodge" decoration game, and pick out the furniture you like best of all, a chic fireplace and a Christmas tree if you want, then take a look at the other decorative objects and select those that fit best this winter decor. We hope you'll enjoy your stay at our winter lodge! Have fun!
Christmas Eve Gifts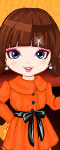 Jessica's family follows the popular tradition of the Christmas Eve gift shared by many across the world: the one who says "Christmas Eve Gifts" first prompts the opening of the gifts. Just like last year, Jessica was the first who said the magic words and she had the honor to be the first who opens Santa's gift. Well it seems that Jessica has been a good girl this year as Santa's gift for her is quite impressive, she received everything she wanted: clothes and more clothes, funky hats, new stylish winter boots and many glittery jewels...in few words an entire collection of winter clothes and accessory for her. Now it's time for her family to open their gifts and meanwhile she'll spend the time dressing up with the new clothes she received. Be there for her and help her try out all of them...maybe maybe she'll find the prettiest combination to wear at the Christmas dinner. Merry Christmas everyone!
Christmas Wrapping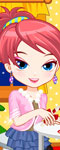 Among all the wonderful things that happen a few days before Christmas, one thing is sure: for most of us wrapping the Christmas gifts it always seems like a pain in the neck. But not for Jolie and her little brother Nick, by far they're enjoying this Christmas' activity. They are locked in the living room for hours, listening the most beautiful carols while their little, skillful hands are gently wrapping the gifts for their dear ones. With so many sweet looking, brightly colored wrapping papers, lovely winter decorations and Christmas cards they almost forgot to prepare their Christmas special outfits, so how about you taking care of their looks? There are so many, lovely clothes and accessories to be taken into consideration, so thrust your instinct as a talented fashion adviser and feel free to pick out your favorite clothing items and accessories to dress them up!
Who Ate My Ginger...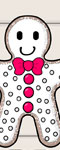 My Christmas baking wouldn't be complete without a batch of these cute gingerbread cookies, so I've spent the whole night in the kitchen, baking and decorating the most delicious ones for my carolers, but when I woke up this morning SURPRISE...my cookies were all gone!! Who ate my gingerbread :(?? Seriously, who could do a thing like that now with a few days left before Christmas? No, no, no! Wait...luckily I still have a few pieces left undecorated and I'm sure you can help me transform some ordinary gingerbread cookies into something truly spectacular!! Work out your pastry chef skills while magically decorating the most common gingerbread cookies choosing from the wide variety of already made ornaments the ones desired to create a memorable batch of Christmas gingerbread cookies! I hope you'll enjoy it!
Yoga Exercises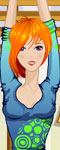 Gooood morning ladies...it's time for your daily exercises!! This morning looks beautiful and fresh, so just open your windows and prepare yourselves to get your body in a killer shape and your minds in a perfect state with some easy and super fun yoga exercises! Combine the meditation techniques and physical exercises with some fashionable and comfortable sporty outfits, pairing chic tops with pretty mini-skirts or wearing one of those beautifully printed, tight-fitting dresses for a surprisingly stylish look during your yoga sessions. Add some bits of color to your outfit choosing a pair of colored tights, matching ballet shoes and pretty looking hair accessories! Have a great morning and a wonderful time playing the "Yoga Exercises" dress up game!
Winter Lovebirds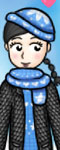 The warm days of summer provide the perfect conditions for exciting romance and fun outdoor date ideas, but as the seasons change and the winter winds pick up the lead, many couples may find it more difficult to come up with exciting date ideas when it's snowy outside. But not for Lisa and her handsome boyfriend! They both love winter time and they are committed to have as many romantic outdoor dates as they can during this cold season. Last week they had some fun winter time exercise while they were ice skating at the local ice rink and for this week they planned to spend the day having fun into the show: building snowmen, making snow angels and having playful snowball fights...sounds like a lot of fun for the two winter lovebirds!! Choose some warm winter clothes to dress them up, lace up their snow boots, then wrap them up in scarves and gloves and let the winter fun begin!!
Blue Fashion Expr...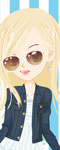 Are you ready for a blue frenzy and an incredibly chic fashion show? Well, here you have it, in the "Blue Fashion Expression" dress up game! Catch up on the latest fashion trends and crown your casual look with these fabulous blue designs and glittery accessories that we have gathered in this cute girl's wardrobe just for you. That's right, her wardrobe is filled with a wide variety of short or regular length, blue jeans, lovely printed blue or white T-shirts, bright blue glittery tops and chic, vaporous dresses so, use your creativity as well as fashion sense to combine the various style pieces and fuse them into a worth-of-a-fashionista look. Accessorize her final outfit with a chic pair of shoes, pick up some fancy earrings and necklaces and finish off your job, as her personal fashion adviser, by selecting a new, lovely hairstyle for her! Enjoy playing the "Blue Fashion Expression" dress up game!
Agent P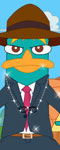 Perry the Platypus, codenamed Agent P, is Phineas and Ferb's pet platypus, who, unknown to his owners, lives a double life as a secret agent for a government organization of animal spies. While he was spending the time of his life at Phineas and Ferb's backyard beach party, Perry received a very important call from his superior, Mr Major Monogram. It seems something bad is happening in town and only Agent P can successfully solve the mystery. Well, boys and girls, it's time for Perry the Platypus to leave the party and prepare for his new mission and for that the skillful Agent P needs a bit of your help. Show off your fashion skills while playing the "Agent P" dress up game and help him disguise for his important undercover mission choosing from his secret wardrobe the best outfit and accessories to put together the perfect outfit for a secret agent!
Hulu Hoop Cutie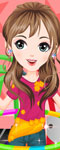 I've been going to the gym lately and every time I go there, when I go in there's an amazing looking girl with an amazing talent: HULU HOOP. She's so amazing with the circle and she's also dressed like a champ. I've heard her talking about her next competition which will take place sometime in the next 2 weeks and she's committed to practice every day for these 2 weeks. She also brought a lot of cool clothes to try out and this is where you come in as a dress up expert. Help her out with her clothes as she's too busy training and I'd hate to see her wear something weird on the podium and plus: you are an amazing fashion adviser. Dress this cutie hula hoop girl up and have some fun while doing it!
Party with Franki...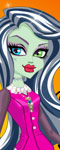 Are you ready for a new fashion episode with one of those gorgeous Monster High ghouls? If your answer is yes, and I'm sure it is, then get ready to start playing this brand new Monster High dress up game featuring one of the sweetest ghouls from the entire cartoon world: Frankie Stein!! Well girls, it seems that this Saturday is Frankie's birthday and she and all her BFFs: Cleo de Nile, Clawdeen Wolf, Lagoona Blue, Draculaura, Ghoulia Yelps and Abbey Bominable are decided to have the best party ever. And guess what? You're invited at Frankie's birthday party, too and more than that...you're her special guest :D!! But before that, you need to work out your fashion skills a bit and help Frankie put together a highly original outfit that will help her stand out of the crowd at the party! Take a deep breath and dare to open her super personalized Gothic inspired wardrobe: tight-fitting dresses in different colors, chic shirts and lovely striped blouses that you can easily pair with a loose skirt or with some chic pants, super high heeled shoes, glittery jewelry and fancy hats are your options in "Party with Frankie Stein" dress up game, so feel free to choose your favorite items to dress her up. Don't forget about the gorgeous hairstyle that should complete her winning look: a chic ponytail hairdo or a long length hairstyle? It's your choice! Be at your best and help Frankie Stein celebrate her birthday in style! Enjoy!
Sushi Bar Date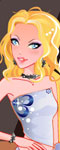 She surely is the loveliest girl in school and she definitely has a highly original fashion style but right now you wouldn't want to be in her shoes! Our teen fashionista here is getting ready for her very first romantic date and she's so nervous that simply cannot concentrate to put together her amazingly stylish outfit! So, how about working out your skills as her fashion adviser playing the "Sushi Bar Date" dress up game and getting this sweetie ready to impress her date with her sense of fashion?? Take a look at her super chic wardrobe and choose the chicest outfit of all, the one that would simply impress her date and then look for a matching pair of heels and the right accessories, too. A super chic new hairstyle should complete her gorgeous look, so make sure you pick out the one that best highlights her beautiful features! Enjoy!
Turkey Cooking wi...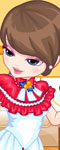 It's that time of year again, time to gather with friends and family...Thanksgiving is here!! As always, your mother is alone in the kitchen trying to plan the perfect menu for Thanksgiving feast, so how about giving her a helping hand this year? But before you start cooking with your mom the most delicious stuffed turkey, you two girls need some super fashionable kitchen outfits!! Wearing a chic dress or a stylish combo and the right accessories and you and your mom are ready to make a fashion statement in the kitchen even when you are preparing the most sophisticated stuffed turkey recipe! Check out all of those chic kitchen outfits and glittery accessories available in the "Turkey Cooking With Mom" dress up game and see if you can come up with two highly original outfits to style them both! Have fun!