Valentine's Day M...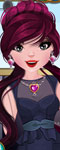 We don't know if or how you girls are going to celebrate the Valentine's Day this year, but what we do know for sure is that our girl and her crush are going to have a wonderful dinner in a chic restaurant that just opened in town! Cut before he arrives to pick her up for their perfect date, cute Amy needs to deal with her look and come out with a glamorous one as she wants to look amazing for a Valentine's Day evening out with her Prince Charming - can you help her out while playing our exclusive 'Valentine's Day Makeover' game here on DressUpWho? In order to put together that flawless look she's looking for, you should start Amy's V-Day preparation with a fun facial session: apply a sufficient amount of cleansing gel to clean her face, a scrub mask as well, a face mask, a corrector and a moisturizing cream for a complete facial session! After that, help her out with her make up part, too and make sure you pick the best colors to apply some makeup and emphasize her beautiful features. Continue with a hair styling session and pick her the one that best fits her beautiful features. Now for such a special occasion she will need to the most feminine outfit you can find in her wardrobe, so feel free to take a pick and choose the most glamorous of all to dress her up with! For an incredible Valentine's date look, don't forget about accessories... they are very important for this romantic look. Have a blast!
Cut-Out Shoulders...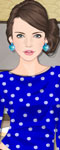 Yeey the cold days of winter are almost gone now and that can only mean one thing: it's time to enjoy the sunny pre-spring weather, so we should all consider to start wearing some of the most fashionable clothing items of the new season - the cut-out shoulders dresses, tops, shirts and blouses. DressUpWho's brand new dress up game brings up the hottest trends first in line in order to help you choose the upcoming season's statement items much easier, while trying on all the cut-out clothing we've gathered especially for you. With the help of our famous designer, we've managed to put together an exquisite collection of chic cut-out shoulder dresses that will definitely help you stand out of the crowd at that fancy party you are going to attend this weekend. For a girls' evening out we suggest a two piece outfit, featuring and lovely polka-dotted cut-out shoulders shirt and a pair of hot looking, black leather leggings; if you and your BFF usually take the coffee together, then a lovely cut-out shoulder t-shirt and a pair of shorts or a lovely layered mini-skirt is all you need to feel chic and comfy and the same time. Well girls, keep in mind that the 'Cut-Out Shoulders Fashion' game is not just about the latest trends in terms of fashion. It also brings up a wide collection of colorful accessories we all need to complement our outfits with, so if I were you girls, I wouldn't miss the chance to try on some colorful sunglasses, sparkling earrings, chains, bracelets, not to mention about the designer handbags and shoes collection you get to choose from! Get it started now, dress your model girl as nicely as possible and remember to come back for more fantastic dress up games just like the 'Cut-Out Shoulders Fashion' game is, right here, on DressupWho.com!
Walking The Pig I...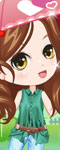 Hahaha even if it might sound super crazy this is what I do for living: I'm walking the baby pigs all day long, but do you girls have any idea what makes my job really pleasant and super fun at the same time? The little ones wardrobe and the long rainy days when I have to take them out for a walk in the rain. You can't even imagine how much fun we have! These are the days when the little baby pig I'm taking care of right now joins my world by getting all dressed up in candy-colored raincoats beautifully matched with rain boots and the days in which I always get as dirty as a pig at the end of our adventure through the cold rain. But girls, if you want to discover the secrets hidden behind a happy and also the most wanted pig walker in town... DressUpWho's newest dress up game is your chance, don't miss it. We've made this game especially for you, it features a cold, rainy day, we created the right type of clothing and accessory items a pig walker needs, as well as some too cute to resist clothing for the loveliest baby pig you've ever seen, so you just need to let your imagination run free while playing the 'Walking The Pig In The Rain' dress up game in order to create two fashionable outfits just perfect for a lovely rainy day. Umbrellas, raincoats and rain boots are the basic items you will find in the special wardrobe we bring up at your disposal and luckily you can pick your favorites for the young lady here and something to match for the little companion as well. Once the main decision was taken, you can match the girls' rainy day outfit with a stylish dress or maybe with a loose top, pairing the chosen one with the right pair of pants and a new hairdo for a fashionable pig walker look. Have a great time, girls!
Metallic Smokey E...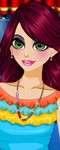 Makeup is one of the most important things when it comes to a classy look, ladies because makeup actually completes a girl's look. We might dress up very nicely and wear spectacular outfits, but if we put on the wrong type of makeup, our outfit can go to waste. Metallic smokey eyes are really popular and for good reason. A well done metallic smokey eyes makeup can surely make you look glamorous and stylish and it can also contribute quite significantly to a well put together look. The girl in our cute makeup game has always had the most amazing big eyes. Everyone used to compliment her on her pretty eyes ever since she was a little girl. She's all grown up right now and one of her friends told her than a metallic smokey eyes makeup would look great on her. The issue here is that our girl had never worn this kind of makeup before and she needs help putting it on for the first time. You are an expert in dress up, fashion and makeup as well, so I suggested she asked for you help. Give her a hand, ladies and make sure she chooses the perfect colors for this metallic smokey eyes makeup. She must look amazing since she will be wearing this makeup to a date with a boy she likes. Enjoy this dressupwho.com makeup game, ladies!
Dresses and Blazers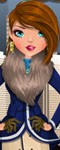 We have all been suffering from all this cold all winter long, but that does not mean we forgot everything about fashion and about style, right girls? Fashion is extremely important and thankfully, we have lots of choices when it comes to winter outfits than can keep us warm. This cute dress up game is all about winter blazers and dresses than can do just that: keep us warm and in style. There are so many famous designers who create classy and glamorous dresses and blazers that it's actually hard to choose just a few that you like. There are blazers with spectacular fur collars that you can wear with pencil skirts or really colorful dresses, blazers that go well with skinny jeans and boots, blazers that you can wear anywhere, including a black tie event. the girl in our dress up game has prepared a whole collection of fantastic dresses and blazers for you to choose from. Dress her up in the outfit of your choice and remember to come back for more fantastic dress up games just like this Dresses and Blazers Dress Up game, right here, on DressupWho.com!
Hipster Girl Bike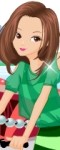 Hipster girls are really popular nowadays and they really are very interesting, if you ask me. They wear the funkiest clothes and they are passionate about the most peculiar things. Every hipster girl must own a huge pair of headsets, many vintage clothes and lately, every hipster girl must have a hipster bike. I totally understand why a hipster girl would choose to ride a bike instead of buying a car. No hipster will ever support living in a toxic and polluted environment. This cute hipster girl in our game love riding her bike and she travels everywhere by bike. She even traveled from coast to coast on her bike, ladies! Her favorite activity is beautifying her bike and making it look as hipster as possible. DressupWho agreed to allow her to show her hipster bike to all of you in order to get new decorating ideas for her hipster bike. She also needs a little help with her hipster outfit. She has many vintage clothes but she would truly love to find new ways to combine them. As a true hipster girl, she would hate to buy more clothes than she needs as long as she can reuse her old ones. Have fun playing this fun Hipster Girl Bike game and remember that DressupWho is the best place to find the coolest dress up and decoration games, ladies!
Grandparents Sush...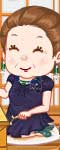 It is your grandparents' 50th anniversary today and you decided to treat them to a all you can eat sushi buffet! You find the most romantic restaurant and surprise them with vouchers in the morning. They are now having a great time at the restaurant thanks to you!
Astronaut Girl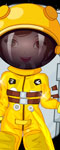 Watch out girls, this beautiful and brave girl is getting ready for her very first major experience of her life! She's going to be the third member of the rocket that will be sent into space in only a couple of hours from now. She's not afraid at all as she has been dreaming of this event of years and that her dreams are about to turn reality she can't wait for the countdown begin! After long years of hard core training at NASA, she received the news for which she has been waiting a long time and now when it is about to turn reality she can't manage to put together the things needed for this journey! Now she needs to find her special costumes and everything an astronaut needs for his for the adventure of her life. Play the 'Astronaut Girl' dress up game girls, help this brave girl dust off her special astronaut costumes, check out each of them and pick out your favorite to suit up this chic astronaut girl for her journey around the Earth and back! Have fun girls!
Frankie Stein Fre...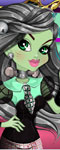 Being the daughter of Frankenstein's monster and his bride, having those beautifully big and wondering eyes, a light green skin color and a body made of stitches are the attributes that have made Frankie Stein the coolest ghoul from the Monster High school. She's unique, she's gorgeous the way she is and her BFFs have both agreed that she's made for fashion! The great passion she has for fashion made her decide to step on one of the most famous runways in the world and present her entire collection of freaky fab clothing and accessory items that she proudly owns! The other day Draculaura and Clawdeen Wolf have taken her shopping for some new scary cute clothes that are absolutely to die for, but Frankie will also need a beautician, make up artist and fashion adviser to help her prepare in the shortest time for the fashion show of her life, so would you girls like to step in, getting the 'Frankie Stein Freaky Makeover' game started and help her turn into a drop dead gorgeous runway diva? Frankie's makeover sessions usually start with a facial treatment, so the first step you need to make through this beauty process is to apply on her face all the face masks and creams needed for a healthy and glowing complexion. Then continue with the make up part of Frankie's makeover session and choose the eyeshadow color, lip gloss, blusher and your favorite mascara to create her a colorful make up look. In order to finish off Frankie's make up pick her a new hairstyle as well! Now that her make up is done and her hair is all styled up, pick the most stylish outfit from her awesome wardrobe and make sure to highlight her Gothic beauty with the perfect glittering accessories that should match her chic outfit. Enjoy playing the 'Frankie Stein Freaky Makeover' game!
New Year's Eve Pa...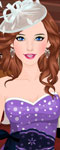 Great news, girls! Lina is back from her winter vacation with this crazy idea to gather all her friends to her place and celebrate the New Year with a week later than normal. How cool is that? I know Lina's parties are always the greatest ones and for sure she will do her best to organize the New Year's Eve party of the year, so there is no chance for me to miss the fun! I'm going to run to her house right now as I promised I will help her decorate her house and prepare some delicious treats for you girls, but can you do me a favor and create her the look she's going to flaunt this year at her exquisite New Year party while playing the 'New Year's Eve Party' makeover game? For this special event of the year, DressUpWho has prepared this great holiday themed makeover game, the game which will provide you girls all the props necessary to create a stylish, diva-like look for our party host: from all sorts of make up cosmetics and mind-blowing jewels to elegant party dresses, fur or silk shawls, trendy gloves and royal fascinators... you get to pick the colors you fancy the most to create her a flawless make up look and the dress which will mesmerize everyone right before the midnight! So girls, should we start with her make up look? A large eye-shadow color palette, tons of blushers lipsticks and mascaras...just check out the make-up kit we've prepared for you and pick from each category of items the colors that best highlight your beautiful features and those deep blue eyes! Then have her try on her collection sparkling dresses and pick the one you fancy the most to dress her up with and find that stylish updo to complement her elegant look up with! No matter what dress you'll choose for our gorgeous girl, keep in mind that the accessories make the difference between a casual look and a more sophisticated one, so feel free to open our jewelry box to pick out a sparkling chain, the right pair of earrings and some lovely bracelets, too! With a matching fascinator and the right gloves Lisa's special look for the New Year Eve's party will be ready to impress the guests and receives those 'Wows' we always hear when someone flaunts that jaw-dropping look! Enjoy it!
Bunk Bed Sleepover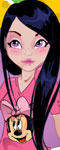 Sleepovers bring so much fun and my friends are always available for a girls' night in when some of us decide to organize one... but the only problem that shows up at our weekly sleepovers is the lack of beds when it is time for sleeping! Mary's mom had the brilliant idea that all of us should have at least one bunk bed in the house and since I got mine... our sleepover parties are even more fun! I'm already establishing the details for the one I'm going to hold this weekend and you girls... are also invited, so feel free to start looking for that lovely pajama you are going to flaunt on Saturday night! And that's not all! If you also pass a fashion test you will get the chance to sleep in my brand new, soft purple bunk bad... how cool is that? Put your fashion skills to a major test while playing the 'Bunk Bed Sleepover' dress up game, take a peek at the colorful collection of girly-girl pajamas, candy-colored socks and lovely hairstyles, mix and match them the way you want and come up with the loveliest combination to dress the host of the pajama party up with! Have her try as many combinations as necessary 'till you decide which of them is the winning one in order to get enough points and sleep in her fluffy bunk bed! Good luck and have fun girls!
Operetta's New Ye...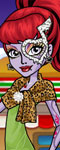 The Monster High holiday series continues with a brand new exclusive dress up game featuring the most fashionable Monster High diva, Operetta! According to Holt Hyde's 'Basic' diary Operetta has a great flair and passion not only for music but also for fashion...and we can add the parties, too! That's right girls, DressUpWho's Operetta is a girl who loves organizing some of the funkiest parties you and the Monster High ghouls have ever been invited to! Luckily, in only a few days, you're going to enjoy the fun at Operetta's great parties as she's going to host the New Years Eve Party and you...well, you girls are on her guest list, how cool is that? As you may already imagine girls, even the smallest detail of the party was already set, except for one thing: Operetta's special outfit...and here is where your help as a super talented fashion adviser is needed in this holiday themed Monster High dress up game! With her 'a bit of a div'a look and her fabulous winter clothing and accessory collection you will easily turn her into a stunning host while playing our Operetta's New Year Dress Up Game! So get it started girls, scan Operetta's little diva wardrobe filled with some of the most fashionable clothing and accessory items especially created for this fantastic event pick your favorites to dress Operetta up for the New Year's Eve party she's getting ready for! Have fun playing our holiday themed Monster High dress up game!
Cuddling Time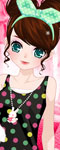 Our cute friend turned sweet 16 years old yesterday and her mom managed to surprise her with the little furry thing she has been dreaming of for years: a puppy! She quickly took the bundle of joy out of the birthday present box and then she started looking for the best name for her new buddy...she called him Happy! Within only a few hours Happy turned to be Lina's best friend, confident and the pet fashion adviser that with only a short bark approves or disapproves Lina's outfits...you should see what funny fashion shows these two run in Lina's bedroom! Today they had a nice afternoon playing with Happy's favorite ladybug toy, in the evening he was spoiled with a warm bubble bath and now...now it's cuddling time! They have their 15 minutes of tickles routine, which usually ends with a fun photo-session and because it's going to start soon, how about getting them all dressed up for it? In the 'Cuddling Time' dress up game you have a wide variety of comfy-chic pajamas that you can pair with candy-colored hair accessories and chains, so feel free to dig in and pick out your favorites to dress her up with! Style up her hair as well, choosing a girly-girl updo from the ones available at your disposal and to finish off her lovely looks, create her a brightly colored make up look! Find a matching night wear for her fluffy puppy, too and make sure you won't leave the game till the cuddling session ends! Have fun girls!
Holiday Party Pla...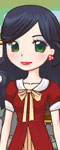 Caroline's seasonal Events Planning business rocks during this time of the year! Her small business has been especially created for the winter season, for the Christmas holiday, Caroline's favorite winter holiday of all! Her great Christmas decoration items, those amazing and unique ideas she has had for each project she had to deal with and Caroline's great taste for fine Christmas decorations turned her into the most wanted holiday party planner in town! She has already been invited to decorate some of those well known malls in town, her two hardworking hands have already decorated some of the fanciest villas her eyes have ever seen, but the biggest challenge she has to deal with comes now: she has to turn her small flat into a great place, worthy for a holiday planner and the amazing Christmas party she announced for today...and she has to do it in the shortest time possible! Even a skilful party planner would need a helping hand on this one, so girls let's get the 'Holiday Party Planner' game started and help Caroline out at decorating her living-room and dinning room and at creating her stylish holiday look, too! The first room where your interior designer skills are going to be tested is the living-room, the place where the gorgeous Christmas tree will be placed! Caroline has been always dreaming of having a colorful living-room beautifully decorated with a comfy sofa, a huge fireplace made ??of stone and with a fluffy rug placed right there in the middle of the room! Now as it's Christmas time, Caroline's favorite winter holiday, among all these pieces of furniture and decoration items you will have to find some space for her Christmas special decorations and a nice corner for her gorgeous Christmas tree as well as for the gifts she has prepared for her guests! Great job girls, let's move to the dinning-room! Here will take place the Christmas dinner and Caroline wants to turn this room into a really cozy place and for that you will have to use only warm colors! Decorating the festive table is going to be the easiest task you'll have to deal with today, girls, as Caroline has already prepared everything she wants for her important Christmas dinner, so you will just have to check out the options you have at your disposal in this holiday themed decoration game and pick the items you think are the right ones for this event! Now, let's go upstairs and see what she has prepared for us! Aww, in Caroline's room a super fun fashion show is about to begin, a show in which she's the main protagonist and you...well, the skilful make-up artist and talented fashion adviser who's going to help her flaunt a super stylish Christmas look tonight! Run your fingers through this cutie's holiday special wardrobe, have her try some of those lady-like dresses and pick out the one you fancy the most to dress her up with and then feel free to pair the chosen one with a shiny pair of heels, jewelry and with an elegant hairdo, too! Then go to the next page of the game and choose from her professional make up kit the loveliest colors to create her a light make up for a complete Christmas holiday look! With your amazing interior designer skills, Caroline's small flat is now ready to welcome in those important guests Caroline is waiting for and thanks to your great fashion tastes Caroline is now ready to mesmerize everyone with a stylish, lady-like Christmas look! Happy Holidays girls!
Abbey's Christmas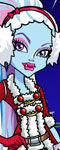 Yeti's beautiful daughter left the native land of the Himalayan region to gather together under the Monster High school's roof with those already popular teenage children of the legendary monsters you surely know! She's Abbey Bominable ladies, the coolest ghoul in school and the beautiful queen of the ice blue lands! As the holiday season started with Clawdeen's Halloween Party, it continued Howleen Wolf's Thanksgiving day and it is Abbey's turn to show off her skills and put together that fabulous Christmas party she started planning a couple of weeks ago! As you may already imagine girls, even the smallest detail of the party was already set, except for one thing: Abbey's Christmas special outfit...and here is where your help as a super talented fashion adviser is needed in this holiday themed Monster High dress up game! Her freezing beauty, her fabulous fur based fashion style and your great fashion skills would turn this stylish monsterista into a stunning diva and no other Monster High beauty, not even the drop dead gorgeous Clawdeen Wolf, would compete with her in terms of style at the Christmas party she's organizing! So girls, are you ready to style her up while playing Abbey's Christmas dress up game? Have a peek at Abbey's Christmas special wardrobe filled with fashionable clothing and accessory items all designed in the traditional red, white and green colors and pick your favorites to dress Abbey up for that fancy Christmas party she's getting ready for! Have fun playing our Christmas themed Monster High dress up game!
Ugly Christmas Sw...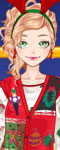 Your beloved grandmother has done it again! She spent the year knitting some of the loveliest, in her opinion, sweaters for Christmas to keep you warm while sitting around the Christmas tree...you know! She still has to sew two or three buttons here and there...but no worries girls, grandma will finish them in time and your whole family, from its head to the smallest member, will be looking in style this Christmas with grandma's homemade Christmas sweaters! For her little fashionista grandma has prepared an entire collection of loose, body-tight, long sleeved or sleeveless Christmas sweaters...but this year they are oh so welcome as you've already been invited to some ugly Christmas sweater themed parties! Whether you're attending an ugly Christmas sweater party at work, going on a bar crawl, or throwing a house party, DressUpWho brings up the perfect collection of funny Christmas for you to play with and find the one you're going to wear this year at all those pre- Christmas events you've been invited to! Play the 'Ugly Christmas Sweater' dress up game, check out our crazy fun collection of retro sweaters, pullovers with Christmas embellishments and cardigans with horrible cheesy patterns and pick out your less favorite to wear at this year's pre-Christmas event! Find a skinny pair of pants or maybe an old-school pleated skirt to pair your ugly Christmas sweater up with and then make sure you won't miss our collection of Christmas accessories! We've got Santa hats and reindeer hair accessories, we've got old fashioned shoes and some retro hairstyles to match your ugly Christmas sweater with, so make sure you'll pick some in order to look so very groomed up for the ugly Christmas sweater party you're going to attend this year! Have tons of fun while doing it girls!
Christmas Party M...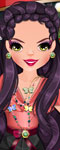 Christmas is just around the corner and while we always pay a great attention to the Christmas tree and house decoration, gifts and delicious food for the Christmas dinner...we often forget to really think about what look we are going to flaunt this year! For now, you should worry about how you're going to decorate your Christmas tree and with helping your mom at choosing the menu for this year...the rest comes from DressUpWho.com and its brand new holiday themed game, the 'Christmas Party Makeover' game! Our new makeover game is filled with many professional cosmetics, super stylish Christmas outfits and some mind-blowing jewelries to complement your Christmas outfit up with! Let's imagine girls that this year, right after the festive Christmas dinner, you are going to join your friends to that fancy Christmas party they organize every year for Santa Claus, so you should start finding the outfit, make up look, hairstyle and the jewelries you need to impress your friends with and to also look super pretty for Santa Claus! Would you like to start with a super fun make-up session? Playing the 'Christmas Party Makeover' game you get to choose from a wide variety of foundations, a large eye-shadow color palette, tons of blushers lipsticks and mascaras...just check out the make-up kit we've prepared for you and pick from each category the colors that best highlight your beautiful features and those glittering green eyes! Since you're always in when it comes to stylish outfits, how about mesmerizing everyone with a new, highly original combination? This year, choose to wear a body tight dress paired with an elegant suit jacket or a chic off shoulders dress or a lace made jumpsuit. No matter what outfit you'll decide to dress after all, keep in mind that the accessories make the difference between a casual look and a more sophisticated one, so feel free to open out jewelry box to pick out a sparkling chain and the right pair of earrings! Merry Christmas everyone!
Pie Baking With Mom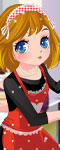 This sweetie loves to spend her leisure time with her beloved mom: sometimes they go shopping together, sometimes they clean up the house together but today Lina is going to have a big surprise as her great mom is finally letting her ambitious daughter bake, on her own, her very first apple pie! With a little supervision, with the needed ingredients prepared by her mom and with a comfy-chic outfit she will surely be in the right mood for a super fun pie backing session! Speaking of fashionable kitchen outfits, do you think you can give her a helping hand at choosing a super-chic one? The little dashing chef is already ready to show you off some of her chic kitchen dresses all of them beautifully adorned with a colorful, flower printed or polka-dotted apron, colorful baker hats and her collection of girly-girl jewelries, too and I hope you girls are also ready for a fun fashion show right there in the kitchen! Dress Lisa up in the prettiest dress you can find in her wardrobe, while playing the 'Pie Baking With Mom' dress up game, then complete her fashionable kitchen look with a lovely head band or a cute cook hat and then add just a little bit of glowing color to her outfit getting her a pretty, brightly colored necklace or some lovely bows. For a complete girly-girl look, go to the next page of the game, put your make-up skills to a major test and see what colorful make up look you can create for our sweetie! Have fun playing this mother and daughter dress up game and then feel free to check out our exclusive 'Turkey Cooking With Mom' and 'Nail Salon With Mom' games!
Ski Lift Makeover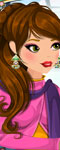 Those natural ski slopes are already prepared for the grand opening of the new skiing season! As the weekend is approaching, some of the ski lovers I know have already started preparing for three days of crazy fun in the snow! This young and trendy couple loves going skiing almost as much as they love fashion, so you can just guess that getting ready for a fun skiing session, on their favorite ski slope, is quickly transformed into a fun fashion show. Would you like to run the ski slope fashion show as a super skilled make-up artist and as talented fashion adviser, while playing the 'Ski Lift Makeover' game? With the playful lad the things are going to be very simple as he already knows what ski outfit he's going to wear at today's skiing adventure...and that's why he's sitting so calm in his chairlift near his nervous girl friend who can't decide which stylish and warm, at the same time, ski outfit, what lovely chic accessories she should pick, so that she can easily stand out of the big crowd of ski girls on the slope! So girls, should we start this cutie's ski prep session with the make up part? Start by applying a tiny coat of foundation, in order to keep her face well hydrated for the day and then start creating a lovely make up looks by using the eye-shadow, blusher and the lipstick color you fancy the most! Find her the right hairstyle, the one which best emphasize her sweet facial features, and then look for that fashionable outfit she want to wear today! Playing this amazing winter themed makeover game, you get the chance to dress up this trendy chic cutie in feminine, warm ski jackets, roll neck blouses, cashmere shawls that you can match with the warm gloves or with some sparkling jewelries! Have fun girls!
Glitter & Ice Mak...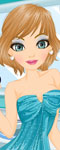 There has always been something about glitter and shimmer that made every girl smile! Glitter is definitely a girl's best friend because it's so girly-girl, sparkling, fun and mixed with the right blusher, lipstick and mascara will help you girls create a magical make up look, perfect for the holiday season! Inspired by the cold winter days, the 'Glitter & Ice Makeover' game brings up a wonderful collection of shimmery hues, glam party dresses and sparkling jewelries for you to play with and create that flawless look which will surely mesmerize everyone at that fancy party you are going to attend right before the Christmas Day! And that's not all! It also has a gorgeous super model girl ready for you to start working your make-up artist skills on her beautiful face by choosing from the wide variety of professional make up products available in shimmery hues of black and blue eye-shadows, candy-colored eyeliners, mascaras, lipsticks and blushes the ones you fancy the most to create her a flawless holiday look! Once the make up colors have been chosen and matched according to your wishes, you can go to the next step of the beautifying session and pick a glam party dress, an elegant suit jacket and some sparkling jewelries for a complete glitter and ice makeover look! Have a blast girls!
Varsity Jacket Dr...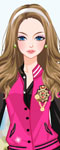 Wearing your boyfriend clothes is still a cool thing each of you girls should do at least once in a lifetime, but matching your jacket with the one your boyfriend, the head of the football team, wears is even better and for that you should consider to start wearing some super chic varsity jackets. These manly-men coats have been adjusted for the female form, they come in a great variety of colors for you to find the ones needed to match each of your sporty chic outfits with and these brand new, boyfriend inspired jackets are the perfect protectors against the chilly fall days spent sitting on the sidelines of a football match or just hanging out with your friends. So girls, are you ready to embrace your inner sporty spice side? Get the 'Varsity Jacket' dress up game started, take a peek at the silky, candy-colored varsity jackets available at your disposal in this fashion themed makeover game and see how best you can mix the chosen one with a pair of jeans or some shorts, trendy sneakers, a colorful make up look, a girly-girl hairstyle, some glittering jewels and other accessories needed for a trendy-chic sporty look! Create as many outfits as you want girls and make sure you won't stop 'till you find the outfit which is sure to leave your boyfriend mouth-opened! Have a blast!
Winter Circle Sca...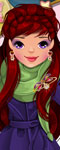 Accessories have that magical power needed to cheer up even the most common look and for this winter season the scarves have been chosen as the must have accessories! This season's scarf trends are all about bold colors, lovely prints and circles, so how about learning how to accessorize your outfits with beautiful scarves while playing the 'Winter Circle Scarf Dress Up' game? Get it started girls, take a glimpse at the cute collection presented in this dress up game and make sure you pick at least one to add a splash of color to your outfit and to also impress your fashionistas friends with your stylish and fashionable look! Should we start by choosing a super chic outfit? It can be made of a trendy combination between a lovely winter coat and some hot looking tights or a miniskirt and a chic pair of knee-tall boots; or you can try on a more daring combination by pairing a faux-fethered knitted jacket with a pair of boot-cut jeans and the right pair of boots! Once the main decision is taken, go to the next category of items and pick a girly-girl hairstyle to fit your style, paying a great attention to the ones which come accessorized with hats, with ear muffs or singles! Now that you have your outfit ready, you can check the scarves option and find the one needed to complement it up with! Try on all of them and then pick out the one which is right for your outfit! With some glittering jewelries and a pair of sunglasses you will be ready to make a fashion statement right there on the streets, so make sure you won't miss the chance to pick some! Have a blast girls!
Howleen Wolf's Th...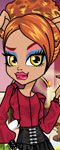 The Wolf sisters surely know how to pay a great attention to each important holiday! In October, the drop dead gorgeous Clawdeen Wolf has invited you girls to give her a helping hand at choosing her fab Halloween costume and today her younger sister, Howleen Wolf, invites you to help her pick her fab-chic Thanksgiving outfit. She has already prepared a delicious feast for Thanksgiving dinner and the only thing she needs to take care of is her outfit! Clawdeen will also be there and as the Wolf sisters always compete in terms of fashion you are going to help the baby sister in the Wolf family look flawless at this family reunion, isn't it girls? So, should we start with a fun hairstyling session? Howleen's new hairdo can short and curly or it can be perfectly styled up in some chic piggy-tails or a sophisticated bun! Once you've decided that, you can start digging through her wardrobe for that stylish outfit needed for this event! Playing the 'Howleen Wolf's Thanksgiving Day' dress up game you get to dress up beautiful Howleen with chic two pieces outfits by pairing tight-fitting shirts with jeans or lovely layered mini-skirts, leather jackets, tights and high heeled shoes! A fancy dress would make such an amazing choice for a Thanksgiving dinner, so check out the ones available at your disposal in this Monster High themed game too, and pick out your favorite of all to dress her up with! Pair it up with the right tights, jewelries and pair of shoes and she will surely leave Clawdeen mouth-opened with her perfectly accessorized outfit! Play the 'Howleen Wolf's Thanksgiving Day' dress up game, put your fashion skills to a major test an create lots of fancy-chic outfits for Howleen Wolf to pick her favorite for this year's Thanksgiving family reunion! Have a blast!
Thanksgiving Dres...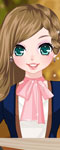 Thanksgiving Day is right behind the corner and Sally has to pack her things and get ready for a long journey to her mother's house! Her family is one of the few that still preserve the old traditions related to the Thanksgiving dinner and that's why it is mandatory for her to be there! Besides the big fat, properly cooked turkey and other goodies that are important icons for this event, festive looks are a must too and here is where your help is needed in the 'Thanksgiving Dress Up' game! Get it started girls and help this dashing cutie look so very pretty and elegant at this year's Thanksgiving family dinner! Start your job with a super fun make up session, check out Sally's professional make up kit and use the right cosmetics to create her a bright, youthful make up look and then continue with the hairstyling part! A chic, a bit wavy bob haircut or maybe a braided hairstyle would make the best choice for a stylish Thanksgiving look! A pink girly-girl hair bow or a lovely french beret would add so much chicness to her lovely look, so make sure you check out the hair accessories items before starting looking for her Thanksgiving special outfit! Now that some of the most important decisions have been taken, you can start looking through her Thanksgiving clothing collection and dress her up with the chicest outfit you can find there! Give her some glittering jewelries, too and you will have Sally ready for the upcoming Thanksgiving dinner! Enjoy playing the 'Thanksgiving Dress Up' game!