Let it Snow!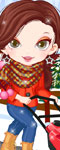 Blair has planned the New Year's Eve party really carefully! She invited all her friends at her family's cottage promising the best party ever, including lots of fun for everyone outside in that 3 feet, sparkling white snow surrounding the cottage! But when they got there they almost could not believe their eyes: huge mountains of snow...they couldn't even find their way into the cottage! Imagine that! Excited about this fairytale-like winter landscape Blair's friends have already started having fun into the snow while she brought her father's snowblower from the garage and started to shovel snow outside the cottage. Oh poor Blair, she lacks the fun!! But I have an idea! A crazy fashion show right there in the middle on those mountains of snow will surely bring a huge smile on her face, so how about choosing some chic winter clothing and lovely accessories to keep her warm while she's cleaning up all the show?
Winter Lodge Deco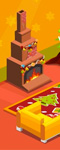 Hey boys and girls!! We have some good news to share...DressUpWho invites you all to spend a super fun week at our super chic winter lodge, up there right on the top of the mountains! The fun is guaranteed and also the food...you'll only need to bring in your room decorations skills in order to turn this place into the coziest place where you'll feel like home!! So, are you ready to fulfill this challenging task? Now start rummaging through these deco items available in the "Winter Lodge" decoration game, and pick out the furniture you like best of all, a chic fireplace and a Christmas tree if you want, then take a look at the other decorative objects and select those that fit best this winter decor. We hope you'll enjoy your stay at our winter lodge! Have fun!
Christmas Eve Gifts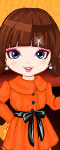 Jessica's family follows the popular tradition of the Christmas Eve gift shared by many across the world: the one who says "Christmas Eve Gifts" first prompts the opening of the gifts. Just like last year, Jessica was the first who said the magic words and she had the honor to be the first who opens Santa's gift. Well it seems that Jessica has been a good girl this year as Santa's gift for her is quite impressive, she received everything she wanted: clothes and more clothes, funky hats, new stylish winter boots and many glittery jewels...in few words an entire collection of winter clothes and accessory for her. Now it's time for her family to open their gifts and meanwhile she'll spend the time dressing up with the new clothes she received. Be there for her and help her try out all of them...maybe maybe she'll find the prettiest combination to wear at the Christmas dinner. Merry Christmas everyone!
Christmas Wrapping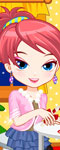 Among all the wonderful things that happen a few days before Christmas, one thing is sure: for most of us wrapping the Christmas gifts it always seems like a pain in the neck. But not for Jolie and her little brother Nick, by far they're enjoying this Christmas' activity. They are locked in the living room for hours, listening the most beautiful carols while their little, skillful hands are gently wrapping the gifts for their dear ones. With so many sweet looking, brightly colored wrapping papers, lovely winter decorations and Christmas cards they almost forgot to prepare their Christmas special outfits, so how about you taking care of their looks? There are so many, lovely clothes and accessories to be taken into consideration, so thrust your instinct as a talented fashion adviser and feel free to pick out your favorite clothing items and accessories to dress them up!
Who Ate My Ginger...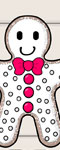 My Christmas baking wouldn't be complete without a batch of these cute gingerbread cookies, so I've spent the whole night in the kitchen, baking and decorating the most delicious ones for my carolers, but when I woke up this morning SURPRISE...my cookies were all gone!! Who ate my gingerbread :(?? Seriously, who could do a thing like that now with a few days left before Christmas? No, no, no! Wait...luckily I still have a few pieces left undecorated and I'm sure you can help me transform some ordinary gingerbread cookies into something truly spectacular!! Work out your pastry chef skills while magically decorating the most common gingerbread cookies choosing from the wide variety of already made ornaments the ones desired to create a memorable batch of Christmas gingerbread cookies! I hope you'll enjoy it!
Yoga Exercises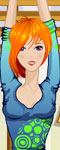 Gooood morning ladies...it's time for your daily exercises!! This morning looks beautiful and fresh, so just open your windows and prepare yourselves to get your body in a killer shape and your minds in a perfect state with some easy and super fun yoga exercises! Combine the meditation techniques and physical exercises with some fashionable and comfortable sporty outfits, pairing chic tops with pretty mini-skirts or wearing one of those beautifully printed, tight-fitting dresses for a surprisingly stylish look during your yoga sessions. Add some bits of color to your outfit choosing a pair of colored tights, matching ballet shoes and pretty looking hair accessories! Have a great morning and a wonderful time playing the "Yoga Exercises" dress up game!
Winter Lovebirds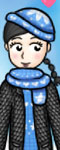 The warm days of summer provide the perfect conditions for exciting romance and fun outdoor date ideas, but as the seasons change and the winter winds pick up the lead, many couples may find it more difficult to come up with exciting date ideas when it's snowy outside. But not for Lisa and her handsome boyfriend! They both love winter time and they are committed to have as many romantic outdoor dates as they can during this cold season. Last week they had some fun winter time exercise while they were ice skating at the local ice rink and for this week they planned to spend the day having fun into the show: building snowmen, making snow angels and having playful snowball fights...sounds like a lot of fun for the two winter lovebirds!! Choose some warm winter clothes to dress them up, lace up their snow boots, then wrap them up in scarves and gloves and let the winter fun begin!!
Blue Fashion Expr...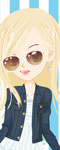 Are you ready for a blue frenzy and an incredibly chic fashion show? Well, here you have it, in the "Blue Fashion Expression" dress up game! Catch up on the latest fashion trends and crown your casual look with these fabulous blue designs and glittery accessories that we have gathered in this cute girl's wardrobe just for you. That's right, her wardrobe is filled with a wide variety of short or regular length, blue jeans, lovely printed blue or white T-shirts, bright blue glittery tops and chic, vaporous dresses so, use your creativity as well as fashion sense to combine the various style pieces and fuse them into a worth-of-a-fashionista look. Accessorize her final outfit with a chic pair of shoes, pick up some fancy earrings and necklaces and finish off your job, as her personal fashion adviser, by selecting a new, lovely hairstyle for her! Enjoy playing the "Blue Fashion Expression" dress up game!
Agent P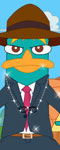 Perry the Platypus, codenamed Agent P, is Phineas and Ferb's pet platypus, who, unknown to his owners, lives a double life as a secret agent for a government organization of animal spies. While he was spending the time of his life at Phineas and Ferb's backyard beach party, Perry received a very important call from his superior, Mr Major Monogram. It seems something bad is happening in town and only Agent P can successfully solve the mystery. Well, boys and girls, it's time for Perry the Platypus to leave the party and prepare for his new mission and for that the skillful Agent P needs a bit of your help. Show off your fashion skills while playing the "Agent P" dress up game and help him disguise for his important undercover mission choosing from his secret wardrobe the best outfit and accessories to put together the perfect outfit for a secret agent!
Hulu Hoop Cutie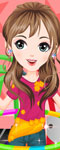 I've been going to the gym lately and every time I go there, when I go in there's an amazing looking girl with an amazing talent: HULU HOOP. She's so amazing with the circle and she's also dressed like a champ. I've heard her talking about her next competition which will take place sometime in the next 2 weeks and she's committed to practice every day for these 2 weeks. She also brought a lot of cool clothes to try out and this is where you come in as a dress up expert. Help her out with her clothes as she's too busy training and I'd hate to see her wear something weird on the podium and plus: you are an amazing fashion adviser. Dress this cutie hula hoop girl up and have some fun while doing it!
Party With Franki...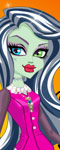 Are you ready for a new fashion episode with one of those gorgeous Monster High ghouls? If your answer is yes, and I'm sure it is, then get ready to start playing this brand new Monster High dress up game featuring one of the sweetest ghouls from the entire cartoon world: Frankie Stein!! Well girls, it seems that this Saturday is Frankie's birthday and she and all her BFFs: Cleo de Nile, Clawdeen Wolf, Lagoona Blue, Draculaura, Ghoulia Yelps and Abbey Bominable are decided to have the best party ever. And guess what? You're invited at Frankie's birthday party, too and more than that...you're her special guest :D!! But before that, you need to work out your fashion skills a bit and help Frankie put together a highly original outfit that will help her stand out of the crowd at the party! Take a deep breath and dare to open her super personalized Gothic inspired wardrobe: tight-fitting dresses in different colors, chic shirts and lovely striped blouses that you can easily pair with a loose skirt or with some chic pants, super high heeled shoes, glittery jewelry and fancy hats are your options in "Party with Frankie Stein" dress up game, so feel free to choose your favorite items to dress her up. Don't forget about the gorgeous hairstyle that should complete her winning look: a chic ponytail hairdo or a long length hairstyle? It's your choice! Be at your best and help Frankie Stein celebrate her birthday in style! Enjoy!
Sushi Bar Date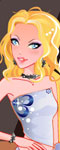 She surely is the loveliest girl in school and she definitely has a highly original fashion style but right now you wouldn't want to be in her shoes! Our teen fashionista here is getting ready for her very first romantic date and she's so nervous that simply cannot concentrate to put together her amazingly stylish outfit! So, how about working out your skills as her fashion adviser playing the "Sushi Bar Date" dress up game and getting this sweetie ready to impress her date with her sense of fashion?? Take a look at her super chic wardrobe and choose the chicest outfit of all, the one that would simply impress her date and then look for a matching pair of heels and the right accessories, too. A super chic new hairstyle should complete her gorgeous look, so make sure you pick out the one that best highlights her beautiful features! Enjoy!
Turkey Cooking wi...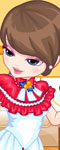 It's that time of year again, time to gather with friends and family...Thanksgiving is here!! As always, your mother is alone in the kitchen trying to plan the perfect menu for Thanksgiving feast, so how about giving her a helping hand this year? But before you start cooking with your mom the most delicious stuffed turkey, you two girls need some super fashionable kitchen outfits!! Wearing a chic dress or a stylish combo and the right accessories and you and your mom are ready to make a fashion statement in the kitchen even when you are preparing the most sophisticated stuffed turkey recipe! Check out all of those chic kitchen outfits and glittery accessories available in the "Turkey Cooking With Mom" dress up game and see if you can come up with two highly original outfits to style them both! Have fun!
Nail Salon with Mom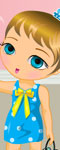 Mommy, what day is today? Thursday sweetie! Hmm, if it is Thursday then it means is time for some mother and daughter fun!! Yeeey, today we'll have the best day together because I'm going to ask my mom to take me to the nail salon!! So, if it is Thursday and we will go out then it means that it's time for a super fun mother and daughter fashion show, too!! Play this great mother and daughter dress up game and help these two cuties look chic while they're enjoying their time together! In their wardrobes you'll find everything you need: dresses, tops, skirts, pants, shoes, bags and accessories, so pick out the ones you like best of all to style them both from head to toe!
Umbrella Bella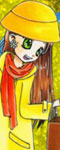 Bella has carefully planned her going out! She has already imagined herself getting lots and lots of head-turns with her new, super stylish look but today is one of those cold and rainy autumn days! Her mood matches the weather, so how about lifting up her spirit getting her ready to be stylish and trendy despite the bad, rainy weather outside? Put all your fashion skills at work, be creative and brighten her day up by choosing a super stylish outfit that you can easily pair up with a chic pair of boots and matching accessories. In a rainy autumn day umbrella is the main accessory, so make sure you choose a candy colored one to protect her from the cold rain drops!
Justina Bieber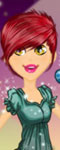 Wow! She could totally be Justin's double in a Justin Bieber concert anytime!! She has that hairstyle, her stylish clothes were inspired by Justin Bieber's wardrobe, whether it's a head to toe look, or a subtle accessory, she's a famous pop singer, too...oh and they have something else in common, the name, she's Justina Bieber!! Really impressed by this girl's look, Justin invited Justina to do a confusing duet together...tonight!! She's so excited!! She used to be Justin's number one fan and now she has the chance to sing with him one of his greatest hits. Amazing!! Come and help Justina get dressed for her first concert, choosing the right clothes, hairstyle and accessories. In the past years Justin Bieber managed to make young girls go crazy and scream when his name is mentioned, now is Justina's turn to put boys world upside down!
Hipster Girl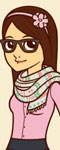 Being a hipster these days is really hard! You have to deal with the ideal of being nonconforming while looking identical to everyone in the hipster community. So, do you want to be one of them? Then play the "Hipster Girl" dress up game and find out what it takes to be a real hipster. This game presents you one of these hipster girls as she will be your model and her wardrobe your perfect source of inspiration! Put your fashion skills at work, start mixing all of those old school tight fitting t-shirts, skinny jeans, flowing sweaters and retro shoes and put together a unique hipster attire to dress her up. Accessories? Yes please, they are mandatory! There is a wide choice available in this dress up game including: oversized plastic framed glasses, flower headbands, patterned and colorful scarves or hoodies so make sure you select the ones that best complement the chosen outfit! Want to try another clothing combination?
Sally's Autumn Wear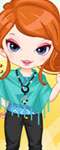 Ohh nooo!! The rainy autumn is already here and cute Sally has a major problem...regarding the autumnal fashion to be more specific. Let's join Sally in her dressing room and help her establish the best outfits for this season! In her wardrobe you'll find a wide variety of chic, pinkish dresses, warm blouses, lovely looking baby-dolls and layered or plaid patterned mini-skirts, so take a look at them all and pull out the trendiest clothing combination to dress Sally up for a lovely day of autumn. Once the main decision is taken, select a pair of tights that best complement the chosen outfit, select some comfy but chic shoes to match and complete her lovely autumnal looks with some glittery accessories! Enjoy!
Plaid Fashion Mania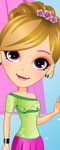 Plaids have been coming and going out of fashion for years and now they're back to enchant our eyes and take our outfits out of the ordinary! So, if you're one of the plaid-junkies make sure you don't skip the plaid fashion mania dress up game, the perfect fashion style guide for you! Nowadays plaids aren't stopping at just shirts, they are used for everything from lovely skirts, chic tops over one shoulder and pretty dresses, so drop a glimpse at these fab plaid patterned clothes available in this cute girl's wardrobe and put together a really sweet outfit to dress her up for a stroll at the park! Play the plaid fashion mania dress up game and discover new ways to wear plaids this season so you can look trendy from day to evening!
Phineas And Ferb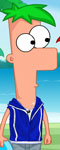 It is a hot day in Danville, so Phineas and his older stepbrother Ferb are committed to have the best day ever! They kept thinking all morning about things they could do and in the end they agreed to throw a super cool party at their backyard beach and everyone to be invited...and when I say everyone I mean the guest list includes you too. Yes. You're invited to Phineas's and Ferb's beach party but...only if you pass a test...a fashion test. They want to surprise everyone at the party by wearing some uber creative and mega original outfits and they need some fashion tips to choose the best ones. Show off your fashion skills while playing the "Phineas and Ferb" dress up game and make sure you get enough points to participate in what promises to be the hottest beach party of the whole year!!
Halloween Costume...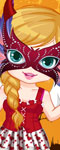 There's so little time left till the two little sisters will go trick or treating and they still haven't bought their Halloween costumes! Do you think you could give them a helping hand? Then get the Halloween costume shopping dress up game started, show off your fashion skills and help the two little girls pick out the best Halloween costumes from the ones available in their favorite store and get them dressed for the creepiest night of the year! Start playing this great Halloween themed dress up game by helping them deal with their makeup! Hmm, should they go for a spooky, Gothic inspired makeup or they should choose some fancy, Halloween face masks? It's your choice!! Once you've decided that, go ahead with your work and help them choose the best Halloween costumes of all and then complete their cute looks with the perfect hats and accessories. Be at your best and make them the prettiest Halloween girls from all the ones going trick or treating this night!
High School Vampire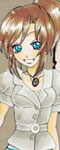 Given the fact that Halloween is the perfect time of the year when all the creatures of the dark show themselves, vampires make no exception and this game is about a vampire...a cute one actually that would like to go trick or treating... dressed as a normal person... take that as the perfect disguise: to walk among kids and teens like you're one of them. Nevertheless she'll still "wear" her fangs so it'll be a little bit like Halloween for her don't you think? Her problem is picking the right combination of clothes as the rest of the year she dresses in the vampiric clothes we all know: dark and black stuff with a tint of evil. Dress her up as soon as you can as I'd hate it for her to miss Halloween just because she wasn't dressed properly on time. Have fun girls...and say hi to her when you meet on the best night of the year. Trick or treat?
Halloween Candy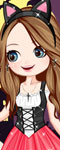 Well...Halloween is almost here and these two lovely sisters need their outfits done and when I say done I mean a very cool idea put into place and transformed into the most amazing Halloween costumes of the year. Try the different clothes and match them both for the final picture at the end of the game. Be sure to catch the feel of Halloween through their clothes and make them be the best looking trick or treaters. At the end of this lovely dress up games the girls will get their desired prize: lots and lots of candy but be careful with the sweets...too much of them and you'll be finding yourself drinking lots of water :P
Ms. Dracula - Vam...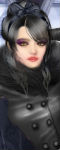 So, you've been bitten by Halloween fever and you need the perfect costume before you move up to Dracula's haunted castle to live with the vampires? Luckily, you've found the ultimate source of original outfits, jewelry and makeup products that will have all your vampire, witches and ghosts friends wondering if you've actually met the famous Count Dracula. Stand out of the crowd at the Halloween party this year and make sure you show up wearing one of those really sophisticated, Gothic inspired costumes available in Ms. Dracula - Vampire Dress Up game. Just check them all out and once you've decided on the winning, stylish vampire costume make sure you pair it up with a Gothic makeup, too. Choose to be completely out of the ordinary while enjoying this year's Halloween party and accessorize the chosen outfit with a sophisticated hat or some sparkling jewels! Enjoy!