Bracey Girl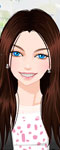 One thing I do know about the time when I was younger and that is I was literally scared to death about braces. Every time my mom took me to the dentist for the regular check, I used to dress really nice to impress the dentist so he won't prescribe any braces (like that had anything to do with it)! But now that I've grown, having actually worn braces for some time a few years back, I find them pretty chic and one can wear them almost like fashion accessories to match whatever style you can think of. This game means a lot to me as it represents a long forgotten wish of mine and that is to have the perfect clothes that match any braces thus making the wearer a proud person without any fear of showing her braces or her clothes. What you have to do in this game is basically the same awesome stuff you do in almost all games on DressUpWho.com: you have to dress the model up with the prettiest clothes you can find in her wardrobe and for that you'll have to use your imagination a bit. I'm confident each girl playing this game will have tones of that and more and I'm looking forward in your comments about it. Happy playing girls and remember: braces can actually be a lot of fun if you know how to wear them!
Yearbook Photo Se...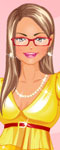 Oh look at my Sally, she is a grown-up girl now! She is a senior this year and this is her last photo session as a school girl! She definitely wants to have a really good school yearbook photo as she only gets to do it once. She also needs to look beautiful in it as this is how her colleagues will remember her by for the whole school year and here is where she needs your help. Sally has spent a lot of time gathering lovely dresses, chic shirts, candy-colored over-tops and girly girl hair accessories for the yearbook photo session and now that is time to get ready for it, she really can't decide which of her clothing and accessories items are the right ones for her yearbook photo! Give her a helping hand getting the 'Yearbook Photo Session' dress up game started, be Sally's personal fashion adviser and help her make the best decisions. Have her try some of her dresses, put together some really chic two pieces outfits for her to try on and make sure you don't stop until you find her a stylish outfit. Continue your work, as Sally's personal fashion adviser, with a super fun hair styling session and then take a look at all of those diamond earrings and glittering necklaces and pick out the ones that best complement the chosen outfit. There is more! A bright colored hair accessory or some pink eyeglasses are sure to add so much loveliness to her elegant look, so make sure you choose the prettiest of all to complete Sally's perfect look for her yearbook photo! Well girls, we hope you will have a great time playing the 'Yearbook Photo Session' dress up game!
Frankie Stein At ...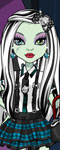 Hey ghouls! Have you had fun at Frankie's birthday party? It was great, isn't it? Maybe the location was a bit too spooky, but her ghoul friends, that great weird music...everything was perfect! Oh and no to mention Frankie's party outfits! She looked amazing in all of them! Well girls it's time for Frankie to go back to school now and here is where she needs your help! On her first week at Monster High school she managed to mess things up several times but now, after a long and relaxing vacation, she's going to return and she plans to start with the right foot. This time things are going to be much easier for her as she already is surrounded by her friends Draculaura, Clawdeen Wolf, Lagoona Blue, Abbey Bominable, Cleo de Nile, and Jackson Jekyll, so her main focus is choosing the right school outfit! Speaking of school outfits, do you think you could give her a helping hand at putting together a highly original one to help her stand out of the crowd at school tomorrow? She had a wasteful shopping spree at her favorite Maul yesterday, so as you can already imagine she bought many chic clothing items and lovely accessories, so she would appreciate it if you could mix and match them in some cheerful school outfits! Check out Frankie's fabulous wardrobe and feel free to select your favorite clothing items to dress her up with, then assort the chosen outfit with glittering earrings, necklaces, bracelets or a chic studded belt and the right pair of high-heeled shoes! To complete Frankie's new school look choose a brand new black with white streaks hairdo from the ones available at your disposal in 'Frankie Stein At School' dress up game! We hope you will enjoy it!
Kawaii Lolita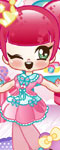 Awww now this is something really cute! If you are crazy about cute bows and girly girl outfits, then you have many things in common with our sweetie here, therefore you should prepare yourself to enter into the candy-colored world of huge doses of Kawaii in hues of bright pink, baby blue, lovely purple and sparkling yellow, getting the Kawaii Lolita dress up game started! Today, this cutie decided to take one of her amazing trips to the magical world of cuteness, sunshine and happiness and I'd hate to see her wearing something that doesn't fit with the fresh pink air floating around...so here is when you come in as a super talented Lolita style fashion expert. In her fantasy wardrobe you'll find a wide variety of pretty looking pastel outfits, cute headdresses and lovely shoes, so start mixing and matching them until you manage to put together the sweetest Lolita look for our pretty Kawaii Lolita lover. A successful Kawaii look requires more than a sweet baby doll outfit, it's also about lovely hairdos styled up in cute pigtails or with candy-colored hair bows and glittering jewels, so make sure you pick out the ones that best complement the chosen outfit. Enjoy playing the "Kawaii Lolita" dress up game!
Laundry In The Ba...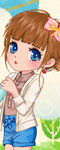 Oops, no more clean clothes for Rose! She's just wrapped the last clean dress from her wardrobe and most likely she will spend the day washing her clothes! Doing the laundry might be a boring home activity, but not for Rose...she loves taking care of her own laundry! Good thing it's a sunny morning so she can hang her clothes outside to dry...this way she will be able to wear her favorites in a couple of hours! But wait a minute! Did you think that this fashionista would go out to hang her laundry dressed no matter how? Usually she's taking a great care in putting together all of her fashion looks each time she gets out of the house, so since she's going to do her laundry today maybe you could help her at choosing some comfy chic, girly clothes for it! Give her a helping hand getting the "Laundry In The Backyard" dress up game started and see what lovely dress, comfy shoes and accessories would get her in the right mood for a super fun laundry in the backyard session!
Supermarket Fun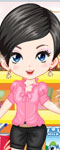 When going to the supermarket your main goal is to buy everything on the list you made at home and the rest is secondary. Or is it? Dressing up is a lot of fun and even a casual supermarket shopping spree can turn into the best dress up moment of the day. For all of that to actually happen you need a wardrobe filled with pretty clothes, a very nice collection of hairstyles and accessories to match. Combining the clothes and matching the hairstyles in this game is no different and it actually reminds me of the fun I had when I went out for shopping. First I would try some hairstyles and you know me girls...I like to take my time so I always had to start in the morning to be ready in time for the afternoon shopping with the girls. So...as I was saying...I would try hairstyles and when I would finally get to the one I like I'd start the actual dress up session throwing clothes all over my room just to find the right pieces. Once the clothes were done and picked I'd go to the shoes and finally to sunglasses and jewelry to match them all up. Try this game and write down a comment if it was cute or not.
Waiting For The S...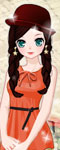 This elegant girl might seem a very sophisticated girl to you, but actually she's not! She prefers to take the subway wherever she goes because she finds it the fastest and most comfortable public transportation of all. Today she's hoping that the subway will take a long time to get to the station...this way she will have a good while to choose her look for her shopping spree! Now this is a scene that does not happen every day at the subway - a girl getting dressed while waiting for the subway, so you'd better join her and give her a helping hand at finding the most fashionable outfit. Go for a casual and relaxed yet chic style featuring a lovely baby doll, sleeveless top paired up with a pair of short or straight pants or go for a more elegant one by dressing her up with a chic, ladylike dress which will looks great with a fancy hat and a trendy pair of Oxford shoes!
Mother's Day Card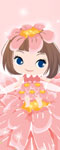 Do you know what makes the perfect surprise for your mom on Mother's Day? There's no better present in the world than a customized card made with your own hands! For a great looking one you will need some great tips and tricks and for that DressUpWho.com invites you all to play the "Mother's Day Card", a super fun decoration game that will help you create the perfect gift for your mommy! Pick a really nice color for your card, then beautify its background with little flowers, flying hearts or glittering stars, choose the loveliest bow to cover the upper left corner and then go on and pick the most beautiful message for your mom. Writing something sentimental, silly or sweet right in the middle of the card will surely bring a huge smile on her face, so check out the Mother's Day special greetings prepared for you in this card decoration game and feel free to select your favorite! Put together all your creativity and love for your mom while creating the special card for her and at the end of the game you will have the perfect Mother's Day card! Happy Mother's day to all Mum's everywhere!
Summer Job: Mowin...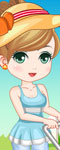 Kelly and her friends are planning to go on a trip this summer. But there is one small problem...Kelly is broke! Instead of asking her parents to pay the vacation or braking her money box, Kelly has decided to get the money that she needs for her super fun summer vacation getting herself a summer job! And she already knows what job suits her best...she's going to mow some lawns around the neighborhood!! That's great, just think about it: everyone needs their lawn maintained but a lot of people don't have enough time to do it themselves and luckily she already knows how to use the lawn equipment, so this job it's going to be a piece of cake for her. Well girls, today is Kelly's first day of work and she would be grateful if you could help her dress properly for it, so get the "Summer Job: Mowing Lawns" dress up game started and help Kelly look at her best while she mow lawns around the neighborhood!!
The Hunger Games ...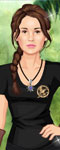 Have you girls heard of the "Hunger Games"? It's a movie released this year starting Katniss Everdeen, a 16 year old girl from District 12. She takes the place of her sister in the Hunger Games. The games take place at the Capitol and that's where all the participants are taken for the final confrontation. But wait...I did say Katniss was a girl...a quite pretty one too and this game is not about fighting and rebelling but dressing up properly. Katniss loved dressing with her mother's clothes when growing up, running every evening in the attic to play dress up in the big mirror. Her mom was a great artist and designing clothes was one of her most preferred ways of spending time in those dark days. She made hundreds of outfits for different events and occasions and Katniss literally played with them all. She brought a few of these clothes out in this game where you also have the chance to try them out on Kat and have fun while doing it. Don't worry about the time...it's not like we're in a rush. Take your time, match the clothes and hit the finish button to see the result :)
Lagoona Blue Dres...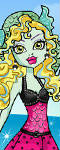 She has a gorgeous, curly blonde hair, she's the Sea Monster's youngest daughter and she's one of Monster High's most fashionable students...she is Lagoona Blue, the beautiful ghoul you are about to style up! As you might already know, spending a scary good time at the beach with her best ghoul friends is one of Lagoona's favorite activities and she has already organized one with surfing and beach volleyball, but her main preoccupation right now is choosing her ghoultastic attire and for that... she needs some fashion advices! Play this new Monster High dress up game and give Lagoona Blue a stylish beach time look by pairing chic tops featuring awesome fish scales with stylish knee-length, stripped pants or with lovely layered miniskirts, then see what fancy mini-jacket you can select from the ones available at your disposal in her trendy wardrobe to complete her scary chic outfit. Next, continue playing this dress up game by accessorizing her outfit with some stunning platform sandals and with glittery jewelry made of pearls and finish off her stylish look with an amazing hairdo, picking out one of all those chic wavy hairstyles you have in the "Lagoona Blue Dress Up" game! Dress up sweet ghoul Lagoona Blue in fashionable outfits, choosing from her colorful wardrobe the clothes, accessories, shoes and hairstyles that you fancy the most and make sure she will look amazing in all the outfits that you dress her in!
Sewing Cutie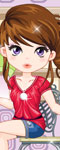 When she turned 10 years old, Sally's mother got her the best birthday present ever - a sewing machine! She quickly learned how to sew and in the next 6 years she created everything from tiny scarves to chic dresses, tops and miniskirts. Sally's passion for sewing recently acquired new dimensions and turned her into the youngest fashion designer on the market and the lucky owner of the most successful clothing store in town. She spends the days and sometimes also the nights in front of her sewing machine creating her small ready to wear summer clothing and hats line...no wonder that she has no time to dress herself up. So it's your job to make her look pretty and chic at the same time while she continues her sewing session. You have a wide variety of pretty t-shirts to pair with chic shorts and candy-colored chains, lovely dresses to dress her up with and chic shoes to complete her look with. Play the "Sewing Cutie" dress up game, have a look at Sally's trendy wardrobe and put together a chic casual look for our super talented sewing cutie! Enjoy!
Magic Fin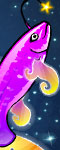 When I was a little girl I used to go fishing with my father, hoping that one day I'll catch the Golden Fish and I'll ask it to fulfill three of my wishes. Well, that never happened =) but my mother bought me a crystal fish and since then all my wishes became real! I had a great childhood playing with my magical, crystal-made fish and today I'm going to share it with you girls because I know some of you have some urgent desires to be fulfilled. Here is what you have to do before making a wish: my old friend needs a brand new look, so how about starting the customizing session by choosing its body color? In the "Magic Fin" game you have at your disposal a wide variety of candy-colored body shades, so try some of them and then pick out your favorite! Next, find the cutest fish eyes for our fantasy fish friend, then select a dizzy fish dorsal and a colorful, super rich tail and after that feel free to close your eyes and make a wish. Show off your creativity while playing the "Magic Fin" game and make sure you get enough points to make this magical fish turn your wishes into reality! It really works :D
Day Dreaming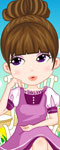 This is how Clara starts all those beautiful Spring mornings: sitting in her garden with a cup of hot coffee and dreaming of the new spring collection, professional cosmetics or of those small, innocent pleasures. Oh, you should see her, sometimes her silly little fantasies seem really realistic!! Well, she might be day dreaming most of the time, but she's more than attentive to the clothes she wears, so how about you, really slowly, start dressing this stylish cutie up with her chic outfits? You have cute, flouncy miniskirts, lovely t-shirts and stylish knee-length pants, candy-colored chains and chic shoes available at your disposal in the "Day Dreaming" dress up game, so feel free to choose the ones you like best of all to dress up our dashing day dreaming cutie with an incredibly chic outfit. Then softly style up her hair and quietly rummage through her jewelry box and see what kind of glittering jewelry would ensure her a spectacular entrance in the fairyland of day dreams!
Pottery Class Fun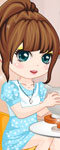 I want to tell you girls a little story. The other week a couple of friends of mine thought it would be nice to do something different and fun at the same time in the weekend and Sally came up with the idea of going to a pottery class. Cheryl loved the idea the most as she was preparing her wardrobe for such an event for quite some time and this was the perfect moment to try out all her clothes. Well.. you can pretty much see the clothes for yourself and even better, you can try them out and dress up Cheryl the way you think she'll enjoy the most. At the pottery class where we'll try out some different pottery making techniques she's gonna be the star as no pile of mud can hide her style. I also tried on some of my favorite clothes, but that's a story for a different game + I'll have to show you girls my pots and vases I made during the visit there :D Have fun and try some pottery classes yourself when you have the time for it :D
Cute Dog Walker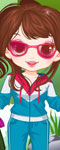 Cindy and her friends are planning to go on a trip when summer comes, but there is one small problem...Cindy doesn't have enough money, so she needs to get a job! Luckily she is a pet lover and this job as a professional dog walker suits her perfectly, don't you agree? Well girls, it's time for Cindy to get ready for her first day of work as a dog walker - could you help her prepare for it? In the "Cute Dog Walker" dress up game you have, on the right side of your screen, lots of bright colored blouses, comfortable pants and trendy shoes, so have her try some of them and pick out the ones you like best of all to dress her up. She looks so cute now, but her outfit is still incomplete! What is missing? Well when you dress up the dog walker girl you have to think about the accessories you will choose to assort her outfit with! In the "Cute Dog Walker" dress up game you have at your disposal some super trendy hats and some funky-looking sunglasses and picking the right ones will make her look marvelous! Enjoy!
Frozen Yogurt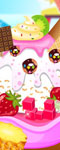 Let's imagine this: you are a super talented pastry cook, you have some amazing dessert decoration skills and the most important thing, you have many, many sweet treats at your disposal...in a word everything you need to make any fantasy dessert come true! Now get the "Frozen Yogurt" dessert decoration game started, show off your decoration skills and create the ultimate frozen yogurt dessert! First of all, choose the support in which you will place the delicious dessert, then add some bits of colors to your fantasy dessert and after that feel free to cover it up with delicious icing, ice-cream of your choice and creamy whipped cream. Continue the frozen yogurt decoration game with the selection of the refreshing fruities that will load your super sweet treat and with the selection of the colorful sprinkles, lollipops, wafers or chocolate bars that will add the last notes of color to your fantasy dessert. Enjoy playing this sweet dessert decoration game!
Perfect Spring Va...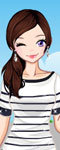 It's April 2012 and the Holiday Season is almost here. Kate and David planned their trip since last year and they were eagerly waiting for April to start their holiday...one of many planned for this year. They decided to visit the South East Asia and stop for more wherever they felt they had the best time. Packing and planning was a breeze as they were both very enthusiastic about it. One small thing remains and that is to properly dress for the trip. Even though David is not entirely keen on dressing up all day (after all he's a guy), Kate convinced him to accept this fashion session on DressUpWho.com as it's the best place for dressing up advice. You have them both in this game and you can see the airport in the background so you should hurry up a bit. Pick David's and Kate's clothes from the menu on the right and click the finish button to see a clearer picture of what you've created. Once you've dressed them, their first part of the journey will find them wearing your clothes and the picture will be there to prove it. Wanna have a go? I'm sure you'll do just great =)!
At The Aquarium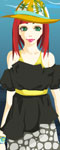 This cute teen girl finds the underwater world fascinating and because the water in too cold for a scuba-diving session she decided to visit one of the most famous aquariums in her country. Today she will have the chance to see her bright colored fish friends, those candy-colored water plants and her beloved seahorses. Oh girls, you can't even imagine how excited she is for her trip at the aquarium...she's so excited that she totally forgot about all those so complicated fashion rules. She's depending on your help today, so would you like to give her a helping hand at putting together a nice, casual outfit? Get the aquarium dress up game started, check out this girl's fashionable and colorful wardrobe and dress her up in lots of super chic but comfy outfits. Choose the outfit you fancy the most to dress her up and then assort her newly designed look with the right pair of shoes and accessories! Be at your best and make her look beautiful in an amazing casual chic outfit!
Gorgeous Princess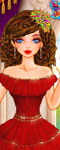 Are you ready for a trip back in time to those days when glamor and high-class style ruled in fashion? Then the "Gorgeous Princess" dress up game is your free ticket to those beautiful days! Get it started and meet princess Elisabet, the youngest and by far the most spoiled member of the royal family...just check out her luxurious wardrobe and you will see what I mean: majestic floor-sweeping gowns, elegant shoes, sparkling tiaras, glittering jewelry and many other mind-blowing, sophisticated items. Well girls, princess Elisabet is getting ready to attend a luxurious masquerade ball and since you are here, would you like to give her a helping hand at putting together the most stunning, jaw-dropping ball outfit? There are so many elegant princess ball gowns and so many exquisite mini-dresses waiting to be tried on till you've decided upon the perfect one to make her spectacular entrance. Once her masquerade ball gown is chosen style it up with a lovely pair of high-heels and then see what embellished mask, glittery tiara and sparkling jewels you can use to glam her up. Enjoy playing the "Gorgeous Princess" dress up game!
Baby Onesies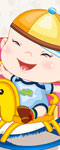 When it comes to baby fashion this toddler is the lucky owner of an entire collection of comfortable, soft and cosy onesies, candy-colored hats, lovely tiny shoes and many other adorable and colorful baby accessories. For his playtime with his wooden pony, our cute baby boy loves to be dressed up with style, so how about you stepping in this cutie's colorful, lovely playing room and be his personal fashion stylist getting the "Baby Onesies" dress up game started? Choose a tiny but equally nicely printed all-in-one baby suit to dress him up, then find a pair of lovely shoes to chic up the chosen outfit and to add some more loveliness to our adorable toddler here select one of those colorful, baby hats. Have fun dressing up this stylish, adorable little boy!
Country Guitar Girl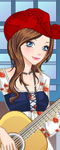 Don't know about you girls, but this game remembers me about my childhood with its long summers spent at the countryside living with my grandparents at their farm. There I've grown an obsession for the country fashion style, country music and there I had the chance to play the guitar for the first time. It was really amazing! This cute teenager girl is a country gal at heart and she surely has the look and the style of a country pop diva. You can see for your self as you have all her chic and highly feminine wardrobe featuring lovely printed dresses, shirts, tops, vests, jeans, boots and cowgirl hats at your disposal and you can actually try them all in whatever order you want. I can tell...any stylish city girl could learn some amazing style tips from this country cutie! Well girls...it's time for you to take a trip to the countryside and add some fresh bits of girly chic loveliness to your wardrobe getting the "Country Guitar Girl" dress up game started!
Car Wash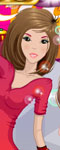 It's a sunny day and 2 best friends decided it's time to take the car out for a spin, but.. just when they were about to head out to the city, they noticed the car would be better off with a nice wash and polish so they won't wonder out into town with a dirty car. They headed out for the nearest car wash they could find.. there was one very close to were they live so it wasn't a very hard task to tackle. Given the fact they know everybody at that car wash they were allowed to also do a quick photo session to show off their dress up skills and OMG what a show that was. You can see for your self as you have all the clothes they used and you can actually try all of them in whatever order you want. Give it a try girls and head out for some city fun afterwards with your freshly cleaned retro car looking good as ever :D
I Love Lemonade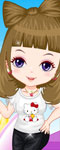 Right now my mind dreams of sunny days, the summer holiday and beautiful Ocean beaches filled with people waiting to catch the next wave and have the time of their life bathing in the sun. With that a good fresh lemonade does the trick and keep the air cool and fresh. Janine decided it's time to do so...given the fact she lives in Hawaii where...it's summer all year round and her only concern today is: what to wear for this day at the beach. Girls this is where we are all experts and being on DressUpWho.com only reassures me you've got what it takes. Dress Janine up with the fanciest clothes you can find in her wardrobe and she'll be forever grateful as the next thing she'll do after the dressing up session is to hang out with her friends and enjoy a fresh and icy lemonade at the beach bar. Have fun!