Glitter & Ice Mak...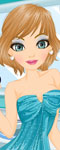 There has always been something about glitter and shimmer that made every girl smile! Glitter is definitely a girl's best friend because it's so girly-girl, sparkling, fun and mixed with the right blusher, lipstick and mascara will help you girls create a magical make up look, perfect for the holiday season! Inspired by the cold winter days, the 'Glitter & Ice Makeover' game brings up a wonderful collection of shimmery hues, glam party dresses and sparkling jewelries for you to play with and create that flawless look which will surely mesmerize everyone at that fancy party you are going to attend right before the Christmas Day! And that's not all! It also has a gorgeous super model girl ready for you to start working your make-up artist skills on her beautiful face by choosing from the wide variety of professional make up products available in shimmery hues of black and blue eye-shadows, candy-colored eyeliners, mascaras, lipsticks and blushes the ones you fancy the most to create her a flawless holiday look! Once the make up colors have been chosen and matched according to your wishes, you can go to the next step of the beautifying session and pick a glam party dress, an elegant suit jacket and some sparkling jewelries for a complete glitter and ice makeover look! Have a blast girls!
Varsity Jacket Dr...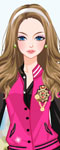 Wearing your boyfriend clothes is still a cool thing each of you girls should do at least once in a lifetime, but matching your jacket with the one your boyfriend, the head of the football team, wears is even better and for that you should consider to start wearing some super chic varsity jackets. These manly-men coats have been adjusted for the female form, they come in a great variety of colors for you to find the ones needed to match each of your sporty chic outfits with and these brand new, boyfriend inspired jackets are the perfect protectors against the chilly fall days spent sitting on the sidelines of a football match or just hanging out with your friends. So girls, are you ready to embrace your inner sporty spice side? Get the 'Varsity Jacket' dress up game started, take a peek at the silky, candy-colored varsity jackets available at your disposal in this fashion themed makeover game and see how best you can mix the chosen one with a pair of jeans or some shorts, trendy sneakers, a colorful make up look, a girly-girl hairstyle, some glittering jewels and other accessories needed for a trendy-chic sporty look! Create as many outfits as you want girls and make sure you won't stop 'till you find the outfit which is sure to leave your boyfriend mouth-opened! Have a blast!
Winter Circle Sca...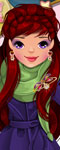 Accessories have that magical power needed to cheer up even the most common look and for this winter season the scarves have been chosen as the must have accessories! This season's scarf trends are all about bold colors, lovely prints and circles, so how about learning how to accessorize your outfits with beautiful scarves while playing the 'Winter Circle Scarf Dress Up' game? Get it started girls, take a glimpse at the cute collection presented in this dress up game and make sure you pick at least one to add a splash of color to your outfit and to also impress your fashionistas friends with your stylish and fashionable look! Should we start by choosing a super chic outfit? It can be made of a trendy combination between a lovely winter coat and some hot looking tights or a miniskirt and a chic pair of knee-tall boots; or you can try on a more daring combination by pairing a faux-fethered knitted jacket with a pair of boot-cut jeans and the right pair of boots! Once the main decision is taken, go to the next category of items and pick a girly-girl hairstyle to fit your style, paying a great attention to the ones which come accessorized with hats, with ear muffs or singles! Now that you have your outfit ready, you can check the scarves option and find the one needed to complement it up with! Try on all of them and then pick out the one which is right for your outfit! With some glittering jewelries and a pair of sunglasses you will be ready to make a fashion statement right there on the streets, so make sure you won't miss the chance to pick some! Have a blast girls!
Howleen Wolf's Th...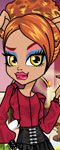 The Wolf sisters surely know how to pay a great attention to each important holiday! In October, the drop dead gorgeous Clawdeen Wolf has invited you girls to give her a helping hand at choosing her fab Halloween costume and today her younger sister, Howleen Wolf, invites you to help her pick her fab-chic Thanksgiving outfit. She has already prepared a delicious feast for Thanksgiving dinner and the only thing she needs to take care of is her outfit! Clawdeen will also be there and as the Wolf sisters always compete in terms of fashion you are going to help the baby sister in the Wolf family look flawless at this family reunion, isn't it girls? So, should we start with a fun hairstyling session? Howleen's new hairdo can short and curly or it can be perfectly styled up in some chic piggy-tails or a sophisticated bun! Once you've decided that, you can start digging through her wardrobe for that stylish outfit needed for this event! Playing the 'Howleen Wolf's Thanksgiving Day' dress up game you get to dress up beautiful Howleen with chic two pieces outfits by pairing tight-fitting shirts with jeans or lovely layered mini-skirts, leather jackets, tights and high heeled shoes! A fancy dress would make such an amazing choice for a Thanksgiving dinner, so check out the ones available at your disposal in this Monster High themed game too, and pick out your favorite of all to dress her up with! Pair it up with the right tights, jewelries and pair of shoes and she will surely leave Clawdeen mouth-opened with her perfectly accessorized outfit! Play the 'Howleen Wolf's Thanksgiving Day' dress up game, put your fashion skills to a major test an create lots of fancy-chic outfits for Howleen Wolf to pick her favorite for this year's Thanksgiving family reunion! Have a blast!
Thanksgiving Dres...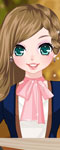 Thanksgiving Day is right behind the corner and Sally has to pack her things and get ready for a long journey to her mother's house! Her family is one of the few that still preserve the old traditions related to the Thanksgiving dinner and that's why it is mandatory for her to be there! Besides the big fat, properly cooked turkey and other goodies that are important icons for this event, festive looks are a must too and here is where your help is needed in the 'Thanksgiving Dress Up' game! Get it started girls and help this dashing cutie look so very pretty and elegant at this year's Thanksgiving family dinner! Start your job with a super fun make up session, check out Sally's professional make up kit and use the right cosmetics to create her a bright, youthful make up look and then continue with the hairstyling part! A chic, a bit wavy bob haircut or maybe a braided hairstyle would make the best choice for a stylish Thanksgiving look! A pink girly-girl hair bow or a lovely french beret would add so much chicness to her lovely look, so make sure you check out the hair accessories items before starting looking for her Thanksgiving special outfit! Now that some of the most important decisions have been taken, you can start looking through her Thanksgiving clothing collection and dress her up with the chicest outfit you can find there! Give her some glittering jewelries, too and you will have Sally ready for the upcoming Thanksgiving dinner! Enjoy playing the 'Thanksgiving Dress Up' game!
Gobble Gobble Mak...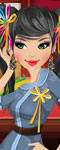 It was established at the last family reunion: this year you are going to host the Thanksgiving dinner! I know...a super heavy responsibility falls on your shoulders as this weekend you have to act just like a master chef in the kitchen while preparing the Thanksgiving turkey and the other goodies you are going to make for this year's Thanksgiving dinner; you have to step into the shoes of a super mannered girl and properly arrange a festive table; and as if this were not enough, you have to be your own make-up artist and fashion adviser...all at once! How are you going to deal with everything, huh? No worries girls, you can spend the time in the kitchen preparing the dinner and DressUpWho will help you out with the make up and dress up part! It brings up the 'Gobble Gobble Makeover' game for you to play with many professional cosmetics and create the make up look that will complete the super stylish outfit you will decide to wear at this year's Thanksgiving family reunion! Since the fashion rules tell us to always start with the make up part, we are going to start from here: choose the natural color of your eyes, find the right foundation color and cover the small skin imperfections with and then start creating your make up! Choose from the eye-shadow color palette the one that best highlights your eyes and finish off the eye make-up session by applying one or several coats of black mascara! Apply one layer of peach blush on your cheeks and complete your Thanksgiving precious make up look with a lovely lipstick color! Since the first impression is always the most important one, you should definitely leave your guests stunned by your super stylish outfit: choose to wear a sophisticated dress or a cute comfy-chic one but make sure you pay a great attention to the accessories you add for each chic look! After you've decided which fancy outfit you are going to flaunt this year, start decorating the table with the mouth-watering Thanksgiving traditional food you've cooked today and get ready to receive your family and friends guests! Happy Thanksgiving Day!
All Grown Up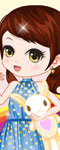 Just this summer, this lovely girl has renounced her already old wooden ponies in favor of some more advanced, girly- girl things such as trendy two-pieces outfits, fancy dresses, chic sandals and candy-colored jewelries! She spent10 amazing years into her great land of toys but she's all grown up and now it's time for her to let those wooden and plushie friends go and start acting like a pretty little lady! Well, she kept some of them just to decorate her room with and for a couple of years only! But do you think girls it was easy for her to give up her toys, all those best friends, at the very first attempt? No, it wasn't and that's why her mom ordered an entire girly-girl collection of chic, toy printed t-shirts, candy-colored tops, comfy-chic miniskirts, shorts or Capri pants and some lovely, polka dotted, asymmetrical dresses that she can pair up with bow-adorned doll shoes and with a wide selection of jewelries! They are so cute and they come in such a nice variety of colors that no one could ever resist them, not even a grown up girl! These toy inspired fashion items have instantly won her heart and now our cute girl is ready to pun on, her very first girly-girl outfit but she just can't decide which one, so how about you helping her out while playing the 'All Grown Up' dress up game?
Shoe Store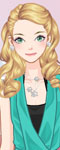 Going shopping for shoes is any shoe lover, shoe collector or shoe addicted favorite afternoon activity! Our beautiful friend here knows it better than anyone as shopping for shoes is her job, weakness and her favorite leisure activity at the same time! The collection of shoes she already has at home is quite impressive but there is always a new need for some statement accessories to glam her trendy, classy or stylish outfits up with! The right pair of shoes can easily turn your trivial outfit into a spectacular piece ready to make a fashion statement right there on the streets and since we have the girl who knows everything about lovely printed summer sandals, classy, high-heeled pre-fall shoes and fab flat shoes, how about your girls getting the 'Shoe Store' dress up game started and learn how to perfectly complement your outfits with these indispensable accessories? Start by choosing her a chic outfit, pair it with a lovely hairstyle, some glittering jewelries and then see which pair of these chic statement-making pieces will best accessorize her spectacular look! Have a blast!
Arm Decoration Game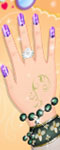 I don't know about you girls, but I started dreaming of a super fun arm decoration session some long time ago! I used to lay back in my fluffy bed and start imagining where I would place my butterfly tattoo, what type of watch I will be wearing when that happens and what nail art I will choose for my nails! The funny part of my story is that somehow DressUpWho managed to surprise me once again and this time with this funky arm decoration game which, I want to believe, it was especially create for me and for all those girls who have ever dreamed of a lovely manicure associated with a nice henna tattoo and many, many bracelets! Before doing anything else I started my work by choosing some new, lovely nail tips for my thumbs! Once I decided on their color and design, I started picking a nice watch, a glittering ring and some bejeweled bracelets, paying great attention to match them with my outfit! For a complete arm decoration session I checked the tattoo box available at my disposal in the 'Arm Decoration Game' and because I had an amazing day today I decided to go for that lovely blue butterfly design! I had so much fun with this arm decoration game girls, so I decided to share it with you to have the same fun decorating your arms as I did! Hit 'Play' and enjoy it!
Gangnam Style Dre...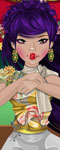 It started with a song which already is a super hit, it brought a new, highly original cheesy dance loaded with funky outfits and now the Gangnam style is featured in DressUpWho's brand new dress up game and you girls...can't miss the chance to play it! It is funny, it is crazy and so entertaining! So girls, do you think you have what it takes to put together the Gangnam girl style and have our beautiful new friend ready for her Gangnam style dance video? Take a sneak-peek at this girl's wardrobe filled with a large variety of funky chic dresses, loose tops, lovely layered miniskirts, knee tall boots and pumps and see which clothing combination would best fit with this viral song! For a complete Gangnam styled look, assort the chosen outfit with some funky sun glasses, over-sized, glittering jewelries and sophisticated hairdo or a slightly deranged but chic one! Have fun!
Clawdeen's Hallow...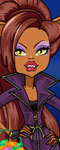 Being drop-dead gorgeous and looking scarily fabulous are Clawdeen's plans for the upcoming Monster High Halloween party and you girls are going to help her achieve that! No worries, it's going to be easy and fun as her stunning feline beauty, her Halloween special wardrobe and your great fashion skills would turn this stylish monsterista into a stunning diva. Should we start with a fun hairstyling session? Clawdeen's new hairdo can be short and wavy, it can be long and curly or beautifully style up in a chic pony tail! Once you've decided on the hairdo, you can go ahead with your work and start looking for the best Halloween costume to dress her up with! You can dress Clawdeen up with a gorgeous dress that you can pair with a black, fax-feathered jacket, a nice pair of leggings, some high-heeled, knee-tall boots, gloves, earrings and chains! If you're not happy with this Halloween costume, you can try another combination and this time you get to dress Clwadeen up with a candy-pink or a black top beautifully matched with a lovely, layered miniskirt or with a pair of high waist leggings and some ankle boots! So girls, get this new Monster High dress up game started, be Clawdeen's precious stylista and put together the Halloween look which will help her stand out of the crowd at that fancy Halloween party she's going to attend! Have a blast!
Halloween Makeover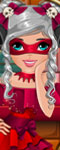 With so many Halloween themed dress up games on DressUpWho you girls have already had the chance to check the latest trends and pick the loveliest and chicest Halloween costume to flaunt at this year's Halloween party. But how about the make up look that will complement your adorable Halloween looks? DressUpWho has it covered, girls! It brings up the 'Halloween Makeover' game for you to put your make up skills to a major test, to play with many professional cosmetics and to create the make up look that will complete the chosen outfit for the upcoming Halloween party! So, if you've decided to wear a bright red, devil costume then some bright green eye lenses, the right smoky inspired make up look and a bold red lipstick will be what you need to complete it up with. If you want to stand out of the crowd and impress everyone with your highly original Halloween outfit, then you should dress a sophisticated, Gothic inspired Ms. Dracula Halloween outfit and pair it up with a classy hairdo, a white skin shade and a bold make up look for a complete Halloween makeover! For a witch costume, a tall hat and a blue or green lipstick will be more than enough to stand out among all those vampires, werewolves, zombies or ghosts attending this year's Halloween party! But if you plan to dress a pirate girl costume or a black kitty cat one...you will have to tell us girls which accessories and what make up are you going to use to complete it up with because we have run out of ideas. Enjoy it girls!
Lovely Monster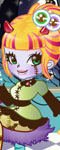 I don't know what you girls are going to wear at this year's Halloween creepy party we all are going to attend really soon, but I'm going to dress one of those super lovely monster costume I have in my special Halloween wardrobe! Just dare to open it and you'll remain stunned once you get to see my collection of pirate or chic ghost dresses, devil two pieces outfits, stunning hairstyles, colorful horns and long elf ears, creepy hair accessories, black bat earrings, spider net like necklaces, furry gloves and long tails, ripped tights and knee tall boots! And that's not all! If you find something you really, really love then I will let you borrow whatever you want to wear on the upcoming Halloween night! So girls, get the 'Lovely Monster' dress up game started, check out this monster collection of brightly colored clothing and accessories items and pick out your favorite to create the Halloween costume you are going to flaunt at that creepy Halloween Party you are going to go! Have a Boo-tiful Halloween night, girls!
My Little Pony Ha...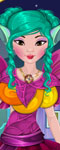 Halloween is coming up fast and we should start preparing for it, don't you agree? So, what are you girls going to be for Halloween? This year's costumes should be highly original, sweet and colorful at the same time so one of our friends came up with a colorful idea: how about wearing a little pony costume? These sweet Halloween costumes come in a wide variety of shapes and colors and we, girls, have gathered them all in 'My Little Pony Halloween Costumes' for you to get inspired and find the sweet Halloween costume you are going to flaunt at that fun Halloween party you'll attend! With a pink pie sweet pony costume or with a neon green one or with little black one you will surely be the attraction of night, but will you win the best costume title, too? Maybe yes, maybe not...but you will have to make sure it will be perfectly mix and matched from head to toes, so get 'My Little Pony Halloween Costumes' dress up game started and see what spooktacular Halloween costume you can create for this year's fun Halloween Party! Have a blast!
Halloween Candy C...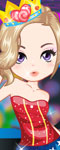 Halloween costumes are often those of monsters such as vampires, werewolves, zombies, ghosts, witches or goblins, but we've thought, girls, it's about time for you to express your sweet-er and softer side! And for that we bring up the 'Halloween Candy Costumes' dress up game on DressUpWho for you to get inspired and find your sweet Halloween costume! So get it started girls, try on all of those candy-colored costumes available at your disposal in this cutie's Halloween special wardrobe and pull out your favorite to dress the sweet model girl up with! It can be a candy-pink princess dress or a lollipop like red one or a tight-fitting purple body! Be sure to match the chosen candy dress with a lovely witch hat, knee tall socks and the glittery jewels that the costume requires and you'll have your Halloween candy costume ready to go trick or treating in your neighborhood! Have a BOO-tifully sweet Halloween night, girls!
Bubble Vests For ...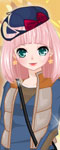 Brrr, it is so cold outside!! After a beautiful and sunny summer, filled with lots of warm sunbaths, chic sandals and colorful sundresses it's time for us, girls, to face the rainy, windy and a bit awful fall! But if you are that type of girl who feels great in every season then you might already know that autumn is the perfect time to unveil your boots and neck blouses collection and pair them with vests...bubble vests! Yeah girls, bubble vests are the key items for this fall season and perfectly matched with shirts, lovely blouses, shorts or long pants they will help you have a spotless apparel for all occasion. The 'Bubble Vests For Fall' dress up game brings up some ideas on how to match this chic vests with some soft blouses or trendy shirts, so get it started girls and find out a few super-easy ways to funk your wardrobe with these uper chic bubble vests! Have a fashion blast!
Grandparents Ice ...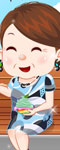 Girls, have you seen The Notebook movie? It is a movie about two teenagers falling deeply in love at a very young age who got married and loved each other ever after! It is a great movie, with an amazing love story almost as beautiful as the one we have in the 'Grandparents Ice Cream Date' dress up game! At the beginning of their love story no one could ever believe that their feelings will last forever, but they got married and I can't describe, girls, how happy I am when I see they are still together and that they are deeply in love as they were 50 years ago! It is an important date in their life as a couple as today they are celebrating their golden wedding and that's why I wanted you to meet them because I will need your help to make them a big surprise! I want you girls to dress my grandma really, really chic, to style her hair really, really cute and to accessorize the chosen outfit with the loveliest pair of shoes and jewelries in order to have her ready for an ice cream date with my grandpa =D - do you think you can do that for me?
High Waist Shorts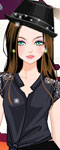 High-waist means style, femininity and retro, high-waisted clothes are stylish and add a special touch to any look and the high-waisted clothes are back in fashion in order to add some more bits of glamor and elegance to your chic look! From hot looking denim shorts to polka dotted or flower patterned shorts, the high-waisted shorts are a must have clothing among the stylish items of your wardrobe! Moreover, the high-waisted shorts can be worn in so many different combinations in order to create casual, elegant, chic or stylish outfits that it would be such a lost not to have them! You can pair your denim high-waisted shorts with a sleeveless top and the right pair of shoes and you'll look amazing for your date; see if can match any of those lovely, candy-colored high-waisted shorts with the right top, shirt or tunics and you will have your outfit ready for your afternoon stroll; find the right shirt to match the black high-waisted shorts with and then pair everything up with precious looking earrings, chains and bracelets and you'll be ready for a fun night out! Find the high-waited shorts that fit you best, pair the chosen ones the way you want, style up your hair really nicely and then load everything with a colorful make up look and you will be ready to hit the city's crowded streets looking chic and stylish!
Sweet Rainbow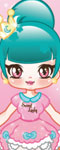 Lovely isn't she? She's the star of this new game from DressUpWho.com and I'd like to tell you a couple of things about this cutie pie. She is the rainbow fairy and likes very much to dress up...everyday. We got this game and the fun is all ours and you know everything there is to know about a dress up game so...get to it. Here's what I did: I chose a very, very nice skirt and then I paired up with a lovely ruffled shirt, then went over to the hair button and picked the rainbow hairstyle and chose some cool shoes, clicked on the show button, entered my name (Ella) and printed the whole picture and framed it. Now it sits nicely near my bed. You can do the same thing girls...you just need a printer and imagination. Give it a try...it's tones of fun!
Black And Gold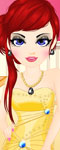 Black and gold make up look is bold and is the new trend for this season! Oh, and the best part of it is that black and gold make up look goes amazing with your gorgeous sun-kissed skin or for a stylish office look as well as for a girls' night out flawless look! Whether you crave for a statement look to mesmerize everyone well before midnight at that fancy party you are going to attend this Friday night or you crave for a change in your beauty routine, the 'Black And Gold' make up game brings up some simple make up tips to help you choose the most flattering shades for a highly original, gorgeous look! And that's not all! It also brings up a gorgeous super model girl ready for you to work your make-up artist skills on her, it brings up a wide variety of professional make up products such as black and gold eye-shadows, candy-colored eyeliners, mascaras, lipsticks and blushes for you to pick from, it brings the clothes and the accessories needed for a completer makeover, some of them are perfect for a flawless casual look, others will fit amazing for a stylish look at the office and others would help you party in style all night long...and you will just have to act as a famous make-up artist and let your creativity run free in order to put together a bold black and gold look, perfect for this season! Have fun girls!
Long Cardigan Fas...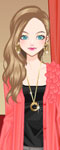 Just because the rainy Autumn is here and you're trying to stay warm it doesn't mean you can't look cool and fashionable during this season, don't you agree girls? Blazers, suit jackets, trench-coats, denim or leather jackets would be a great choice and they will keep you warm, that's for sure...but lately they have been replaced with long cardigans! Yes girls, the cardigan is the new blazer and the must have item for this rainy season, so how about learning how to properly wear them? The 'Long Cardigan Fashion' dress up game brings up some ideas, so get it started and find out a few super-easy ways to prettify your wardrobe with these uper chic cardigans! For example, if you are more inclined to use the latest trends to emphasize your feminine and flirty allure, make sure you choose a stylish long cardigan to pair it up with a super chic dress, sparkling chandelier earrings and with a bright colored pair of pumps! But if you want to hit the city's crowded streets looking pretty in your bohemian styled outfit, wear your favorite cardigan with jeans and a casual, lovely shirt! A long sleevy cardigan also looks amazing over a sleeveless top and a high waist skirt paired with a pair of tall boots or ballet flat shoes! Well, as you may already know one cardigan can give you numerous options to layer those items that you already have so just pull out the outfit that you want to wear for the day, and match it with a cardigan that suits your style!
Pretty Pussycat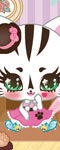 Girls, girls look what I have here! This pretty pussycat will be my present for my little baby's birthday! Isn't she the cutest cat you've ever seen? Beautifully packaged in a cardboard box and tied with a big red bow, this fluffy mop landed to my door this morning! She's a special deliver form the great fantasy world, so as you can already imagine the journey was long and she's super tiered, but I believe that a super fun pussycat fashion show would put her in the right mood to meet my girl! So DressUpWho fans get ready to work out your cat customization skills, getting the 'Pretty Pussycat' dress up game started, and do your best to turn this pretty pussycat into a dashing pussycat princess! First of all, choose her a candy-colored skin shade and pair it up with a colorful, super rich tail and after that let the cat fashion show begin! Pick up the chicest skirt you can find in her cute wardrobe to dress her up with, then pair the chosen skirt with a pair of bright colored shoes, socks and with a flower made necklace or with a fluffy scarf! Hmm, do you think you could add even more cuteness to her already lovely look? Yes you can! With all those cute hair accessories and tail accessories, chic eyeglasses and lovely, girly-girl tattoos, it would be a pleasure for you to continue playing the 'Pretty Pussycat' dress up game and finish off her stylish look! Have fun!
Cute Street Style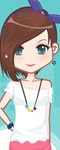 Hey, DressUpWho fans! What are you wearing today? Cute jeans and colorful tees paired with cute snickers? Lovely dresses and some doll-like shoes? Shorts paired with chic tops and with a pair of pink boots? You already look great girls, but if you want to learn the tricks of mastering the street looks and if you want to know how to stay cool and chic all the time you should take a peek at the 'Cute Street Style' dress up game! For the debut of this week our cute model girl, Sally, decided to go street chic, so join her and help her pair the clothes up with comfy chic shoes, hats, sunglasses and candy-colored accessories and get her ready to hit the city's crowded streets in style!!
Chalk Girl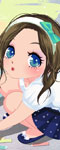 Oh, look at my Maggie, girls! She's a grown up girl now and even if she is 14 years old she adores to participate at the annual sidewalk chalk drawing contest! With her colorful chalk sticks and with her impressing drawing skills she will surely win the annual competition! Well girls, for such a remarkable contest, she must look extremely cute and colorful, so how about getting her a cute, girly chic confidence boosting look? Begin Maggie's sensational preparation with a face beauty treatment by applying lots of colorful beauty masks on her lovely face and then continue with a fun make up session. Once you're done with her make up go ahead with your work and style up her hair as well, choosing a lovely new hairdo for her. Great job girls! Now, check out Maggie's girly-girl wardrobe, too and pick out the outfit you fancy the most to dress up with. Accessorize it up with a lovely pair of shoes, with a chic, bow adorned hair band and some candy-colored jewelries and you will have Maggie in the right mood for a supper fun sidewalk chalk drawing session. Have fun girls!