Baby Onesies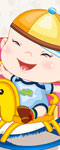 When it comes to baby fashion this toddler is the lucky owner of an entire collection of comfortable, soft and cosy onesies, candy-colored hats, lovely tiny shoes and many other adorable and colorful baby accessories. For his playtime with his wooden pony, our cute baby boy loves to be dressed up with style, so how about you stepping in this cutie's colorful, lovely playing room and be his personal fashion stylist getting the "Baby Onesies" dress up game started? Choose a tiny but equally nicely printed all-in-one baby suit to dress him up, then find a pair of lovely shoes to chic up the chosen outfit and to add some more loveliness to our adorable toddler here select one of those colorful, baby hats. Have fun dressing up this stylish, adorable little boy!
Country Guitar Girl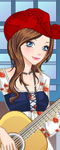 Don't know about you girls, but this game remembers me about my childhood with its long summers spent at the countryside living with my grandparents at their farm. There I've grown an obsession for the country fashion style, country music and there I had the chance to play the guitar for the first time. It was really amazing! This cute teenager girl is a country gal at heart and she surely has the look and the style of a country pop diva. You can see for your self as you have all her chic and highly feminine wardrobe featuring lovely printed dresses, shirts, tops, vests, jeans, boots and cowgirl hats at your disposal and you can actually try them all in whatever order you want. I can tell...any stylish city girl could learn some amazing style tips from this country cutie! Well girls...it's time for you to take a trip to the countryside and add some fresh bits of girly chic loveliness to your wardrobe getting the "Country Guitar Girl" dress up game started!
Car Wash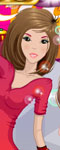 It's a sunny day and 2 best friends decided it's time to take the car out for a spin, but.. just when they were about to head out to the city, they noticed the car would be better off with a nice wash and polish so they won't wonder out into town with a dirty car. They headed out for the nearest car wash they could find.. there was one very close to were they live so it wasn't a very hard task to tackle. Given the fact they know everybody at that car wash they were allowed to also do a quick photo session to show off their dress up skills and OMG what a show that was. You can see for your self as you have all the clothes they used and you can actually try all of them in whatever order you want. Give it a try girls and head out for some city fun afterwards with your freshly cleaned retro car looking good as ever :D
I Love Lemonade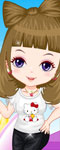 Right now my mind dreams of sunny days, the summer holiday and beautiful Ocean beaches filled with people waiting to catch the next wave and have the time of their life bathing in the sun. With that a good fresh lemonade does the trick and keep the air cool and fresh. Janine decided it's time to do so...given the fact she lives in Hawaii where...it's summer all year round and her only concern today is: what to wear for this day at the beach. Girls this is where we are all experts and being on DressUpWho.com only reassures me you've got what it takes. Dress Janine up with the fanciest clothes you can find in her wardrobe and she'll be forever grateful as the next thing she'll do after the dressing up session is to hang out with her friends and enjoy a fresh and icy lemonade at the beach bar. Have fun!
Boyfriend Fashion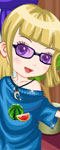 If you are tired of tight tops, high-heels or mini-dresses then be ready to experiment how to wear the boyfriend shirts, jackets, jeans and blazers in order to create a trendy, casual look. The boyfriend fashion is literally borrowing and wearing your boyfriend's clothes and girls let me tell you something...your boyfriend's clothes can look extremely cute and effortlessly trendy on you! So let's get it started, open your boyfriend's wardrobe and see what you can pull out from it to wear today. If you plan to put together a casual chic look then go for a trendy boyfriend blazer, but if you want to achieve a more feminine look, then match your boyfriend shirt with tight, well-fitting pants. Whatever you choose, complete your look with a girly girl pink hat, candy-colored chains and funky looking sunglasses! Have fun girls!
Dainty Desserts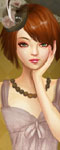 I've got 1 single word for this game and that is: amazing. I like the colors, the clothes, the theme...Omg the theme - cookies in an old fashion Parisian like pastry shop. Given the fact that today is the 8th of March and allover the world we celebrate the International Women's Day this game comes as a gift to all of you girls out there. Cutely dressed with an innocent looking face and slowly blinking her eyes, Giselle awaits for you to dress her up for this special day. She's going to visit her mom in the afternoon with some lovely flowers and a deliciously made cake and in the evening her fiance and her will attend the theater and a dinner at a fancy restaurant will soon follow. This day is the perfect chance for her to try out some very classy clothes she bought during the past year and she can't really decided which one goes better with the other and this is where you come in. Start combining and see what you end up with. Have fun girls and Happy 8th of March from DressUpWho.com!
Rollercoaster Thr...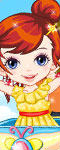 Spring means adventure and fun for this stylish cutie as she doesn't miss the opportunity to combine the excitement of a roller coaster riding with the thrill of a fun fashion show! It would be a failure for her to miss the fun with her friends at the amusement park just because she's not properly dressed up for a crazy roller coaster ride, don't you agree? So how about you getting her ready for the thrills of huge jumps and loops, getting the "Rollercoaster Thrills" dress up game started? Dress her up in no time choosing from her candy-colored wardrobe the loveliest top, glittering jewels and the most colorful hairpins to fix her hair and have her styled up for her crazy ride!! Have fun girls!
Daily Workout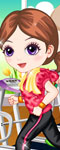 Hey girls! I've got some news flash for you: working out on a daily basis keeps you fit and further more keeps those clothes in place :D! Going to the gym can be the best part of the day as you meet friends and you get to exercise 1-2 hours non-stop to burn those nasty calories we get from the everyday food. Of course, going to the gym does mean you have to get dressed properly with training clothes and nicely done hair to allow you to properly do your training. First you can try on the clothes and see what would look best on the girl and then you can do the hair and pick the appropriate shoes. In the end you can actually pick the background you'd like to see in your favorite gym and off you go to the daily workout. 1,2 we like DressUpWho, 3-4 come back for more...and again girls :D
Monster High Cleo...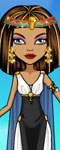 Are you ready for a new fashion episode with one of those gorgeous Monster High ghouls? Cleo de Nile is her name, she's a true Egyptian princess with an impressive royal wardrobe filled with wide variety of eccentric outfits, glittering headdress, exotic jewelry, and oh yeah, the occasional stray bandage wrapping! Play this Monster High dress up game and help Cleo shine her beauty while she's enjoying a few sunny days in Egypt. Be her personal fashion stylist, start rummaging through her royal, floor-sweeping dresses, check out her chic tops and lovely skirts, too, playing the "Monster High Cleo's Fashion" dress up game and pick out the ones you like best of all to dress the lovely monsterista up! Look for the golden statement jewels and see which ones are suitable for a royal beauty like her and then complete Cleo's styling session with a fabulous hairstyle! Enjoy it :)
Cute Barista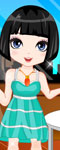 In Milan, Italy I know the perfect coffee shop near a small street where not only the coffee is great but the barista as well. A barista is a coffee house employee but it sounds so chic to call it like that. There is a young girl (I think in her 20's) working there and she makes a lovely appearance every time I wonder by. She likes dressing up every morning in a different style and outfit so the customers stay an chat and drink some amazingly made coffee. First she takes really good care of her hair and then her face with some state of the art makeups (Italy has the best of them) and then to the outfits which only emphasize the fact that she's a cool casual person and dressing up can be a lot of fun if you have the patience to do it properly. Enjoy the coffee and come back to DressUpWho.com every day!
Pins And Zippers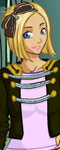 Amazing!! This game is...tailored exactly for your own personal taste! You have the pretty girl in the middle, she does wait for you to dress her up, and on the sides you have the categories, accessories, hair styles, clothes and all the necessary "ingredients" to transform this lovely model into a fashion diva in just a couple of clicks. First you can start playing the "Pins And Zippers" fashion game from the top left side and work your way down the categories until the combo matches your dream outfit :D. When you're done click on the finish button to see the buttons zip out and admire your favorite dress up model with your creation on it. Enjoy it!
Valentine Kissing...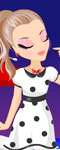 It is that time of the year...Valentine's day is here!! We have a new dress up game, a perfectly selected one for this day and it features a lovely couple in great need to look fabulous on this special day! They are a little nervous as this is their first time celebrating this holiday of love together, so how about you helping them prepare for their romantic date? Rummage through their wardrobes and get them both styled up from head to toe choosing a flouncy dress to dress up the sweet little girl and a some slick pants and a shirt for the handsome boy! Don't forget to accessorize the chosen outfits and to select the chicest hairstyles that will complete their adorably chic Valentine's Day special looks!
Nibbler Love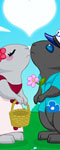 Oh my Gosh!! They're sooo cute! Check out these lovely furs!! They're obviously in love and the best day for being in love is almost here...Valentine's Day in case you had doubts! Now, the two nibblers have to "dress up" for their date and impress each other as in the end everything will be sealed with a sweet kiss. You can switch between the boy and the girl and dress them separately. You can change the color of their fur and add all sorts of accessories. Let me tell you what I did...this just to have a little bit of extra fun =) I dressed the girl with a lovely printed dress, changed her eyes to some pink and then I dressed the boy in dark grey spots, the fur a bit grey and added a very funny sailor hat...they look so lovely together =). Now it's your turn, have some fun girls and try out your ideas!
Furr'n Love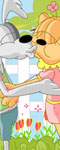 It seems Cupid has everything in his aim this year and this lovely cat and dog are no exception! Now this is funny indeed and Cupid is enjoying every moment of it so why wouldn't we? What you have to do is pretty simple: make the cat and dog kiss until the yellow bar of the kissing meter is full but be careful for the granny that's walking from here to there every once in a while...if you get caught you'll receive a penalty and you will have to start over. Just don't over do it and everything will be ok :)! Start playing the "Furr'n Love" kissing game now and have lots of fun!!
Photographer In T...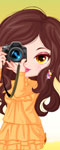 One of my favorite activities during...all seasons, is to take photographs and to walk all day long to hunt for the perfect scenery or setting and grab it forever with my camera. It seems this lovely girl has the same passion for photography as I do and she also likes one other important thing: dressing up. This is how she was accepted to appear on DressUpWho.com :D!! What I did first in this game was to change the clothes several times until I got the right stuff for her. She was a bit picky at first but totally left herself in my hands to do what I please with the style. The outcome was great and she was thrilled to be able to go out for a photo session in the sun with a very cool outfit. Now girls you have to do the same. Have fun :)
Mystical Werewolf...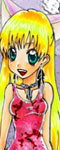 After the Twilight Saga with the everlasting battle between werewolves and Vampires, here comes a game with the same theme! It's been several hundred years since she first walked our plains and since then she's always been in trends with the latest fashion items of that specific time. Now we get to see how she likes to dress up as she brought her entire wardrobe and she's ready to try them out for us here on DressUpWho.com. She also agreed to share with us her secret: turning into a lovely werewolf. First dress her up to see how she looks like in different outfits and then just click on the "turn into a wolf" button to see her transform. Have fun girls :D!
Racing Queen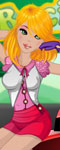 I'm not a very big fan of racing sports but this game just changed my mind. Cindy just won a beauty contest and she got the unique opportunity to be the front cover of a racing magazine and not just any racing event, FORMULA 1. How cool is that? The set is nicely done and she'll be sitting on the front part of a cool red F1 racing car...maybe a Ferrari? We don't know but we can guess =] Now the set is done and she asked the photo crew to allow her to be helped by her favorite fans and friends: the DressUpWho.com crowd as in her opinion you guys are the best in terms of fashion judges. Her wish is simple: she wants you to help her dress up for the photo shoot and also to save the favorite picture after you have finished. Hmm maybe you can even add it to your Facebook, I just know she'll go "yeey" if she sees them there. Have fun girls with Cindy and the "Racing Queen" dress up game.
Magical Underwate...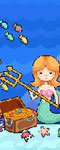 In the mystical and magical land of the Sea, in the Underwater Kingdom of the 7 Mermaids there is a game played by all girls when they grow up: the underwater decoration game. Now I do know this is going to be fun..you'll be able to take a peak into their world...and that is AMAZING :D!! You can choose plants, animals and even mermaids. Fish are also there, too and everything is waiting for you. You have to take one from the set of items available at your disposal and place them wherever you like...and I do mean everywhere. There is no right or wrong, just lots and lots of fun decorating and imagining the perfect underwater landscape. Go on girls...it's time to put your decorating skills to the ultimate test and make sure you have fun while you're at it!!
Cute Baby Couple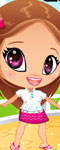 Awww...these 2 cute babies are SOOOO adorable there posing for a baby magazine. The theme of this magazine is baby couples and they are ready to come up with the cutest baby couple picture. They are so cute together, both of them smiling and having fun around the camera...good memories for when they grow up. What you have to do now is to dress them up as cool as you can and I promise they'll not move a finger without you telling to do so. The music is perfect and the set the same. Try out a couple of outfits and don't worry about not getting them right from the first time. That is why you have all the time in the world to click on the different items and have them try all of them. After all.. what's better than playing with your favorite dolls on DressUpWho.com? Go girls and have fun dressing up the cutest baby couple you've ever seen before!
Emo Jedi Princess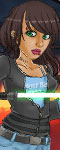 Hello Star Wars fans!! Today on the DressUpWho.com fashion stage we have an awesome princess, a Jedi Knight and a true Emo representative: Emo Jedi Princess. She's been raised in the secret and sacred art of the Jedi Knights order and her favorite heroes are Master Yoda and Luke Skywalker. But no fighting today...she said! She brought her entire wardrobe of mystical and yet very cool clothes and is at our disposal as long as we want to dress her up, make a picture, dress her up again, share it with friends and so on. First you have to click on the body part you want to dress up (hair, clothes, the cool lightsaber) and then you'll be able to pick from the menu what she'll ware. The combos are as many as you can think of and the twice the fun. It's DressUpWho.com time girls!!!
I've Got A Fever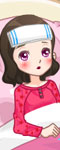 Dunno about you girls but this game brings up some funny memories! As every girl I do love winter and when I was younger playing outside with friends was everything. My mom always told me when I was rushing out the door to keep in mind that the snow is not only fun but it's also cold :))! There were occasions when I literally forgot and simply started battling with snow balls and all snowy stuff. Of course after the fight, the next day my mom would be laughing near my bed where I had to stay put until the sneaky cold that settled in disappeared. But girls...I had a mom like no other: in order to really cheer me up and to make me feel better, after bringing me the traditional hot cup of tea and some lemons, she wanted to play dress up with me and ohh boy, that was fun. We kept changing the clothes for hours and the main purpose was: there is no purpose. JUST FOR THE FUN OF IT. Girls...this game is made exactly how I was doing it with my mom and this is so fun. Start dressing up the 2 girls but do start with the ill one... she does need the cheering up and you can do it with 2-3 pairs of well chosen outfits. Cool, ha?
Punk Hood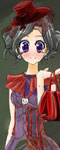 Hehe...now this is funny! We all know the story with Little Red Ridding Hood, right? Well, this is somewhat about that...but girls, this Little Red rocks...or punks! She still has the original red clothes on but she's in style and some. First you have to click on the Menu button in the bottom left corner and the menu with all the items will popup. Now.. chose first from the hair section the hair you like the most and advance to the other categories to dress her up really nicely. I wouldn't have thought Little Red could reinvent herself but this game is awesome and brings up the fantasy character in a totally new light with more style and surely a new attitude. Well then... don't see any big bad wolf around so lets get to playin` and having fun, the DressUpWho.com way!
Chinese Modern Fa...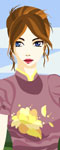 This amazing dress up game will take you on a dreamlike trip into the modern China, where you'll have the chance to discover its modern fashion style and exquisite accessories. During your trip you will be guided by this young girl, who definitely is one of the most stylish fashionistas living there. Just check out her wardrobe and you'll understand what I mean! When you say "Chinese Fashion" you cannot but instantly think of the gorgeous, traditional Chinese kimonos. Maybe it's not those type of kimonos that our Asian stylista wears when she hits the streets, still the outfits you'll discover playing the "Chinese Modern Fashion" dress up game are their modern replicas. The new Chinese modern fashion is all about a very successful mixture between ancient motifs, embroidery patterns and weaving styles with modern fabrics and vivid colors, so you might face a quite serious dilemma choosing the perfect outfit for her but I'm confident that your fashion skills will help when you need to take the final decision! Chinese modern fashion is not only about clothing items but also about stylish accessories such as chic flat shoes, beautifully printed handbags and hand-made jewelry, so after you dress up this Chinese girl, you should definitely consider choosing her some of those gorgeous accessories! Enjoy!
Winter Fashion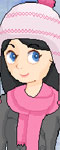 When it comes to fashion and latest clothing trends this chic girl easily stands out of the crowd, for she surely knows how to draw all the attention on her chic outfits and gorgeous accessories. If you're curious to dig up her winning style secrets, have fun playing the "Winter Fashion" dress up game! By clicking on those right and left arrows, you'll get to dress her up and combine chic pants or tights, stylish winter mini-skirts, lovely printed blouses with elegant winter coats, knee-high leather boots and lovely, hats or long winter scarves. You have the hottest fashion information that you need for your inspiration in this game, so start playing now and get inspired! Have fun!