April Fools Dentist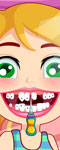 Cute Jenny has always wanted to flaunt a celebrity-inspired smile but because she was too afraid to go to a dentist, she spend the last mounts dreaming about it! Today that's going to change because she finally feels she has the courage to sit on a dentist chair and let the skilled doctor deal with her sparkling-white smile! But who could ever imagine that Jenny's dentist was looking forward after his first 'victim' of this year's April 1st holiday? Oh, Jenny dear... it seems you'll have to wait a couple of days more until your dentist will be able to fix your teeth as desired! So tell me, are you girls ready to play the best April 1st prank of the year? If so, get the 'April Fools Dentist' game started, play with all those professional dentist tools that we've prepared for you and begin working on the first part of your special joke! Pull out some teeth, drill cavities in the renaming ones and use a special tool to make some of them look bigger than supposed! And that's not all! Moving to the next page of the game you girls will find the tools needed to finish off your task in style! Choose from a selection of bold colors your favorites to color her teeth up with, then apply a pair of braces as well and don't forget to also check the collection of special stickers, too! Oh, poor Jenny! She surely looks horrible! Now what about choosing a highly original outfit, too? Have a great time playing the 'April Fools Dentist' game!
Frankie Stein Eye...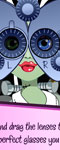 Monster High Frankie Stein noticed that she's having some difficulties to read the notes on the blackboard, so she has decided to pay a short visit to the school's ophthalmologist to find out if she's going to need or not a chic pair of glasses! But it seems that the doctor is out to an international medical conference and in this case... would you girls like to step into the shoes of a super skilled eye specialist and help Frankie Stein with her eye issue? Get this brand-new game of the Monster High Doctor series started and drag and drop her on your special chair in order to properly perform all the steps of the diagnosis process. Okay, now the first thing you need to deal with is to put some drops in her eyes! Now you can run some standard tests to see is she's having difficulties in reading the numbers or the letters and to be able to prescribe the lenses Frankie Stein will be needing from now on. Once the machine gives you the result of your diagnosis, you will be able to select the lenses she will need for her right eye and the ones she will need for her left eye and you will also be given the chance to run another test and find out if now Frankie sees better with the given lenses. Great job, doctor... you're almost done! Now let's help her select a chic pair of frames to fit Frankie's face shape and make sure to match your selection with a colorful pair of lenses! Have a great time playing the 'Frankie Stein Eye Care' game!
Uggs Clean And Care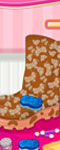 It seems to me, girls, that the lovely and sunny spring season is already here and that means it is time for us to store our winter stylish clothes and chic UGG boots and bring in the colorful Oxford shoes, Hollywood pumps, wedges or snickers that we are going to use for the coming sunny weeks! So, do you girls have any idea how to properly store your Ugg boots? Me neither, but I'm pretty sure it's not okay to throw them in a closet until the next chilly season. They surely need a special care and that's what we will discover while playing DressUpWho's brand-new game called 'Uggs Clean And Care'! First, we'll have to make sure that we have all the needed tools ready to hand and then we'll only need to follow Sally's instructions on how to properly prepare our UGG boots for storage! For the beginning we will need a brush to remove the first layer of dirt and right after that we will have to apply a special solution to continue the caring process. Use plenty of water to remove the foam and let the boots dry for one day! Remove the lint by using a special roll and then use a cotton ball on a stick, dip it in oil and use it for bringing some glow back. Great job girls! Now what about playing the role of a super talented shoe designer, too and help Sally put together a brand new look for her UGG boots? You can customize their look, starting by selecting a new color or some new chic patterns for her boots and then you also get to choose from a wide variety of accessories the ones you fancy the most to give them a brand-new, highly original look! Have a blast!
Frozen Anna Spa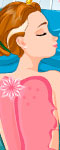 Anna is the sister of the ruling queen and as a princess that never found out her sister's secret about having special powers, Anna always felt a bit left out and in search for love. She is seeking affection mostly from her sister, but she also dreams about a fairytale love. Maybe a frozen spa day will relax her! Olaf will help you out! Use a magical snow globe and turn it on for icy snow to fall on her back. This will refresh her skin and make it more tonic. Wipe her back with a soft towel so she doesn't catch a cold. Then use a special cream that will nourish the skin and a scrub to make it really soft. Olaf will give Anna a very relaxing massage. Place ice cubes on her back because they will make her muscles feel a lot better. Chromotherapy is a great way to make the body and mind feel more happy. Now you can apply a pretty make up on Anna that will emphasize her great features and will make her feel pretty and you can dress her up in an amazing princess outfit. Have an incredible time playing Frozen Anna Spa!
Snail Care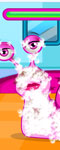 Having your own adorable pet to take care of is definitely fun, but almost all your friends have a dog, a cat, a playful hamster or maybe a colorful aquarium decorated with all sorts of exotic fish, am I right girls? But if you guys are thinking of getting an original pet that is sure to leave everyone mouth-opened you might want to consider our suggestion and go 'hunting' for a snail... a pretty crazy idea, huh? Our brand new online pet caring game for girls is going to teach you how to catch a cute snail and it is also going to reveal some of the most important care tips that you need to know about these cute little creatures, so get the 'Snail Care' game started, borrow one of your mom's cookie jars and let's go and try to catch one cute snail... of your favorite color, of course! Great job, ladies! Now that you have this unique pet it's time for you girls to star learning how to properly take care of it, but not before paying a short visit to the local pet shop. As you can see in the bottom right corner of your screen you can find a list of items you need to buy for your new little friend, so feel free to start spotting them all out in the shortest time possible. Once you've managed to buy everything needed, return home and begin taking care of your new buddy. Give it a warm bubble bath, decorate its brand-new home as nicely as possible and don't forget to also customize its look as cool as possible. Enjoy playing the 'Snail Care' game!
Mommy Nose Doctor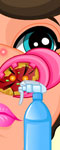 This busy mother here has been dealing with some nose problems for months but now she has decided it is the right time to visit a great doctor, and by that I mean you girls, who might have the right skill to help her breath normally again! Would you like to give it a try and see if you can fix all her nose problems? Well then get the 'Mommy Nose Doctor' game started and first of all use a retractor to make her nostrils wider so you can see better and hydrate them with water! Then use a pair of scissors to cut down the big hair chunks a step which can cause her nose to bleed, but no worries girls, you can wipe the blood with some tissues. Use some soft balls of cotton to clean each of her nostrils and don't forget to also take care of those three pimples on the top of her nose. Great job, girls! Now it's time for you take a closer look in and use a magnifying glass to see better what goes on at a microscopic level and make sure you get rid of any harming bacteria and viruses that will cause her to breathe with difficulty. Pay attention to the info bubble that pops up in left side of your screen to see which tool you need to use for each virus to remove it! Good luck and have a great time playing this brand-new nose doctor game on DressUpWho!
Clean Vintage Ted...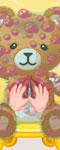 This girl loves toys very much and she is always looking for some original models, different from the modern ones in the stores nowadays. She can usually find them in fairs and markets and she is very excited because she has recently found this amazing vintage teddy bear! The only problem with it is that it is very dirty and a bit tore up, so you should help her clean it up so she can play with it again. Start by washing it with water and a liquid soap that will make it all clean and fresh. Blow dry it to make it even more fluffy than before. Use a needle and some thread to patch it's arm up. Spray it with perfume to make it smell wonderful, which will make it so enjoyable to hug. Now that our girl has an incredible vintage teddy bear in a perfect condition, she also needs a makeover. Choose for her a pretty new hairstyle, mix and match some colorful tops and bottoms or try on a feminine dress and accessorize her look with comfortable shoes, girly socks, trendy necklaces and a glittery bow. The teddy bear can also get an adorable outfit, a trendy hat and a bow tied around his neck. Have a lot of fun playing Clean Vintage Teddy Bear!
Frozen Anna Makeo...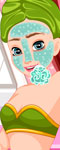 Anna is a pretty princess that all she wants in life is a great relationship with her sister and a great guy to love. But she is not aware of her sister's magical powers that eventually get the entire town frozen, and she also falls in love with the wrong man. Of course, in the end Anna will help save the town, will make peace with her sister and will find a wonderful new guy in her life. Now all she needs is a great makeover for the next Open Days at the castle. You should help her with a beauty facial treatment. Wash her face with a special delicate soap that will get rid of any impurities, use a special scrub for her face that will remove the black spots, wax her upper lip to make it smooth, apply bags with cold gel and a special pair of glasses to make the black circles under her eyes disappear, apply a mud face mask that will get all imperfections to go away and then a rejuvenating face mask with kiwi slices that will rejuvenate her skin. Use a pair of tweezers to give her eyebrows a flawless shape. Now dress her up in a fabulous princess outfit which you can accessorize with precious jewelry, give her a chic hairstyle and apply a wonderful makeup that will put accent on her best features. Have an incredible time playing Frozen Anna Makeover!
Forest Beauty Mas...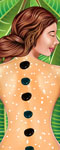 Our girl had a really long and exhausting week and now all she wants to do is relax at the spa. So she has come to your gorgeous forest resort where you provide massage therapy services. First you should apply a moisturizing cream on her back and then massage it until it gets into the skin and deeply nourishes it. At this point you should also massage her shoulders and relief her of pain, because there where it usually accumulates. Continue massaging her entire back until all her muscles are completely relaxed. Then put some delicate flower petals on her back and leave them there for a while, because the aromatherapy is the one that will also relax her mind, not only her body. Honey has some miraculous properties, so spread it on her back and massage it well so her skin will become smooth and will have a natural glow. Volcanic stones also help with complete relaxation so put them on her back, one hot one and one cold one alternatively. In the end her body needs a good natural scrub and for this you can use golden oil and rice. Have a wonderful time playing the 'Forest Beauty Massage Therapy' game!
Madeline Hatter M...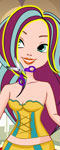 Madeline Hatter has big plans for this weekend, ladies! This rebel character of the Ever After High series plans to surprise her BFFs, Raven Queen and Cedar Wood, with one great tea party that she wants to hold at her father's famous Tea Shoppe in the Village Of Book End. She is pretty excited about it and she hopes other colleagues will join her Wonderlandian inspired tea party so she wants everything to be perfect on this day! She already has decided on the most important aspects of her party, but she still needs to deal with her looks and here is where she needs some professional help! Play this brand-new online makeover game for girls called 'Madeline Hatter Makeover' and help Maddie surprise everyone with a bright tea party look starting with a refreshing facial treatment. To begin her beauty session, use a delicate cleanser to clean up her face, then apply an orange face mask to obtain a glowing look for her complexion and then don't forget to style up her eyebrows as well. Continue with the hair caring session of the transformation process, a stage in which you will not only get the chance to wash her hair, but to also cut, trim and dye Maddie's beautiful stripped hair-locks the way you want. Great job, ladies! Now let's move to the next page of the game and continue with the make-up session we've prepared for you! Use bright colors for the eye-shadow and a bold color for the mascara to highlight her eyes, a thin layer of peach blush on her cheeks and a nice lipstick on her lips. Look for the chicest princess gown to dress Medeline up with and make sure you girls also pick out some glittering jewelries and a nice hair-accessory to properly complete Maddie's tea party look! Have a blast playing our Ever After High 'Madeline Hatter Makeover' game!
Oatmeal Facial Ma...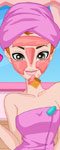 This girl is going on an incredible vacation but she wants to look absolutely flawless while she is there. So she needs a homemade beauty facial treatment session to make sure her skin is perfect. She has heard of the special properties of oatmeal in the daily beauty routine, so she has come to you to test it. Start by applying a cleanser that will remove all the impurities, pop all her pimples out, then create a scrub with oatmeal and fruit juice that will get rid of all the dead cells and will give the skin a natural glow. In a blender you can also create a mixture of oatmeal, milk, honey and water. Apply it on the skin as a mask that will hydrate and nourish the pores and if you also add some citrus will also rejuvenate it. Finally use a pair of tweezers to define the eyebrows. Help her choose a fabulous hairstyle and apply a great make up using mascara, contact lenses, eyeliner, lipstick, eye shadow and blush. Dress her up in a cute dress which you can accessorize with precious jewelry. Now she will be the prettiest girl on her wonderful journey. Have an amazing time playing Oatmeal Facial Makeover!
Fresh Mint Makeover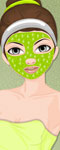 This girl has been partying all night long and now she needs a beauty facial treatment to refresh her so she can face the new day ahead. She has heard of the miraculous properties of fresh mint, and she has heard that your beauty salon is offering treatments based on it. So help her get a makeover that will make her feel rejuvenated! Apply a delicate cleanser that will clean off her pores from any impurities, use a steamer in which you can put some fresh mint leaves that will open up her pores, make the dark circles under her eyes go away with a refreshing eye lotion, pop out her pimples, apply a nourishing cream that will hydrate her skin, apply a face mask with lime that will give her skin a natural glow and use a pair of tweezers to define her eyebrows. Complete her makeover by applying a colorful make up that will emphasize all her best features. You can use an eye shadow, mascara, eyeliner, contact lenses and lipstick. Dress her up in a very elegant outfit in blue or green shades and accessorize her look with some precious jewelry. Have an incredible time playing Fresh Mint Makeover!
Valentine's Day Spa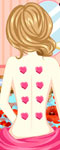 It is Valentine's Day, the most romantic day of the year and our girl has received an amazing present from her boyfriend, a wonderful day at the spa that offers a special Valentine's Day treatment and that will relax and prepare her for a great dinner at the end of the day, in a fancy restaurant. Now help her get an incredible spa treatment. Start with a steamer that will open up the pores on her entire body and then don't forget to wipe her off with a soft towel. Her skin needs to be very clean for the treatments to work, so start washing her with a liquid soap. Choose an aromatic oil, either lavender, vanilla or roses, to rub her body with and then massage her back. For complete relaxation, you have some pink hearts with the same properties as volcanic stones to put on her back. Finally, use chromotherapy to rejuvenate the skin. Now you can help her get a great make up with contact lenses, mascara, eyeliner, eye shadow, lipstick and blush, give her a fabulous new hairstyle and help her dress up in a gorgeous outfit that you can accessorize with precious earrings and a necklace. Enjoy!
Valentine's Day H...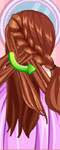 Valentine's Day is just around the corner and our girl has a great date with a dreamy guy. Now her biggest concern is about the hairdo she is going to wear that day. She could wear a hair free on the shoulders and braid a heart in the back, she could braid all her hair on one side in a very chic and romantic look or she can create an elegant bun. Help her decide and create this sensational look. For the first look you have to separate the back hair in two equal parts, braid them separately, spin them a bit and tied them together in the bottom part until they create a perfect heart shape. For the second one you have to take the upper part of the hair and braid it in a side pony tail, then take the rest of the hair and braid it the same way and then tie them together with another lock of hair. For the third one, pull the hair in a pony tail, divide in three, create a bow from the lower two parts and tied them together with the upper one. You can make either one of her hairstyles look even more amazing with some romantic accessories. Try some beautiful roses, golden and pink jewelry, a red bow, a blue butterfly or a small diamond. Enjoy playing the 'Valentine's Day Hairdos' game!
Watzit Grooming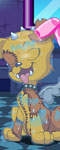 Watzit is Frankie Stein's pet Simulacrum and he is created by the best part of great pets. Frankie loves him so much, but since she started going to Monster High, Watzit feels a bit neglected. So to make things up to him she decided to have an entire grooming day for him, where he can get the best treatments and feel loved and cared for. Luckily, you have the best salon in town for unusual pets. Start by rinsing him, washing him with a special pet soap, removing the soap with a soft towel and then drying his fur with an electric blow dryer. Use a comb to put all his fur back to its place and then clip his nails. Now that Watzit is fresh and clean, dress up both him and Frankie. For Watzit you can choose a nice pair of wings, a colorful shirt with very fun prints and a nice collar around his neck, simple, with diamonds or with some bell attached. Frankie can get a new fabulous hairstyle, a gorgeous school outfit and you can accessorize her look with high heels, a necklace and a pair of earrings as her precious jewelries and a trendy handbag. Have a wonderful time playing Watzit Grooming!
Sophia's Picnic H...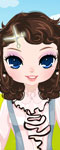 Hello ladies! Our friend Sophia is now back on DressUpWho with a new challenge for you! She has prepared a super fun hairstyling task for all those little hairdressers willing to show off their unique skills. Don't you imagine is going to be all easy and fun... she needs a really cute new haircut for that fancy picnic she's getting ready for, so you will have to give out the best in you and surprise her with a cute casual hairstyle to match her colorful outfit she has prepared for this event! So are you ladies ready to start playing out with all those professional hair styling tools she bought for you? If so, get the 'Sophia Picnic Haircuts' game stared, take a pair of scissors and cut wherever you want and then dye her hair in the colors you want from the great variety of options you have at your disposal. Once you're done, you can create a lovely curly hairstyle for her or maybe a perfectly straight one, you can pull her hair up in a bun or leave it fall on her shoulders. Just make sure you create something casual but chic at the same time to fit the occasion she's getting ready for. Then you can continue with the make-up part of Sophia's preparation and create a really feminine make-up look for her eyes and lips. Look for a really nice outfit to dress her with that you get to accessorize with sparkling earrings and matching chains. Have a great time playing the 'Sophia Picnic Haircuts' game!
Monster High Haun...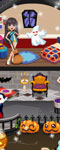 Clawdeen Wolf and three of her friends have decided to give up their life in campus and start living in a shared house for the last part of their high school years! They would like to experience this type of living too and Ghoulia Yelps came up with this crazy idea to live in a scary haunted house inspired by the unique type of life they had while living at the famous Monster High School... how cool is that, girls? Frankie Stein found one to fit their requirements right near an old graveyard and their main preoccupation right now is to properly decorate it and make it look as creepy as possible. What about helping these cute ghouls out, girls? Play the 'Monster High Haunted House' decoration game, step into the shoes of a super talented interior designer and help these best friends decorate their haunted house as spooky as possible. Check out all the items we've prepared at your disposal in our new decoration game and feel free to choose the right furniture pieces and decoration items for their bedrooms, living-room, terrace and front-yard. Then, once you're done, don't forget to invite your favorite Monster High characters in and make sure to remain a couple of seconds to watch their reaction! Have a great time playing the 'Monster High Haunted House' decoration game!
Princess Makeover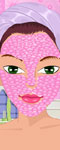 She's one of the most beautiful royal blooded cuties living in the great fantasy world, the most sophisticated and the most elegant you've ever seen. Well girls, our girl here is in a great need of your help today because she's going to attend Prince Charming's charity ball. She needs to look flawless tonight, so the first thing you need to deal with it is to make sure her complexion is perfect for the make up part! Apply all the cleansers, the scrubs and facial creams available at your disposal in this Princess Makeover game and once her complexion looks glowing and healthy you can start dealing with her make up look! Choose your favorite colors to create a bright make up look for her sparkling green eyes and then pick her a stunning princess gown to dress her up with! Have a great time, girls!
Hello Kitty Gear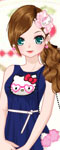 Ohh, this game is the best... and the main reason for that is because it features one of the most adorable Sanrio characters in the entire world: Hello Kitty! Not to mention that it is also a great mix between a make up and dress up game in which everything is available in a wide variety of pastel colors as well as bold colors. Ladies, if this adorable pinkish pie is also one of your favorite characters as well, then you will surely have a great time playing this brand-new game that we've got here on DressUpWho just for you! Get the 'Hello Kitty Gear' make up and dress up game started and begin running your fingers through all the options we've prepared at your disposal and feel free to pick out the ones you fancy the most to put together your girly-girl Hello Kitty Gear! Start by creating a really bright make up look for your eyes and lips and once you're done, go to the next page of the game and find a lovely Hello Kitty printed outfit to wear today! Pick out a chic pink or bleu dress with a cute Hello Kitty print and pair it up with a pair of shoes in a color to match, select a lovely hairstyle as well and then the right accessories to complete your cute gear up with! You can create another combination and this time you can try to pair a lovely white or pink shirt with a pair of shorts or with a lovely pleated mini-skirt. Don't forget about the hairstyle, shoes and those cute Hello Kitty accessories that you are going to need for this new outfit. Have a great time playing the 'Hello Kitty Gear' online game for girls!
Sophia In China M...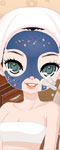 Mademoiselle Sophia had such a wonderful time visiting Paris, the city of lights, but now it's time for her to continue her trip around the world with another great destination: China. She will spend about 4 months here because she needs to gather some information for a book she plans to write this year, but mostly... she's very interested to pick up some Chinese and she would also like to discover more things about their unique, traditional fashion. But before anything else, she would like to spend her very first day in China at the spa to relax and get her complexion refreshed after such a long trip. Well girls, here is where cute Sophia needs your great beauty services and here is where you are invited to get our brand-new makeover game started and help her prepare for her vacation in China. Begin Sophia's beautifying session by removing the last traces of makeup with a delicate cleanser and then make sure to apply the cucumber and roses face masks in order to obtain a glowing and healthy look for her complexion! Once you're done dealing with her facial treatment, you're getting the chance to show off your fashion adviser and make-up artist skills as well and for that you girls are invited to go to the next page of the 'Sophia In China Makeover' game and choose a colorful, traditional Chinese outfit to dress her up with. Accessorize your selection with a matching pair of shoes, glittering jewelries, a girly-girl new hairstyle and a bright make-up look, as well. Have a great time playing this new makeover game for girls here on DressUpWho!
Banana And Almond...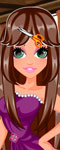 The homemade hair mask series we've started a couple of weeks ago, continues today with a new fruit based recipe that I'm sure you girls will love! In this new online hair game for girls, you ladies will learn how to properly prepare a moisturizing banana and almonds mask for your hair, are you excited about it? Home beauty experts recommend this banana hair mask because of the incredible benefits this delicious fruit has when applied on it. It is a well-known fact that the banana softens your hair and protects its natural elasticity, but do you know why we also use almonds when preparing this mask? Well girls, we use almonds because of their special oil keeps the moisture locked in. Try it once and you will simply love the smooth and soft look that this easy to make mask will leave on your hair, not to mention that your hair will also be protected from the drying effects of dry, cool weather. Now that you know a couple of the most important benefits of a banana and hair mask, how about learning how to make this wonderful treatment for hair from the scratch? Get our new hair game started and, first of all, wash your gorgeous long hair with your favorite shampoo in order to prepare it for this special moisturizing treatment! Rinse the foam and dry it well by using the professional hairdryer you have at your disposal in this game. Once you're done, you girls can go to the next page of the game and start preparing the banana and almond hair mask. Cut two medium bananas and put the slices into a large bowl. Add some almonds, too and mix these two ingredients until you obtain a creamy mixture and then feel free to massage into clean hair. Let it sit a bit before rinsing with water. Great job, girls! Your silky hair is now prepared for a brand-new look, so feel free to pick up the scissors and cut it until you obtain the desired length. Use your favorite hair styling tool to arrange it as nicely as possible and then find a lovely hair accessory to complete your girly-girl new look with! Look through your wardrobe for a new outfit and pick out the one you fancy the most to wear today. Have a great time playing our new hair game called: Banana And Almond Hair Mask!
Draculaura Bad Te...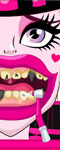 Miss Draculaura is in a big problem, girls! She ate a lot of sweets lately, she was super lazy when she had to deal with her teeth care routine and now she has big tooth problems, not to mention that some of her sparkling white fangs turned out really black! She must be seen by specialist, but the thought of going to the dentist scares her to death, so what about helping this adorable Monster High ghoul solve her tooth problems by being her dentist for the day? The first thing you need to deal with as her personal dentist is to brush her teeth with a special toothpaste to remove any remaining debris between her teeth. Use a drill to get rid of those deep cavities that cause her toothaches and then make sure to remove the black crooked teeth that can't be saved. Replace them with pretty fake teeth and then apply a thin layer of a special gel to complete Draculaura's teeth whitening session up with! Once you're done, you also get the chance to apply some creepy tattoos on her sparkly white teeth. And that's not all, girls! On the next page of the 'Draculaura Bad Teeth' game you girls are given the chance to run your fingers through Draculaura's girly-girl wardrobe and look for the best outfit to dress her up with! Have a great time, girls!
Cinderella Haircuts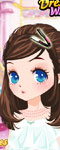 Cinderella is going to the ball tonight, but she still needs an amazing look. You can be her fairy godmother for today and help her with your magic. The hair is the most important so create her new hairstyle yourself. Take a pair of scissors and cut wherever you want and then dye her hair in the colors you want from the great options you have. You can also change the texture of the hair with curlers or a hair straightener and pull it up in a bun or leave it on her shoulders. Just make sure you choose something very elegant. When you are done with her hair you should move on to makeup. Define her eyebrows and use plenty of mascara. You can even choose contact lenses and a pastel eye shadow. Complete her makeup with a very feminine lipstick and blush. Then dress her up by selecting the perfect dress for the ball tonight. It could be a delicate green dress with a ribbon wrapped around her waist, a strapless white dress with roses and her waist, a purple gown with pearls, a glamorous yellow one with a fur cape or an empire waist gown with pink roses. Accessorize her look with precious jewelry. Have fun!
Sophia In Paris M...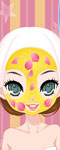 Sophia loves to travel all over the world and the first trip she took this year was to Paris, France. She's here to relax, visit all those great museums, cathedrals and other attractions this gorgeous city has prepared for its tourists, but mostly... she would like to discover Paris' unique fashion style and to take it back home with her! Before anything else, she would like to properly prepare for her very first day in the city of lights and as any fashionista, she'd like to start the day with a refreshing makeover session. Lots of delicate Parisian scrubs, nourishing face masks and caviar creams are waiting for little Sophia in the bathroom, so she just needs to step in and let your two skillful hands pamper her from head to toe. For the beauty treatment you will have to use a thin layer of cleanser to remove all traces of makeup and then make sure to apply the cucumber and roses face masks for a healthier skin look. Once you're done dealing with her facial treatment, you're getting the chance to show off your fashion adviser and make-up artist skills as well and for that you girls are invited to go to the next page of the 'Sophia In Paris Makeover' game and choose a really chic outfit to dress her up with. Pair your selection with high heels, select a lovely accessory to match, style up Shopia's gorgeous hair as well and don't forget to also create a bright make-up look for her eyes and lips. Have a great time playing our brand-new makeover game for girls!