Sophia In China M...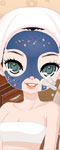 Mademoiselle Sophia had such a wonderful time visiting Paris, the city of lights, but now it's time for her to continue her trip around the world with another great destination: China. She will spend about 4 months here because she needs to gather some information for a book she plans to write this year, but mostly... she's very interested to pick up some Chinese and she would also like to discover more things about their unique, traditional fashion. But before anything else, she would like to spend her very first day in China at the spa to relax and get her complexion refreshed after such a long trip. Well girls, here is where cute Sophia needs your great beauty services and here is where you are invited to get our brand-new makeover game started and help her prepare for her vacation in China. Begin Sophia's beautifying session by removing the last traces of makeup with a delicate cleanser and then make sure to apply the cucumber and roses face masks in order to obtain a glowing and healthy look for her complexion! Once you're done dealing with her facial treatment, you're getting the chance to show off your fashion adviser and make-up artist skills as well and for that you girls are invited to go to the next page of the 'Sophia In China Makeover' game and choose a colorful, traditional Chinese outfit to dress her up with. Accessorize your selection with a matching pair of shoes, glittering jewelries, a girly-girl new hairstyle and a bright make-up look, as well. Have a great time playing this new makeover game for girls here on DressUpWho!
Banana And Almond...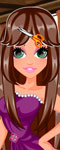 The homemade hair mask series we've started a couple of weeks ago, continues today with a new fruit based recipe that I'm sure you girls will love! In this new online hair game for girls, you ladies will learn how to properly prepare a moisturizing banana and almonds mask for your hair, are you excited about it? Home beauty experts recommend this banana hair mask because of the incredible benefits this delicious fruit has when applied on it. It is a well-known fact that the banana softens your hair and protects its natural elasticity, but do you know why we also use almonds when preparing this mask? Well girls, we use almonds because of their special oil keeps the moisture locked in. Try it once and you will simply love the smooth and soft look that this easy to make mask will leave on your hair, not to mention that your hair will also be protected from the drying effects of dry, cool weather. Now that you know a couple of the most important benefits of a banana and hair mask, how about learning how to make this wonderful treatment for hair from the scratch? Get our new hair game started and, first of all, wash your gorgeous long hair with your favorite shampoo in order to prepare it for this special moisturizing treatment! Rinse the foam and dry it well by using the professional hairdryer you have at your disposal in this game. Once you're done, you girls can go to the next page of the game and start preparing the banana and almond hair mask. Cut two medium bananas and put the slices into a large bowl. Add some almonds, too and mix these two ingredients until you obtain a creamy mixture and then feel free to massage into clean hair. Let it sit a bit before rinsing with water. Great job, girls! Your silky hair is now prepared for a brand-new look, so feel free to pick up the scissors and cut it until you obtain the desired length. Use your favorite hair styling tool to arrange it as nicely as possible and then find a lovely hair accessory to complete your girly-girl new look with! Look through your wardrobe for a new outfit and pick out the one you fancy the most to wear today. Have a great time playing our new hair game called: Banana And Almond Hair Mask!
Draculaura Bad Te...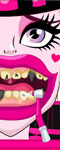 Miss Draculaura is in a big problem, girls! She ate a lot of sweets lately, she was super lazy when she had to deal with her teeth care routine and now she has big tooth problems, not to mention that some of her sparkling white fangs turned out really black! She must be seen by specialist, but the thought of going to the dentist scares her to death, so what about helping this adorable Monster High ghoul solve her tooth problems by being her dentist for the day? The first thing you need to deal with as her personal dentist is to brush her teeth with a special toothpaste to remove any remaining debris between her teeth. Use a drill to get rid of those deep cavities that cause her toothaches and then make sure to remove the black crooked teeth that can't be saved. Replace them with pretty fake teeth and then apply a thin layer of a special gel to complete Draculaura's teeth whitening session up with! Once you're done, you also get the chance to apply some creepy tattoos on her sparkly white teeth. And that's not all, girls! On the next page of the 'Draculaura Bad Teeth' game you girls are given the chance to run your fingers through Draculaura's girly-girl wardrobe and look for the best outfit to dress her up with! Have a great time, girls!
Cinderella Haircuts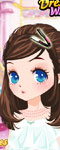 Cinderella is going to the ball tonight, but she still needs an amazing look. You can be her fairy godmother for today and help her with your magic. The hair is the most important so create her new hairstyle yourself. Take a pair of scissors and cut wherever you want and then dye her hair in the colors you want from the great options you have. You can also change the texture of the hair with curlers or a hair straightener and pull it up in a bun or leave it on her shoulders. Just make sure you choose something very elegant. When you are done with her hair you should move on to makeup. Define her eyebrows and use plenty of mascara. You can even choose contact lenses and a pastel eye shadow. Complete her makeup with a very feminine lipstick and blush. Then dress her up by selecting the perfect dress for the ball tonight. It could be a delicate green dress with a ribbon wrapped around her waist, a strapless white dress with roses and her waist, a purple gown with pearls, a glamorous yellow one with a fur cape or an empire waist gown with pink roses. Accessorize her look with precious jewelry. Have fun!
Sophia In Paris M...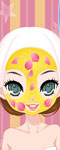 Sophia loves to travel all over the world and the first trip she took this year was to Paris, France. She's here to relax, visit all those great museums, cathedrals and other attractions this gorgeous city has prepared for its tourists, but mostly... she would like to discover Paris' unique fashion style and to take it back home with her! Before anything else, she would like to properly prepare for her very first day in the city of lights and as any fashionista, she'd like to start the day with a refreshing makeover session. Lots of delicate Parisian scrubs, nourishing face masks and caviar creams are waiting for little Sophia in the bathroom, so she just needs to step in and let your two skillful hands pamper her from head to toe. For the beauty treatment you will have to use a thin layer of cleanser to remove all traces of makeup and then make sure to apply the cucumber and roses face masks for a healthier skin look. Once you're done dealing with her facial treatment, you're getting the chance to show off your fashion adviser and make-up artist skills as well and for that you girls are invited to go to the next page of the 'Sophia In Paris Makeover' game and choose a really chic outfit to dress her up with. Pair your selection with high heels, select a lovely accessory to match, style up Shopia's gorgeous hair as well and don't forget to also create a bright make-up look for her eyes and lips. Have a great time playing our brand-new makeover game for girls!
iPhone Makeover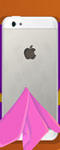 You always wanted an iPhone, because let's face it, it's the trendiest and most fashionable phone out there. But your parents have refused to buy one for you for such a long time, until you mother decided to give to you her own. It just needs a bit of makeover to make it fresh and new. First you should wipe all the print marks off it with a soft towel. Turn the power off if you want to be more efficient. Use a special solution to make it shine and use a needle to clean up the touch button on the bottom. Now that it looks like new, you can make it more fancy and girly with a bunch of accessories. You can pick out a new fun cover for it shaped like a bunny, a cat, a monkey or other adorable animals. You can personalize it by changing its color and you could even choose some cool prints, like zebra, leopard, polka dots or plaid. The touch button can come in its own cute look. Find an awesome sticker featuring cherries, a heart, a chicken, a rose or a cat. You can also get some sweet applications and place them wherever you want on your iPhone. And a customization is not complete until you pick out a great look for your phone's screen. Enjoy!
Equestria Girls F...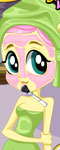 Fluttershy is one of the cutest, but most shy Equestria girls. She wants to be a little bolder and make new friends, but she needs a little boost of confidence. Maybe you could help her out with a beauty facial treatment and a fabulous makeover. Start with a cleansing lotion that will remove all the impurities from her skin, then pop out her pimples, apply a delicate scrub that will make her skin smooth and give it a natural healthy glow, then use a steamer that will open up her pores and get them ready for a nourishing facial mask that will hydrate her skin and this one actually contains a bit of magic and a pair of kiwi slices on her eyes which will refresh them and get rid of the dark circles under them. Finally, use a pair of tweezers to define the eyebrows. Then you can move on to make up and glam her up. You can use contact lenses, mascara and eye shadow to bring focus to the eyes and complete with lipstick and blush. Then you can style her wonderful pink hair and dress her up in a cute girly dress that you can accessorize with a precious necklace. Enjoy playing Equestria Girls Fluttershy Makeover!
Thrift Shop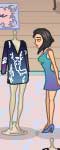 Given the huge success our first Prom Shop had among little fashionistas all over the world, we've decided to open a brand-new online store and this time we need your help girls to run our new Thrift Shop and make it worldwide known - can you help us out? In this fun time management game you girls will be playing the role of a very skillful top-seller, the person in charge to help some young fashionistas find and buy the clothing pieces and the accessory items they are looking for! As a top-seller your main preoccupation will be to keep your customers happy and deliver them the desired items in the shortest time possible, of course. Now get the 'Thrift Shop' management game started, keep your eyes on the door and when you see a client entering your store, take the order to see what she's looking for and then feel free to check your store for the right items. If your client is satisfied, she will surely buy everything and that means good news for our business. Oh, and don't forget to collect the money... you will need them to buy chic decorations in the store. Good luck and have fun, girls!
Super Model Nail ...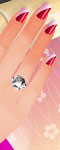 Having a well-done manicure is a must as the nails are a lady's most precious business card they say. But sometimes spending a few hours on a chair, in a fancy nail salon might be overwhelming and that's why we have decided to teach your girls how to make a supermodel manicure on your own and in the welcoming and relaxing atmosphere that your home can offer. Playing this brand new makeover game you will find out which are the tools and the cosmetics required by this type of professional manicure and then we will provide you some precious tips on how to create special designs on your brand new manicure. So girls, are you ready to discover them out? If so get the 'Super Model Nail Makeover' game started and first of all, learn how to pay a special attention to your hands, then take care of your nails and establish a really nice shape for them and then feel free to pick out your favorite colors and patterns and create your very unique design for your nails! Then pick out a pair of trendy gloves and some glittering jewelries for a complete beautifying session! Have fun, girls!
Paper Snowflake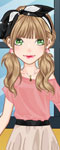 Cute Sally has decided to enjoy this short winter vacation in a different way... she will be attending some kirigami classes, hoping that by the end of the day she will know how to make some gorgeous paper snowflakes. Kirigami, girls, is the art of making cute decorations by using paper in combination with a cutting tool. It's pretty nice to sit on a chair a couple of hours and relax while folding paper trying to create your favorite decorations by cutting the chosen with scissors. The decorations made using this unique technique are always meant to impress and Sally's intention is to make some lovely paper snowflakes for her best friends. She needs to get ready as her first kirigami class as is about to begin in minutes from now, so would you girls like to step in getting the 'Paper Snowflake' dress up game started and help her try on a couple of the clothing pieces and accessory items she has prepared for this occasion? Check out the lovely dresses, go through all those cute tops and lovely layered miniskirts, doll-like shoes and glittering jewelries available at your disposal in Sally's wardrobe, mix and match them and select your favorite combination to dress her up with! Have fun and feel free to try some kirigami classes yourself when you have the time... they are pretty, pretty amazing!
Christmas Tree Pi...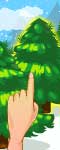 Here is the last thing we need to check on our holiday to do list and that is to pick out a gorgeous Christmas tree =)! We've started this season's preparations long time ago with a fun and relaxing visit at that brand-new Christmas Spa in town and then we had so much fun helping both, Santa Claus and Rudolph, prepare for their most important night of the year, the night when they will deliver some special presents to all kids around the world! And now, the time has come to pick the lovely green tree that with a few glittering decorations will turn into the most gorgeous Christmas tree we've ever had. So girls, let's pay a short visit to the nearest tree farm around to pick your own tree, making sure to ask the farmer to customize its look for you in order to have the perfect tree. Find a really nice place for it in your living room and then start decorating it with your favorite Christmas decorations, choosing from a wide variety of sweet looking beads, lovely globes, lights available in many colors and shapes, candy, gingerbread and Santa Claus accessories the ones you fancy the most. You can even change your tree's color if you want to and then, in order to complete this special winter scenario, make sure to spread some beautifully decorated gifts under your gorgeous looking Christmas tree! Have a sparkling white Christmas Holiday!
Santa Claus Beard...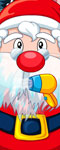 The best holiday ever, Christmas, is approaching fast and there is only one man that everyone is waiting for on this special day: Santa Claus! He has to deliver all the gifts in only one night, so it is a pretty big deal for him. But because he had to prepare all the presents and double check the list, he forgot to groom himself and now he looks a bit of a mess. Maybe you could help him restore his great jolly looks with a special Christmas makeover! Use a special shampoo, either candy cane, gingerbread or cinnamon roll flavored, to wash his big white beard. Then dry it with a blow dryer and finally choose the perfect combination of mustache and beard shape and cut them with a pair of scissors. Get the final touches ready with a brush. Now that Santa is ready, you should also get his favorite reindeer, Rudolph, dressed up. Don't forget about his colorful nose, his horns, a cute hat or accessory, a scarf and a saddle. You can choose the Santa combination, the mistletoe one or even a Christmas tree themed, with a globe around his neck. Now they can finally go and spread joy into the world, looking like they should. You have saved Christmas! Have an incredible time playing Santa Claus Beardy Makeover!
Christmas Eve Spa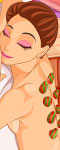 There are still a few days left until the most wonderful and awaited holiday of the year but our beautiful teen girl here had a huge surprise this morning when she received an early Christmas gift from her Secret Santa. This special gift came in a very nice envelope and it was an invitation to a brand-new spa in town, the place where she will get to relax and enjoy a fun pampering session all day long. What about taking care of her special needs, ladies, and make sure she enjoys a great spa treatment that is sure to put her in the mood for the upcoming winter holidays? Take her to the sauna and then give her a refreshing massage by using a nourishing massage oil. Use a delicate body scrub, continue by applying some warm candy on her back to help her better relax and in order to make her skin look great and glowing of health apply a thin layer of body lotion. Now she's almost ready for the upcoming Christmas dinner, but first, you have to put together a really nice holiday look, as well. Use mascara, blush, eye shadow, lipstick, contact lenses and eye liner to create a lovely makeup look that emphasizes all her beautiful features and then don't forget to also style up her gorgeous hair! Next, run your fingers through her impressive wardrobe and feel free to select a colorful outfit and the right accessories for a complete, Christmassy look! Have an incredible time playing 'Christmas Eve Spa' makeover game!
Snow Angel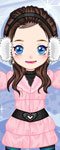 It started snowing big flakes and this morning our adorable girl here, Sarah, had a huge surprise when she rushed out of bad and took a glimpse out the window: a bright white mantle was sprawling all over her garden, street and trees!! It looked so incredible fluffy and the first thing that crossed her mind was to get dressed and go out to have a great and fun morning playing in the snow. This is the first snow of the year, so she wants to take advantage of it and enjoy it right while trying to make the perfect and by far the cutest snow angel we've ever seen! Let's help little Sarah get a fabulous look which is both fancy and comfy, so she will stay warm while enjoying her favorite winter hobby! First, choose her a pretty hairstyle and then start dressing her up with a lovely blouse that you get to pair up with a colorful pair of leggings of maybe with a cute miniskirt. For a complete winter look, choose a chic jacket as well and a pair of leather boots, ear puffs, a scarf and a pair of gloves! Have an incredible time playing this exciting game!
Snowtubing Girl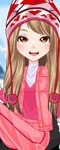 It is finally winter, the season of fun and joy and our girl is very excited to finally have some amazing times on the slope! While others might enjoy skating or skiing, she has another winter hobby: snowtubing! So help her get a fabulous look that will definitely make her stand out. First she needs a pretty hairstyle, then you can dress her up with a white blouse with bunny prints and a coral vest which you can pair up with black leggings, denim shorts, white fluffy ear puffs and fur boots. You can also choose for her a girly all pink outfit with a blouse and baggy pants, paired up with a beige jacket with fur on the hoodie, black and pink gloves, a warm hat and shoes and some winter glasses to protect her view from the white snow. She would also love some green pants with a colorful striped hoodie, a light blue jacket over it to keep her warm, a very colorful hat and fingerless gloves. A brown scarf will also bring some more comfort. And of course, don't forget her snowtube that will allow her to have the best time of her life. Have an incredible time playing this exciting game!
Abbey Bominable I...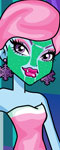 It's winter again and that means great news for Miss Abey Bominable: the weather conditions are just perfect for some special beauty treatments meant to add a great glittering effect to her light blue, cold skin! As we already know it, Abbey is a bit clumsy and she would need a helping hand with this special icy makeover session that she plans to try out today, so are you girls ready to step in and guide her through each step of this highly original beautifying process? Start by applying a thin layer of cleanser to remove her makeup residue and other impurities, rinse it using cold water and then carefully pop out the pimples. Cover the irritated places with a delicate cream, apply a nourishing face mask to hydrate her complexion and two cold snowflakes on her eyes for a complete beauty session! Use a suitable cream to remove the dark circles under her eyes, style up her bushy eyebrows and to finish off Abbey's facial treatment, sprinkle a thin layer of tonic water to help her complexion calm down after such a great beautifying session! Continue to the next page of this Monster High Makeover Game and start choosing an uber chic, furry outfit to dress Abbey up with, accessorizing your selection with a bran-new chic hairstyle and the right jewelries. Don't forget to also design a youthful makeup look choosing from a great selection of pink, blue, purple or green hues your favorite colors. Enjoy playing the 'Abbey Bominable Icy Makeover' game!
Silky Smooth Legs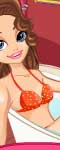 Having silky, smooth legs is the desire of every girl I know and today, with our brand-new beauty game, you girls will discover the secrets hidden behind a successful home shaving session that will provide that so much desired look for your gorgeous legs. First of all, you ladies should know that shaving your legs is a fine art that takes precision and skill and besides a few special tools made for women, it also requires some time and a correct preparation. Each shaving session starts with a warm bubble bath meant to soften your skin and open the pores, which will give you a closer shave. Then you get to apply your favorite shaving cream, making sure to create a light layer over the legs. Now pick up your favorite type of razor and start shaving your legs against the grain! Use cold water to remove any bits of cream and then pamper your legs with a soft towel. After your shaving session is complete, slather on some moisturizer in order to make your legs look smoother for longer. Great job, girls! Now that your legs look silky gorgeous you can start wondering what lovely dress, chic hairstyle and colorful makeup look you can use to accessorize your adorable look with today! Have a great time playing the 'Silky Smooth Legs' makeover game!
Thanksgiving Nail...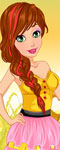 Our girl is almost ready for the Thanksgiving dinner, but she forgot something really important: her manicure! Help her get her nails ready by the time dinner starts. She can use some water with rose petals in it to soak her hands, then apply a hand cream to make her skin very soft, use a nail clipped to give the nails the right length and file them to get them in shape. Finally use a special three sides file that will bring the nails a natural glow. Paint the nails in a very bright color. You could even choose some very cool prints, suited for autumn. You can try the yellow and orange curved stripes, which is a very trendy combination right now, the watermelon combination which is very fresh and include the green part at the basis and then the red part with black seeds on the top, or you could also choose the green watermelon's shell. There is also the three color combination imitating the delicious corn candy or the sweet pink nail polish with a white top with black spots. When you have done her manicure you can help the girl get her entire look together. You can dress her up in a gorgeous gown, apply a fabulous makeup and give her a nice hairstyle. Enjoy playing Thanksgiving Nail Design!
Thanksgiving Spa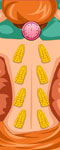 Thanksgiving is fast approaching and it is the moment when you are thankful for all the wonderful things in your life, but it is also the moment when you create new reasons for you to be thankful for. Like a great spa treatment to really relax you and put you in the mood for the winter holidays that are coming up next. So go to a sauna to make your skin sweat, which is really healthy for your body, then choose a glamorous body mask that will make it glow. Use some pumpkin oil for a great massage that will really relax all your tensed muscles and then apply a mud scrub that will get rid of all your imperfections. Put some corn on your back and also a hydrating emulsion and you are ready for the Thanksgiving dinner! But first, you have to choose a very pretty hairstyle and apply a great makeup that emphasizes all your best features. Use mascara, blush, eye shadow, lipstick, contact lenses and eye liner. Dress up in a colorful outfit and accessorize it with wonderful jewelry. You should consider pumpkin prints or puffy shapes, which are all very trendy and appropriate. Have an incredible time playing Thanksgiving Spa!
Emma's Gym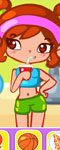 Is the beginning of a new week and Emma has decided to do everything possible to get to the gym every day. She knows she needs to keep her body in perfect shape but today she had a terrible day at work and still... look at her girls, she's in the gym right now trying her best to keep up with her personal trainer's instructions. She had in mind an easy routine for today to help her let go of some office stress, but her trainer is a tough guy who would like to see it working without break. Let's help her out, ladies! In the upper right corner of the screen you have a timer. Emma has to do some small things she enjoys before the time runs out, but also without getting caught. So when you see her trainer approaching, you should quickly click the X. Emma would love to enjoy a small slice of pizza and a chocolate cupcake, she wants to solve a kitty puzzle, practice her basketball shootings or even get her manicure done. Can you girls give her a helping hand with these tasks? Good luck and have a great time playing 'Emma's Gym' fun slacking game!
Sweet November Date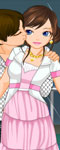 November is a rainy month, but it is also a very romantic one. Just remember all the romantic movies you have seen, didn't all of them have a rain scene? So dating in November it is probably the best way to make sure you will meet your soul mate! That is what our girl thinks anyway, but she and her date seem pretty in love, so she might be on to something. You can make sure their sweet November date goes well by helping both of them getting the perfect outfits. The girl can wear a sweet pink pastel dress with a feminine pink umbrella, a nice hat with a rose on it, some sweet candy pink rain boots and a nice short sleeved white and pink blazer, a green top with a brown pair of pants and a black vest, accessorized with a golden chain, red high heels and a blue and green umbrella, or a red and yellow striped dress with a mustard jacket over and a long comfy red scarf around her neck, some long earrings and a cheerful umbrella. He can wear a striped t-shirt with baggy jeans, red sneakers, a funky hat and a manly trench or a classic white shirt white a dark gray blazer and a white elegant scarf. Have an amazing time playing Sweet November Date!
Birthday Clown Ma...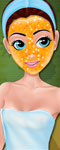 Jessy is definitely the funniest girl I've ever met! She's the main attraction at the National Circus and she spends her leisure time attending birthday parties where she entertains the little ones with her funky looking clown outfits and with her funny jokes! She has been hired to surprise your little sister on her 6th birthday but she totally forgot to bring her props, so it seems Jessy needs your help girls to improvise an authentic clown look! Can you help her out? As you might already know it, clowns usually wear all sorts of makeups on their face and in order to be able to have one, Jessy's complexion needs a special care and preparation, so what about starting with a fun facial session? Apply a delicate cleanser, use the hot steamer to open the pores, pop out the pimples and then use a delicate eye cream to remove the black circles under her eyes. Don't forget to also apply a nourishing face masks and to style up her bushy eyebrows for a complete beauty treatment! Now here is where the fun part begins =). Continue playing the 'Birthday Clown Makeover' game, go to the next page of the game and help Jessy put together her funky clown look by choosing a colorful wig and a cute loose outfit to fit her playful style. Complete her look with a bright makeup look, accessorize her outfit with your favorite jewelries and don't forget to also select some colorful balloons or maybe some pink fluffy bunny ears to complement her look with! Have a great time playing this fun makeover game!
Vintage Sweaters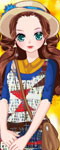 The fun thing about adding vintage pieces to your wardrobe is the variety in how you can wear them! A lovely vintage dress adorned with a lovely white collar will help you look very elegant and girly-girl on a beautiful autumn day and a successful mix between a chic pair of jeans and the right vintage sweater will help you stand out of the crown every time you decide to wear it. Are you still looking for a comfy outfit to wear while strolling down the city's crowded streets? We might have some suggestions! This fall, these precious looking, little-old-lady sweaters are back in trend and you little fashionistas will surely want to have in your own wardrobes once you will discover how easily they can add some touches of elegance and femininity to your daily outfits, but do you girls know how to wear them? No worries ladies, we will show you a few ways to wear them right! Play our brand-new dress up game, mix and match your favorite clothing pieces with the right accessories and put together a colorful daytime look, a lovely office look, the perfect school outfit and more. Match each of your selections with a new hairstyle and a bright makeup look and voila... you'll have an unique style to stand out among your trendy friends. Have fun playing the 'Vintage Sweaters' dress up game!
Raven Queen Makeo...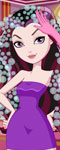 Raven Queen is the stylish daughter of the Evil Queen, the villain from Snow White and the Seven Dwarfs, and the main rebel student in the Ever After High series. Although most people expect her to be evil like her mother, she has decided to be against traditions and do anything possible to rewrite her destiny and have a Happily Ever After of her own! For the beginning, she has decided to remove that evil makeup look and to replace it with a more adorable, girly-girl one and here is where she needs your helping hand! Play the Ever After High 'Raven Queen Makeover' game and start Raven's beautifying session with a fun facial meant to refresh her complexion. Apply a delicate scrub to make her skin smooth, then use a nourishing face mask for a healthy skin and don't forget to also style up her bushy eyebrows, too. Continue with the hair caring session, be Raven's super talented hairstylist and create a new and fresh look for her hair while playing with all of those great hair care products and styling tools that you have at your disposal. Then go to the next page of the game, open Raven's professional make-up kit and feel free to pick out your favorite colors to design a cute makeup look for our rebellious girl here. Choose for her a new outfit and for a complete makeover session, accessorize it with precious looking earrings and necklaces! Have a great time playing the 'Raven Queen Makeover' game!